A Cure for Cancer? Scientists Cautiously Optimistic About New Treatment
Researchers at Cardiff University have discovered a treatment technique that one day may be able to treat all types of cancer.
According to a recent study, the treatment has been determined able to treat prostate, breast, lung and other types of cancer, although it has not yet been tested on humans.
Researchers describe the treatment as having "enormous potential."
How does the new cancer treatment work?
The new treatment method harnesses the power of the body's immune system to target and aggressively attack cancer cells, including those that form tumors.
Unlike previous cancer treatments, however, the immune T-cell that researchers discovered has the potential to attack multiple types of cancerous cells.
Dr. Andrew Sewell, a researcher at Cardiff, said that "Previously nobody believed this could be possible."
"It raises the prospect of a 'one-size-fits-all' cancer treatment, a single type of T-cell that could be capable of destroying many different types of cancer."
-Dr. Andrew Sewell, Cardiff University professor and researcher
When will the new cancer treatment be available for patients?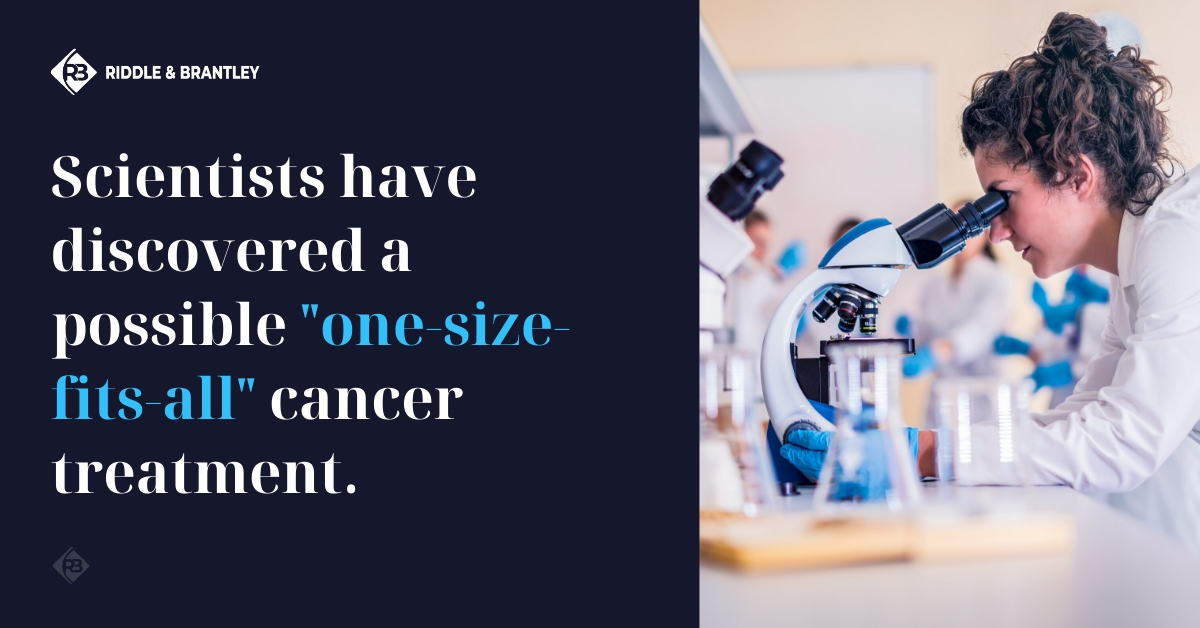 Significantly more research and testing need to be completed before this new potential treatment is available to cancer patients.
The treatment has not yet been tested on humans, and clinical trials are anticipated.
"There is no question that it's a very exciting discovery," said Dr. Daniel Davis, a professor of immunology at the University of Manchester.
Have you suffered from cancer due to a dangerous drug or other chemical?
Riddle & Brantley is a North Carolina law firm with more than three decades of experience holding major pharmaceutical and chemical companies accountable for negligence resulting in cancer.
We are currently evaluating cases involving potential negligence that may have caused various types of cancer, including:
For a FREE consultation with a product liability lawyer at Riddle & Brantley, please call 1-800-525-7111 or complete the short form below.
There is no obligation and there are no attorney fees unless we win your case and you receive financial compensation.
Call 1-800-525-7111 and let's review your case.
If you've suffered from cancer due to dangerous drug or exposure to dangerous chemicals, you deserve justice and you may be entitled to compensation.
Justice Counts for you and your loved ones and we'd love to help if we can.
Please call 1-800-525-7111 for a FREE consultation today.