Sexual Assault in North Carolina: More Common Than You Think
NEWS FLASH: Billionaire Jeffrey Epstein has been indicted in federal court on charges of sex trafficking of minors and conspiracy to engage in sex trafficking of minors.
Epstein, who avoided federal charges in a previous investigation, pled guilty in a related case in Florida in 2007 and received what many legal analysts consider an extraordinarily light sentence.
The indictment of Epstein and the related #MeToo movement have shined a light on the prevalence of sexual assault and coercion in the United States, and sexual assault in North Carolina is no exception.
Sexual Assault in North Carolina
Sexual assault, rape and sex coercion in North Carolina are tragically all too common.
2,035 rapes were reported in North Carolina in 2017 alone, and according to the Rape, Abuse and Incest National Network (RAINN), more than 75% of sexual assaults are not reported to police.
A study on the prevalence of sexual assault found that 19% of North Carolina women experience sexual assault at some point in their lifetime. 73% of these North Carolina victims experienced or were threatened with forced sexual intercourse.
Sexual assault is extremely traumatic and the consequences can be lifelong and devastating.
Victims of sexual assault are at increased risk of mental illness, including post-traumatic stress disorder (PTSD), drug abuse, self-harm and suicide.
Legal Options for Sex Victims in North Carolina
In North Carolina, victims of sexual assault and coerced sexual activity have options to seek justice for their suffering.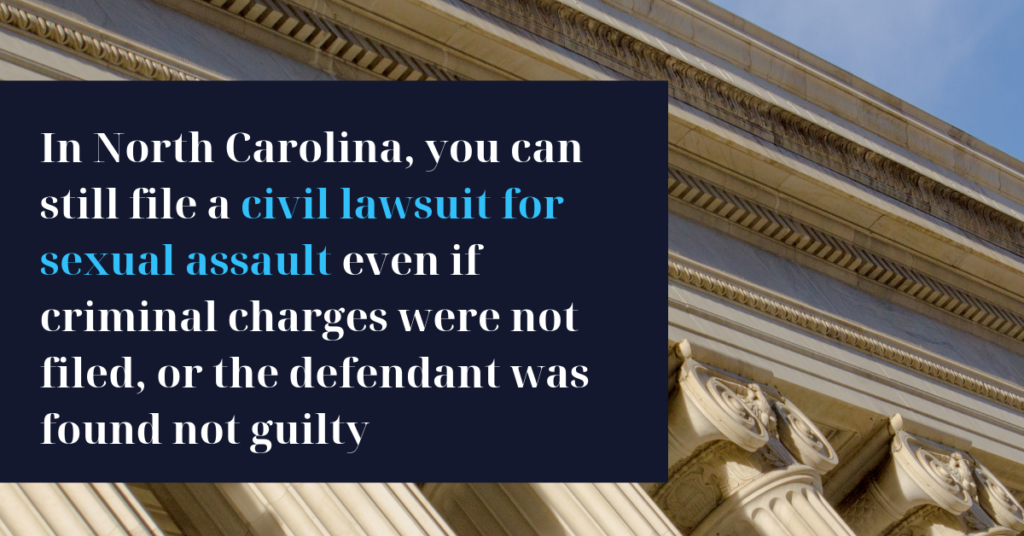 Sexual assault victims can file a civil lawsuit against anyone allegedly liable for the sexual assault, regardless of whether or not criminal charges are filed.
Civil cases carry a lower burden of proof, which means that victims may be able to win a civil lawsuit even when the alleged perpetrator was found not guilty in a criminal case, or sexual assault charges were not filed at all.
Compensation in a civil case can be used to pay for medical treatment as well as mental health treatment and counseling associated with the sexual assault. Financial compensation can also help make up for wages lost as a result of the incident. Punitive damages may also be imposed on the offending party.
North Carolina Statutes of Limitations for Rape and Sexual Assault
In North Carolina, there is no criminal statute of limitations for rape or sexual assault, meaning that criminal charges may be filed no matter how much time has passed since the alleged incident. This applies to work place, clergy, Boy Scout sexual assault as well as all other forms.
However, civil lawsuits for sexual assault are subject to North Carolina's standard civil Statute of Limitations, meaning that a civil lawsuit alleging adult sexual assault must be filed within 3 years of the event. In cases of child sexual assault, a civil lawsuit must be filed within 3 years of the victim's 18th birthday.
Justice for North Carolina Sexual Assault Victims
Riddle & Brantley has been representing North Carolina victims of sexual assault for decades, and our attorneys have more than 220+ years of combined experience practicing civil law.
In 2002, managing partner Gene Riddle won a $5 million judgment against a Wayne County sheriff's deputy who forced sex upon multiple female inmates in county jail.
"Everyone is entitled to equal protection under the law, and everyone deserves justice. No one should ever be a victim." -Gene Riddle
While many sexual assault victims feel discouraged from filing a civil lawsuit due to financial reasons, it's important to know that Riddle & Brantley does not charge any attorney fees unless financial compensation is offered or awarded.
Are you the victim of sexual assault?
If you have been sexually assaulted, you deserve justice and you may be entitled to compensation.
Our North Carolina sexual assault lawyers may be able to help. For a FREE and 100% confidential consultation, please call 1-800-525-7111 or complete the form below.
If you have a case and decide to hire us, there is no upfront cost and no attorney fee unless we recover financial compensation for you.
You deserve justice and an attorney that will fight for you. Please call us today at 1-800-525-7111.
We would love to help if we can.
Justice Counts.