Was Your Trick-or-Treater Injured on Halloween?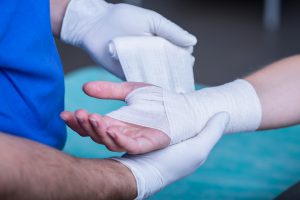 We published a recent blog discussing how parents can help improve the safety of the trick-or-treaters. Unfortunately, there are still instances where Halloween may end in tragedy even if you did everything right. Even when you take precautions to avoid harm, the negligence of other parties could lead to injuries, or worse, death. The following examples are cases where you might be able to file a lawsuit if your children were harmed on Halloween.
Unsafe Halloween decorations: Property owners and homeowners may use decorations that harm trick-or-treaters. Decorations that use candles or that contain flammable materials can put trick-or-treaters at risk of burn injuries. Some decorations can also create trip and fall hazards.
Dangerous properties: Unsafe decorations are not the only potential property hazard on Halloween. Some property owners may fail to lock up their dogs. Pets could view trick-or-treaters as intruders. Properties could have poor lighting or clutter, which could also make trick-or-treating dangerous.
Unsafe driving: Adults attending Halloween parties may drink and drive on Halloween. This is one possible reason why pedestrian accidents involving children increase during this holiday. The US is currently experiencing a distracted driving epidemic. A distracted driver may not see trick-or-treaters in time to avoid a collision. Speeding and other factors could also contribute to pedestrian accidents.
Defective Halloween costumes: Manufacturers may design and sell costumes that contain multiple safety risks. Some costumes could be made from highly flammable materials. Cosmetics used for costumes could cause severe allergic reactions.
Adults can also be placed in harm's way on Halloween. Car accidents can affect individuals from all age groups. Parents who are supervising their children on Halloween can suffer from some of the same hazards we listed above.
Can I File a Lawsuit for an Injury on Halloween?
Whether or not property owners, drivers or costume manufacturers can be held liable for damages depends on the circumstances. Every case is going to be different. It would be wise to contact a personal injury attorney so he or she review the details of what happened.
If you or a loved one were injured while trick-or-treating or preparing for Halloween, then the North Carolina injury lawyers at Riddle & Brantley, LLP can review the details of your case and inform you of whether you have options to file a lawsuit.
At Riddle & Brantley, LLP, Justice Counts.