Pinehurst Car Accident Lawyer
If you've been injured in a Pinehurst-area car accident, you may be entitled to compensation if someone else's negligence caused the crash. You might be searching for a Pinehurst village car accident lawyer to help pursue justice and compensation.
Our North Carolina car accident lawyers are ready to help if we can. We've been handling auto accident cases in the Pinehurst Village area and throughout North Carolina for decades and are passionate about getting justice for those injured due to others' negligence.
For a FREE consultation, please call 1-800-525-7111 or complete the fast and easy form below. You'll speak with an experienced Riddle & Brantley car accident lawyer handling cases in Pinehurst Village who can advise you on your best legal options.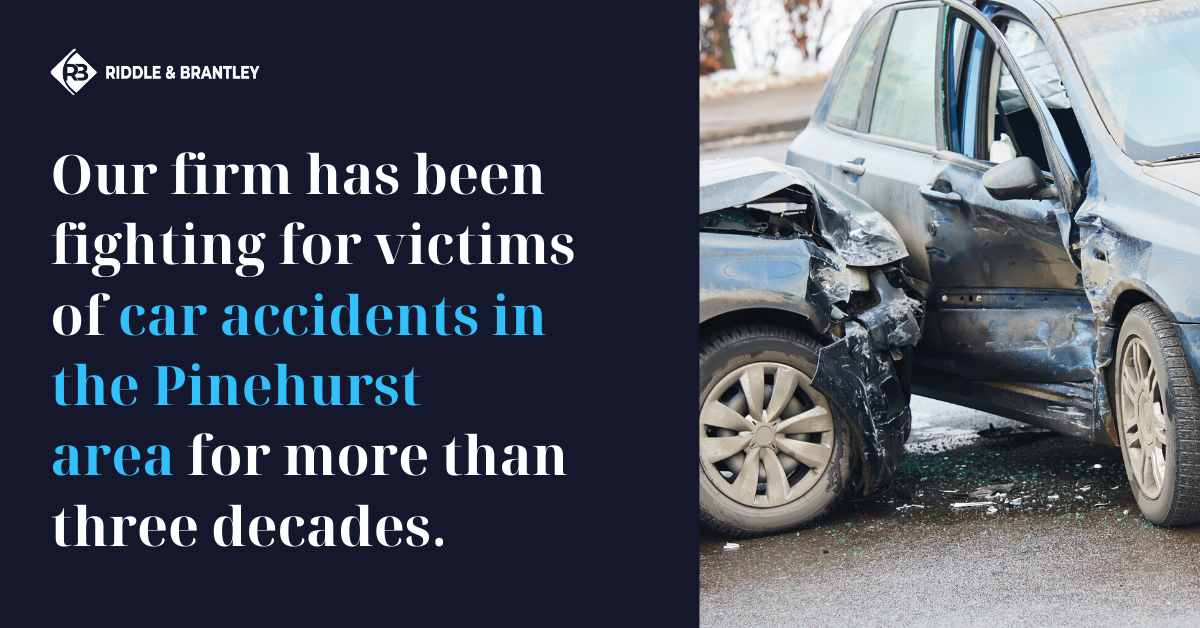 The consultation is free and you will never pay any upfront costs or attorney fees unless we win your case and you receive compensation for your car accident injuries.
Please call 1-800-525-7111 today for a free consultation with a car accident lawyer handling cases in Pinehurst Village and surrounding North Carolina.
We offer free consultations by phone, email, text or video conference, and can even come to you if more convenient for you. However, no in-person meeting is necessary to get started on your case.
Call 1-800-525-7111 today and let's review your Pinehurst area car accident injury claim. You may be entitled to significant financial compensation and we would love to help if we can.
"I would recommend them to anyone. They fought hard for me."
–Christine W., Riddle & Brantley client
Serving Pinehurst Village and Nearby Areas
In addition to serving auto accident victims in Pinehurst, we also handle cases in all surrounding areas, including nearby Southern Pines, Sanford, Fayetteville, Laurinburg and Hope Mills, to name a few.
For those whose car accident results in disabling injury, our Social Security disability attorneys are available to help with Social Security Administration claims and appeals, and our work injury attorneys are available to assist with workers' comp claims when your accident occurs while on the job.
In the most heartbreaking cases, our North Carolina wrongful death lawyers are ready to help fight for justice for surviving loved ones.
Results for Auto Accident Victims in North Carolina
In more than three decades serving injury victims in North Carolina, we've secured many five, six and even seven-figure settlements and judgments on behalf of our deserving clients, including (see disclaimer below):
$2,750,000 | Car Accident — Attorney Donald Dunn fought for justice for a man who suffered fractures to his neck, arms and legs in a major auto accident. In arbitration proceedings, we secured a $2.75 million settlement for the client, which was followed by a separate $1 million declaratory judgment against the insurance company.
$9,450,000 | Car & Truck Accident / Wrongful Death — Attorneys Kurt Dixon and Gene Riddle handled a tragic case in which a family of four was killed in a tractor-trailer accident on a busy NC highway. We investigated the accident, proved liability, and filed multiple lawsuits, ultimately securing more than $9 million in compensation in separate settlements.
$1,000,000 | Auto Accident — Our client was seriously injured in an accident and liability was disputed. Attorneys Gene Riddle and Adam Smith secured a total settlement of $1 million for the victim, including a provision for Medicare Set Aside in order to protect her future benefits.
*** Disclaimer: The results mentioned are intended to illustrate the type of cases handled by the firm. These results do not guarantee a similar outcome, and they should not be construed to constitute a promise or guarantee of a particular result in any particular case. Every case is different, and the outcome of any case depends upon a variety of factors unique to that case.
"Riddle & Brantley found me all the available money from the insurance companies."
–David Howard, Riddle & Brantley client
If you've been hurt in a Pinehurst car accident, please call 1-800-525-7111 for a FREE, no-obligation consultation with an experienced injury lawyer serving the area. 
We will evaluate your claim, advise you on your legal options and if you decide to hire us, we will fight tirelessly for your right to compensation and justice.
Call 1-800-525-7111 today and let's review your Pinehurst car accident injury claim. You may be entitled to significant compensation.
Our car accident lawyers serving Pinehurst and greater North Carolina can take the stress off and handle all aspects of your claim or lawsuit, including:
Investigating the accident and crash scene
Referring you to trusted medical providers for treatment
Hiring accident reconstructionists to prove liability
Identifying and interviewing potential witnesses
Collecting and preserving important evidence
Negotiating with the insurance company and defense counsel
Obtaining the official accident report from law enforcement
Disputing the accident report if it is inaccurate or omits important information
Preparing you for statements to the insurance company
Filing a lawsuit if necessary
Preparing and filing important court documents
Conducting depositions
Litigation
Representing you at hearings
Representing you at trial
Negotiating on your behalf at mediation and/or arbitration proceedings
Setting up a trust to ensure long-term care
And much, much more…
We understand what you're going through and you don't have to do this alone.
Don't gamble with your potential compensation. Statistics show that those who are represented by an injury attorney recover on average 30 percent more compensation than those who represent themselves.
"They handled my case very professionally, with respect from beginning to end."
–Joseph W., Riddle & Brantley client
That's a significant difference. Find out how we can help.
For a FREE, no-obligation consultation with an experienced car accident lawyer serving clients in Pinehurst and greater NC, please call 1-800-525-7111.
There is no obligation and you won't pay any attorney fees unless we recover compensation for you.
Call 1-800-525-7111 today and let's review your case.
We believe Justice Counts for ALL and would love to help you seek justice and compensation for your Pinehurst area car accident injury if we can.