Negligent Security Lawyer Serving North Carolina
Negligent Security Attorney
Do you need a negligent security lawyer?
Under North Carolina premises liability law, a property owners have the duty to protect visitors from certain dangers. These dangers can include third party criminal acts. For example, if a mall failed to provide adequate lighting in a parking garage and you were attacked in the garage, then you may be entitled to file a negligent security claim. In these cases, a North Carolina negligent security lawyer can help you seek the justice and compensation you deserve.
Negligent security claims are brought against the property owner. North Carolina law requires that property owners throughout the state provide safe premises for their visitors and residents.
Experienced Premise Liability Lawyers Serving North Carolina
Have you or a family member experienced assault, mugging, robbery, rape, or other criminal act while on someone else's property? The premise liability attorneys at Riddle and Brantley may be able to help you. Our legal team of 12 personal injury lawyers has more than 220+ years of combined legal experience.
We know how to handle negotiations with the insurance companies, and we are dedicated to holding negligent parties accountable for their actions.
For a FREE consultation with an experienced North Carolina negligent security attorney, please call 1-800-525-7111 or complete the fast and easy form below.
We have many convenient offices across North Carolina and can also come to you directly if it's more convenient. However, no in-person meeting is required to get started on your case. We offer FREE, no-obligation consultations by phone, email, text, and video conference. Call 1-800-525-7111 today for a free consultation with a negligent security lawyer.
What is Negligent Security?
Before a property owner welcomes visitors to a site, the owner must take precautions to ensure that the area is reasonably safe and free from hazards. While most people think about uneven sidewalks and slippery floors when they hear "property hazards," negligent security is also a common danger.
This means the property owner must take into account the area's criminal history for signs of foreseeable criminal behavior. An example of this would be a property owner failing to install lights in a parking garage located in a high-crime area. In this situation, for example, a property owner must take reasonable steps to prevent crime, such as:
Equipping building residents with safe doors, windows, and locks
Being extremely cautious about distributing spare or duplicate keys
Checking backgrounds of all employees who have access to master keys
Providing ample light in parking lots or other unlit areas
Installing security features such as cameras, alarms, and gates
Placing signs in store windows such as, "$20 or less in register"
Using a drop safe in a store or business
Building a fence or security gate
Staffing the facility with security guards to monitor the area
This list is not exhaustive because the actions that are "reasonable" for an owner to take to improve security depend on the area and the situation.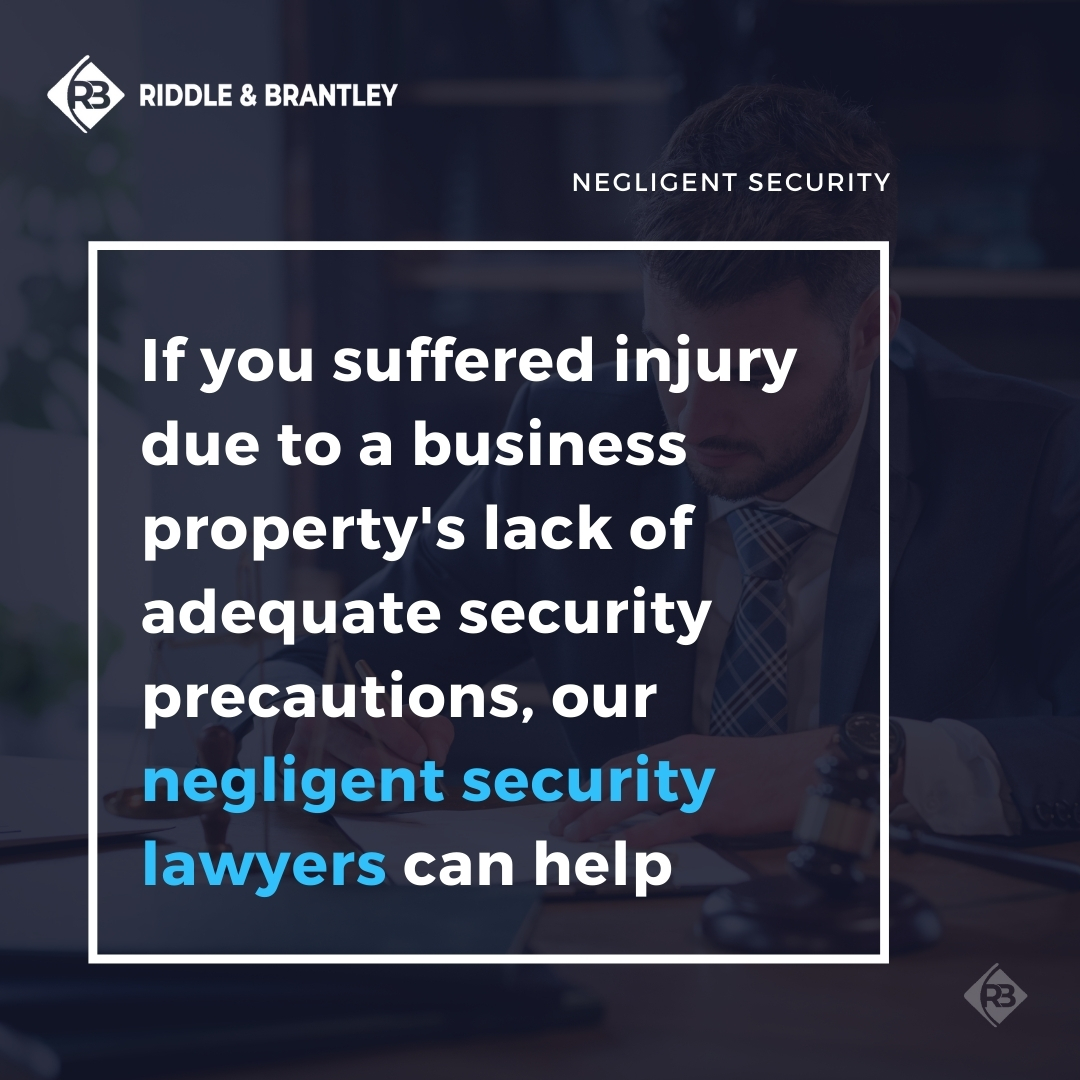 A property owner in charge of a restaurant in a high-crime neighborhood, for example, would have a higher burden to adequately provide security, as opposed to an owner whose business is located in an area with a very low crime rate.
Based on the facts of the case, the jury will determine whether or not a defendant took adequate steps to try to prevent the crime based on the unique circumstances. For these reasons it is important you hire a knowledgeable premise liability attorney. At Riddle and Brantley, we have the resources necessary to help you file or successfully negotiate your claim. We will work with you every step of the way from filing your claim to going to trial if necessary.
For a FREE consultation with an experienced negligent security lawyer handling cases across North Carolina, please call 1-800-525-7111.
The consultation is free and you won't pay any attorney fees unless we win your case and you receive compensation for your injuries and other damages.
Call 1-800-525-7111 and let's review your claim.
Do You Have a Negligent Security Claim?
If you've suffered from a criminal act due to the inadequate security of a business, you may be entitled to compensation.
Forms of compensation include payment for all related medical bills, recovering lost wages and obtaining recovery for pain and suffering associated with the act.
In order to successfully bring a negligent security claim, you must prove the same elements of other premise liability claims. The key in a negligent security case is proving that the dangerous condition is related to a foreseeable crime.
Liability Due to Inadequate Security
Anytime someone is injured on another person's property, the landowner could be liable for the injuries. This also applies to negligent security claims.
Generally, if a person sustained injuries from a crime at facilities that are open to the general public, then the land or business owner could be held accountable for not providing sufficient security.
Businesses and other facilities open to the public that may be subject to a negligent security claim include:
Grocery stores
Apartment complexes
Parking lots and garages
Bars, restaurants and other clubs
Shopping centers
Bus stops
Schools
Sports arenas
Movie theatres
Complicated Cases
Negligent security cases can be complicated, and the burden is on the injured party to prove that the property owner was negligent in failing to provide adequate security.
One of the most important elements plaintiffs must prove is that they were a lawful visitor and not trespassing at the time of the injury. Under North Carolina law, property owners do not owe trespassers any duties of care other than a duty not to intentionally cause them harm. The only exception is if the trespasser is a minor child under the age of 18.
Our law firm has experience handling complex cases and we can advise you on the merits of your claim and your best available legal options. The consultation is free and you won't pay a dime in attorney fees unless we win your case and you receive compensation.
Civil Claims vs. Criminal Cases
In many cases, filing a claim against the property owner rather than pursuing a criminal case against the assailant or other responsible party is the easier route. This is especially true when law enforcement is unable to locate the person responsible for the crime.
In the event that the criminal is also found and charged, you could be eligible to pursue separate criminal and civil claims.
Call for a FREE Consultation
Don't gamble with your legal rights. You deserve justice if you've been injured due to a property owner's negligence and failure to provide adequate security.
For a FREE consultation with an experienced North Carolina premises liability lawyer, please call 1-800-525-7111.
There are no upfront costs and we don't get paid unless you do. If we don't recover compensation for you, you won't pay any attorney fees.
Justice Counts. Call 1-800-525-7111 and let's talk.