3M Earplug Lawsuit Timeline
"How long will 3M earplug lawsuits take?"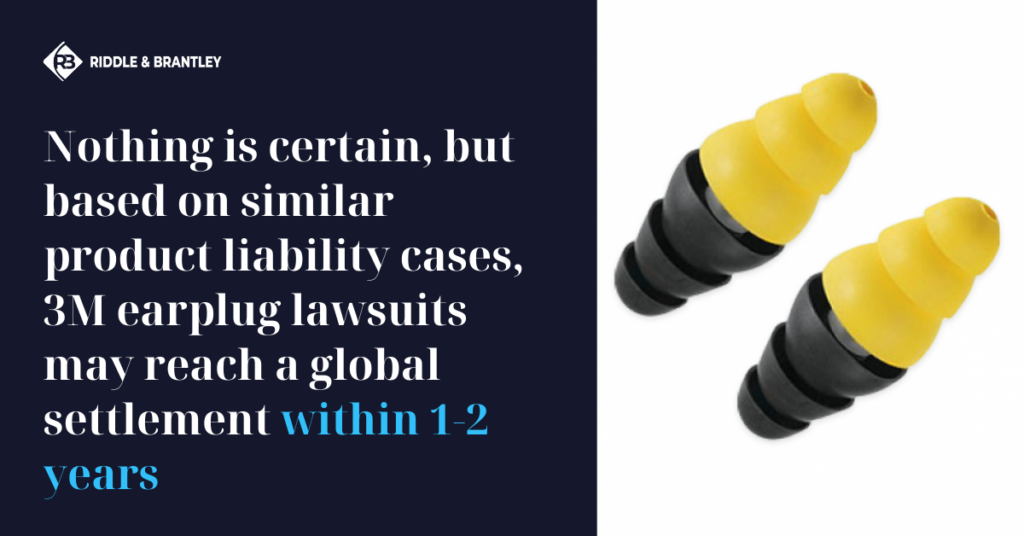 That's the question on the minds of more than 229,000 veterans and active duty service men and women who have filed lawsuits against 3M alleging that Combat Arms earplugs caused hearing loss and tinnitus.
In this article, we'll discuss when plaintiffs might expect a settlement or verdict in their cases, and factors that may influence the 3M earplug lawsuit timeline.
IMPORTANT: If you've served in the military between 2003 and 2015, been in active combat, and suffered hearing loss or tinnitus after using 3M Combat Arms dual-ended earplugs, you may be entitled to compensation. Call 1-800-525-7111 for a FREE, no-obligation consultation with an experienced 3M earplug lawsuit attorney today. We can show you how to join a 3M earplug lawsuit and handle the entire process from start to finish.
3M Earplug Lawsuit Process
Filing a 3M earplug claim or joining a 3M earplug lawsuit is relatively simple. Provided you meet the criteria below, you can work with an experienced product liability attorney to file or join a lawsuit.
3M Lawsuit Criteria
In order to file a 3M earplug lawsuit, the plaintiff must:
Have served in the U.S. military between 2003 and 2015
Have served in active combat
Have used dual-ended 3M Combat Arms earplugs during service
Have been diagnosed with hearing loss or tinnitus within 2 years of discharge
Have been honorably discharged
Because there are so many claims against 3M, these lawsuits have been consolidated into "multi-district litigation" (MDL). In an MDL, claims remain separate but are grouped together in order to speed up the judicial process. The first of the 3M earplug cases went to trial in early 2021.
"Bellwether Trials"
The first 3M earplug cases tried in court as part of the 3M earplugs MDL are known as "bellwether trials." This means that these cases should offer a good indication of how these lawsuits will stand up in court, and what kind of settlements and/or verdicts plaintiffs can expect.
According to Henry Blair, a professor at the Mitchell School of Law in St. Paul, "the parties will use these cases as a way of gauging their arguments and the strength of their positions." The Minneapolis Star-Tribune notes that bellwether trials in MDL cases "set the tone for resolving all claims."
These bellwether 3M earplug trials may influence how quickly these lawsuits settle.
Global Settlements
In mass tort cases like the 3M earplug MDL (and recent examples such as claims against Roundup), it can sometimes take several years for plaintiffs' and defense counsel to reach a global settlement. In a "global settlement," thousands of lawsuits may be subject to the settlement agreement, though plaintiffs and their product liability lawyers may determine whether to join the agreement or not.
"How Long Will It Take 3M Earplug Lawsuits to Settle?"
No outcome is guaranteed, but as the first cases go to trial in 2021, it seems likely that a global settlement in 3M earplug lawsuits may be reached within 1-2 years, based on similar mass tort product liability cases.
Legal analysts anticipate that 3M earplug lawsuits will eventually settle. However, the 3M earplug lawsuit timeline and potential average 3M earplug lawsuit payouts are unknown, and will depend on many different factors.
Based on recent experience with other mass tort product liability cases, however, it seems likely that the 3M earplug lawsuits may take a year or more to settle out of court. In the interim period, there may be jury verdicts that influence 3M's decision-making on whether to continue litigating these claims.
For example, in 2020 Bayer agreed to a global settlement in Roundup cancer lawsuits, but only after several years of litigation that included several multi-million dollar jury verdicts in individual cases. Even so, Bayer still faces thousands of plaintiffs who have not agreed to join the global settlement.
The 3M lawsuit timeline may extend beyond a global settlement, as well, if certain plaintiffs and their attorneys do not agree to join the settlement.
"The first cases in 3M earplug litigation have gone to trial and now is the time for injured veterans or active duty soldiers to file a claim."
–Gene Riddle, attorney and founding partner, Riddle & Brantley
For a FREE consultation with an experienced 3M earplug lawsuit lawyer, please call 1-800-525-7111 or complete the fast and easy form below.
The consultation is free, and we don't get paid unless you do. If we don't recover compensation for you in your 3M earplug lawsuit, you won't pay any attorney fees.
Call 1-800-525-7111 and let's review your claim.
Close Ties to the Military
Many of our attorneys and staff have close family ties to the military, and our offices are located near four North Carolina military bases — Seymour Johnson Air Force Base in Goldsboro, Fort Bragg in Fayetteville, Camp Lejeune in Jacksonville, and Cherry Point Marine Corps Air Station in Havelock.
We are honored to serve those who have served our country.
"By far the best law firm that actually cares about helping veterans."
–B. Fields, Riddle & Brantley client
Veterans and service members who meet the following criteria may qualify for a 3M earplug lawsuit:
Served in the military between 2003 and 2015
Served in active combat
Used 3M Combat Arms dual-ended earplugs while in service
Diagnosed with hearing loss or tinnitus within 2 years of discharge
Received an honorable discharge
Justice Counts for those who have served our country and been injured due to defective 3M earplugs. We will do whatever we can to help these brave men and women get the justice they deserve. Our personal injury lawyers have recovered more than $600 million in compensation for victims of others' negligence since 2000 alone (see disclaimer below).
Please call 1-800-525-7111 and let's review your 3M earplug claim. You may be entitled to significant financial compensation and we are here to help however we can.
---
*** Disclaimer: The results mentioned are intended to illustrate the type of cases handled by the firm. These results do not guarantee a similar outcome, and they should not be construed to constitute a promise or guarantee of a particular result in any particular case. Every case is different, and the outcome of any case depends upon a variety of factors unique to that case.