AFFF Settlements: What Can Victims Expect?
Since research uncovered a link between the PFAS "forever" chemicals in AFFF (firefighting foam) and cancer, hundreds of lawsuits have been filed by firefighters and property owners alleging that AFFF and AFFF runoff caused their cancer. Our firm is handling many of these firefighting foam cancer lawsuits, and many potential clients wonder, "What kind of AFFF settlement can I expect?"
IMPORTANT: The short answer is that you can never expect any sort of settlement or verdict in a lawsuit. The outcome of any AFFF cancer claim is uncertain, and will depend on the unique facts and circumstances of your case.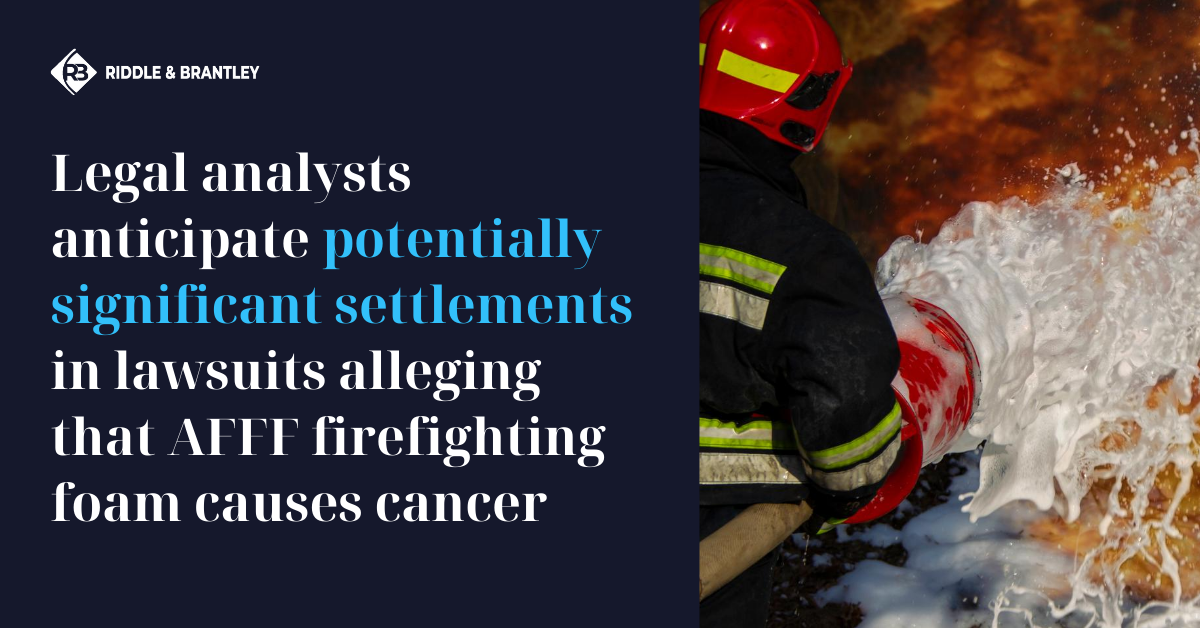 That said, legal analysts anticipate that potential AFFF settlements may cost firefighting foam manufacturers millions of dollars. Recent lawsuits against manufacturers of products containing PFAS chemicals have resulted in multi-million dollar settlements, including a 2017 settlement by Teflon manufacturers Dupont and Chemours Co. totaling $671 million.
Dupont PFAS Lawsuit Settlement
In the multi-district litigation against Dupont and Chemours Co., more than 3,500 plaintiffs alleged that perfluorooctanoic acid (PFOA) — a PFAS chemical — in runoff from the firms' Parkersburg, West Virginia manufacturing plant had caused cancer among nearby property owners. Chemours Co. was spun off from Dupont in 2015.
The PFOA-containing runoff from the Dupont manufacturing plant contaminated the local water supply. PFAS (perfluoroalkyl and polyfluoroalkyl substances) have been linked to different types of cancer, including testicular cancer and kidney cancer — the two cancers at the center of recent AFFF cancer claims against firefighting foam manufacturers.
Although Dupont and Chemours Co. denied wrongdoing, the companies agreed not to challenge whether C-8 (a PFOA chemical resulting from the manufacturing of Teflon products) causes cancer. Both companies denied wrongdoing throughout the litigation and did not admit fault as a condition of the settlement.
The $671 million Dupont settlement was to be distributed among roughly 3,550 claimants, depending on the facts and circumstances of those claimants' cases.
The Dupont PFAS lawsuit settlement foreshadowed recent PFAS litigation, in which thousands of separate claims and lawsuits have been made against manufacturers like Dupont and 3M alleging that PFAS contamination in drinking water caused cancer.
According to a recent study, the water of 19 million people in 43 states in the United States is contaminated with PFAS.
Potential AFFF Settlements in Firefighting Foam Cancer Cases
So, what kind of AFFF settlement can plaintiffs in firefighting foam cancer lawsuits expect? The truth is, the outcome of any case is uncertain, and will ultimately depend on the unique facts and circumstances of the case. A favorable settlement or verdict is never guaranteed, however, given the precedent established in lawsuits such as the recent claims against Dupont, AFFF cancer claims could potentially result in significant settlements or verdicts.
Firefighters using AFFF "firefighting foam" and property owners near airports and military installations whose water source was potentially contaminated by AFFF runoff are at the highest risk of developing cancer linked to firefighting foam.
Have you been diagnosed with cancer after exposure to AFFF or AFFF runoff?
Those diagnosed with kidney or testicular cancer after exposure to AFFF firefighting foam — or contaminated drinking water due to AFFF runoff — may be entitled to significant financial compensation. AFFF settlements and verdicts may be on the horizon, and now is the time to have your claim investigated.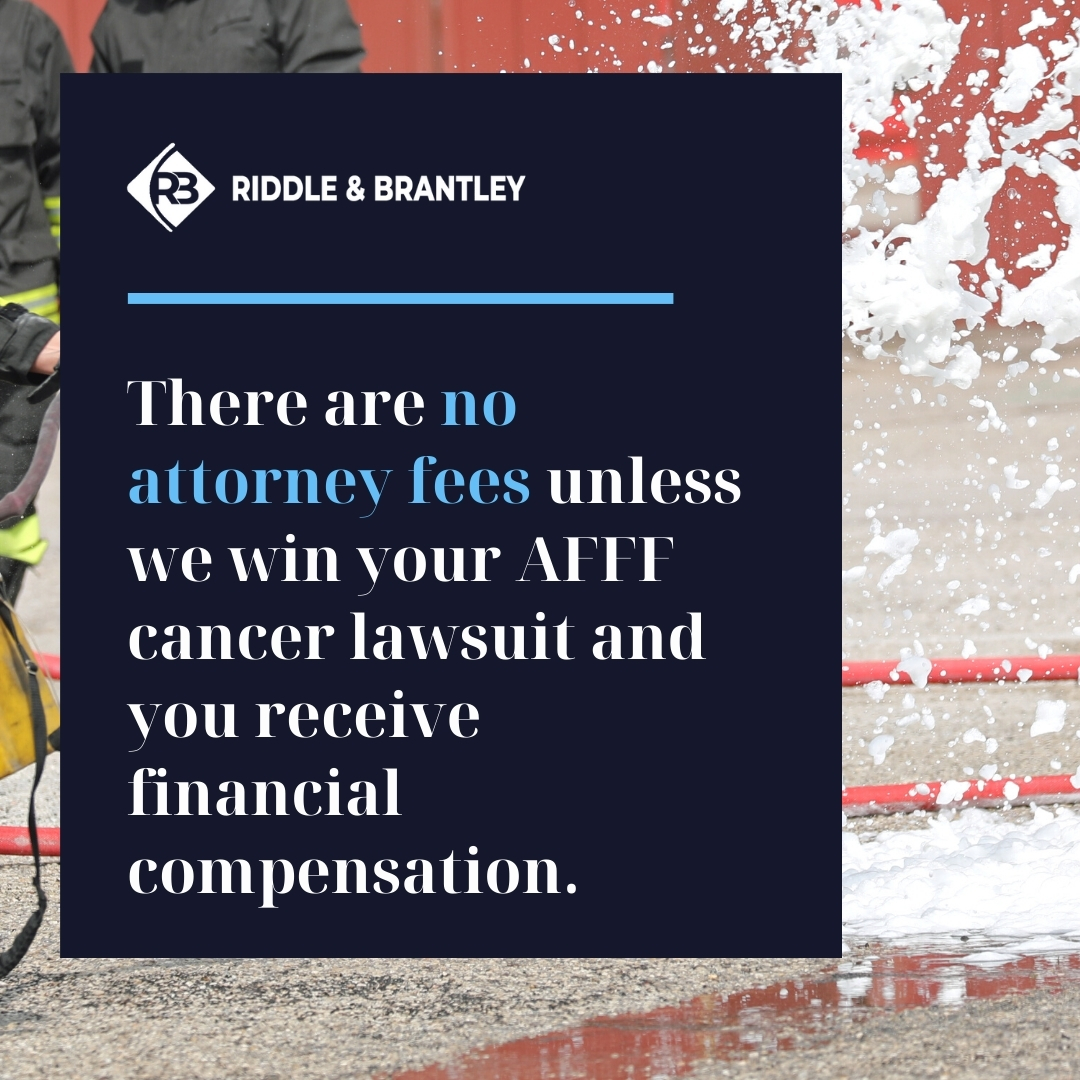 For a FREE, no-obligation consultation with an experienced AFFF cancer lawsuit lawyer, please call 1-800-525-7111 or complete the fast and easy form below.
Our firm has been fighting to hold potentially negligent manufacturers like Dupont and 3M accountable for more than three decades and we would love to help you seek justice. We've secured many significant judgments and settlements on behalf of those who have suffered injury and illness due to others' negligence and we invite you to review the words our clients are using to describe their experience working with our attorneys and staff (see disclaimer below).
Please call 1-800-525-7111 today and let's review your AFFF cancer claim. The claim investigation is free and you won't pay any attorney fees unless we win your case and you receive financial compensation.
"This settlement changed me and my family's lives."
–Linda B., Riddle & Brantley client
Favorable AFFF settlements and/or verdicts are not guaranteed, but if you've suffered kidney cancer or testicular cancer after exposure to firefighting foam, you may be eligible for a claim for compensation.
Don't wait — the longer you wait to contact an AFFF cancer lawyer, the harder it may be to win your case and recover the compensation you need and deserve.
Justice Counts for those who have suffered cancer due to exposure to dangerous chemicals like PFAS and you deserve justice. Please call 1-800-525-7111 today for a FREE, no-obligation consultation and claim investigation.
---
*** Disclaimer: The results mentioned are intended to illustrate the type of cases handled by the firm. These results do not guarantee a similar outcome, and they should not be construed to constitute a promise or guarantee of a particular result in any particular case. Every case is different, and the outcome of any case depends upon a variety of factors unique to that case.