Can JUUL cause cancer?
With multiple deaths reportedly connected to e-cigarette usage (also known as "vaping"), health experts are taking a closer look at the long-term health risks associated with devices like JUULs.
One of the most urgent questions is this:
Can JUUL cause cancer?
Though e-cigarettes do not burn tobacco, the liquid inside a JUUL cartridge contains as many as 70 chemicals, some of which are known to be cancer-causing.
A 2015 study published in the journal Oral Oncology linked e-cigarettes to cancer-related cell damage.
Potentially cancer-causing chemicals that may be found in JUUL cartridges include:
Formaldehyde
Nitrosamines
Carbonyl compounds
Polycyclic aromatic hydrocarbons (PAH)
Acrolein
Family and emergency physician Dr. Janette Nesheiwat explains that certain ingredients in JUULs and other e-cigarettes "are known to cause irritation and inflammation in the lungs; prolonged exposure can result in damage to the DNA of the cells, which then results in cancer after prolonged exposure."
Menthol and Mint Flavorings: JUUL Cancer Risk
Menthol and mint flavored JUUL cartridges may pose additional cancer risk, according to the Centers for Disease Control and Prevention (CDC).
Menthol and mint flavorings contain pulegone, an oil extracted from mint plants like peppermint and spearmint. In 2018, the Food & Drug Administration (FDA) banned synthetically manufactured pulegone in food due after the oil was determined to be cancer-causing in animal studies.
In e-cigarettes like JUULs, pulegone levels "by far exceeded [the] amount FDA was considering safe," according to study co-author Sven Jordt, associate professor in anesthesiology, pharmacology and pathobiology at Duke University's School of Medicine.
"Users may eventually develop cancer based on the risk we found."
JUUL and Cancer Risk: More Data Needed
E-cigarettes have been on the U.S. market for less than two decades, and long-term data is simply unavailable. This presents significant challenges for researchers trying to determine if JUULs cause cancer or other life-threatening diseases.
"The problem is we really don't have any long-term health data," said Dr. Amy M. Ahasic, section chief for pulmonary and critical care medicine at Norwalk Hospital in Norwalk, Connecticut. "If we think about lung cancer, the majority of patients diagnosed with lung cancer are aged 65 or greater, and many of those people started smoking when they were in their teens and 20s."
Ultimately, more studies are needed in order to make more definitive conclusions about cancer risk associated with JUULs and other e-cigarettes.
"The jury's out," said Dr. Susan Garwood, a pulmonary critical care physician for HCA Healthcare in Nashville, Tennessee. When using JUULs and other e-cigarettes, "consumers need to be aware that they're not taking away all of the cancer risk. There are carcinogens in the liquids."
Do you have a potential JUUL lawsuit? 
If you've suffered addiction or injury due to using JUUL e-cigarettes between age 14 and 26, you may be entitled to financial compensation. Our JUUL lawsuit lawyers are actively investigating these claims.
JUUL may have deliberately downplayed health risks associated with JUUL e-cigarettes and aggressively targeted minors.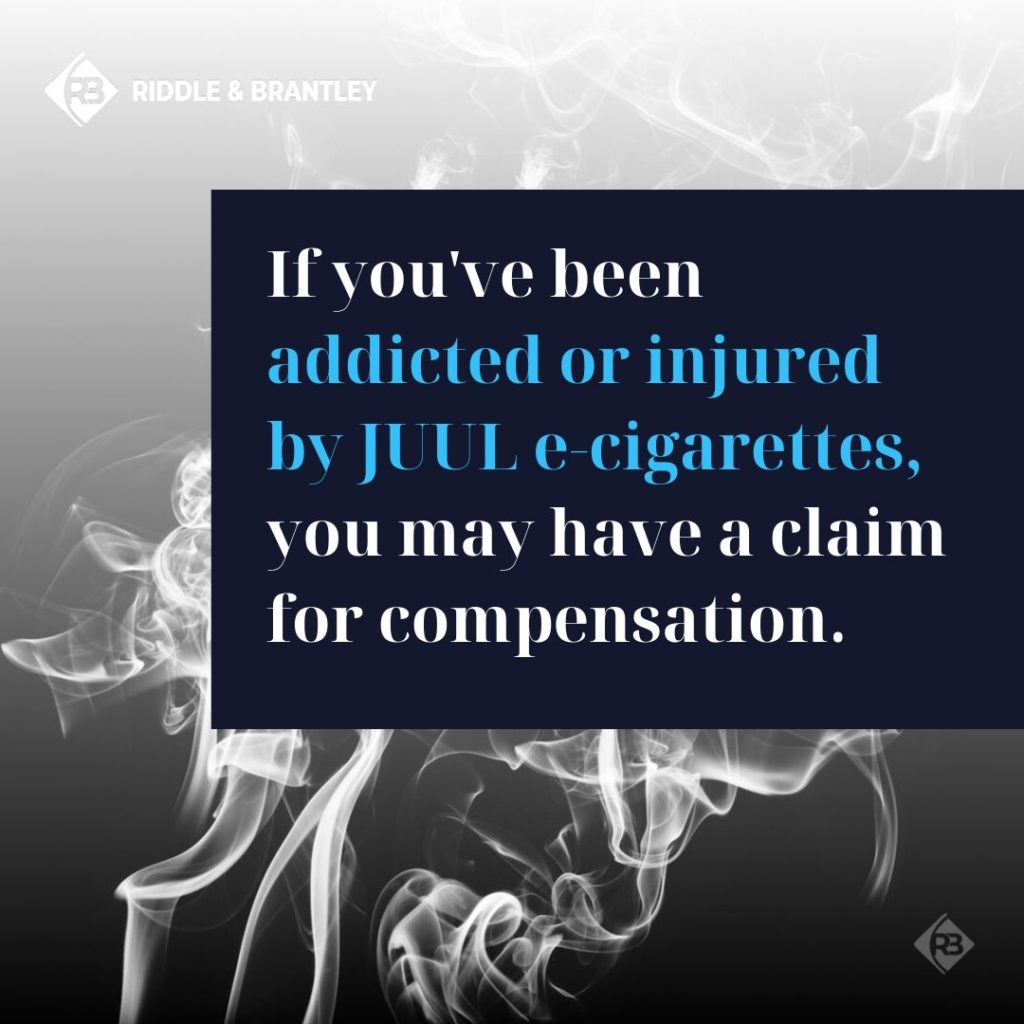 We believe that's wrong and if these allegations are true, we are committed to holding JUUL and other e-cigarette manufacturers accountable.
For a FREE consultation with our product liability attorneys, please call 1-800-525-7111 or complete the short form below.
There is no obligation and no attorney fee unless we win your case and you receive financial compensation.
Our JUUL lawsuit lawyers have more than 220+ years of collective legal experience and we are committed to fighting for justice for injured consumers everywhere.
Call 1-800-525-7111 to speak with our legal team. We'll listen to you and advise you on your legal options. The consultation is free, and you won't pay a dime unless we win your case.
Please call us today. We'd love to help if we can.
Justice Counts.