Did Syngenta and Chevron Know Paraquat Causes Parkinson's Disease?
Plaintiffs' attorneys in a bellwether trial alleging that Paraquat weed killer causes Parkinson's disease are expected to introduce potentially damning evidence against herbicide manufacturer Syngenta. Namely, plaintiff's attorneys will introduce "internal company records showing Syngenta knew that its product causes Parkinson's disease," according to a recent report.
Chevron, another manufacturer of the popular herbicide, is also alleged to have failed to warn that Paraquat can cause Parkinson's disease.
According to a statement released by Mark DiCello, an attorney representing plaintiffs in the Paraquat lawsuits, Chevron and Syngenta have "long known they were peddling this poison." Another attorney for plaintiffs, Jeffrey Goodman, says that the latest lawsuits are just the "tip of the iceberg."
Legal analysts are anticipating potentially significant Paraquat compensation to be awarded in these lawsuits, which may soon be consolidated into multi-district litigation (MDL) proceedings — a legal mechanism to streamline similar lawsuits.
Did Paraquat Manufacturers Hide Parkinson's Disease Risks from the Public?
Many manufacturers may be liable for Parkinson's disease potentially caused by Paraquat. An attorney for plaintiffs argues that "the manufacturers of paraquat knew for decades that their product was linked to Parkinson's disease yet chose to hide this information from regulators and the public."
In a recent lawsuit filed against Syngenta in California, a plaintiff alleged that Syngenta "failed to warn that … paraquat was likely to cause or contribute to cause latent neurological damage that was both permanent and cumulative, and repeated exposures were likely to cause or contribute to cause clinically significant neurodegenerative disease, including PD [Parkinson's disease], to develop long after exposure."
Another recent report revealed that internal Syngenta documents dating back as far as 1968 show the company "rejected or resisted" efforts to change the formulation of Gramaxone (its brand of paraquat) to make it safer.
Syngenta and Chevron Deny Paraquat Allegations
Syngenta and Chevron, the nation's largest manufacturers of Paraquat, strongly deny the allegations. In a statement, Syngenta vowed to "vigorously" defend itself against the lawsuits, and claimed that paraquat is "safe and effective," having been approved for use in the United States for more than 50 years.
Despite being banned in roughly 30 countries, Paraquat is still allowed in the United States as a "restricted use" chemical regulated by the Environmental Protection Agency (EPA).
Paraquat is sold under brand names including:
Paraquat
Blanco
Bonfire Herbicide
Devour
Firestorm
Gramaxone (developed by Syngenta)
Helmquat
Para-SHOT
Parazone
Quik-Quat
1st Bellweather Trial in Paraquat Lawsuits to Start in June 2021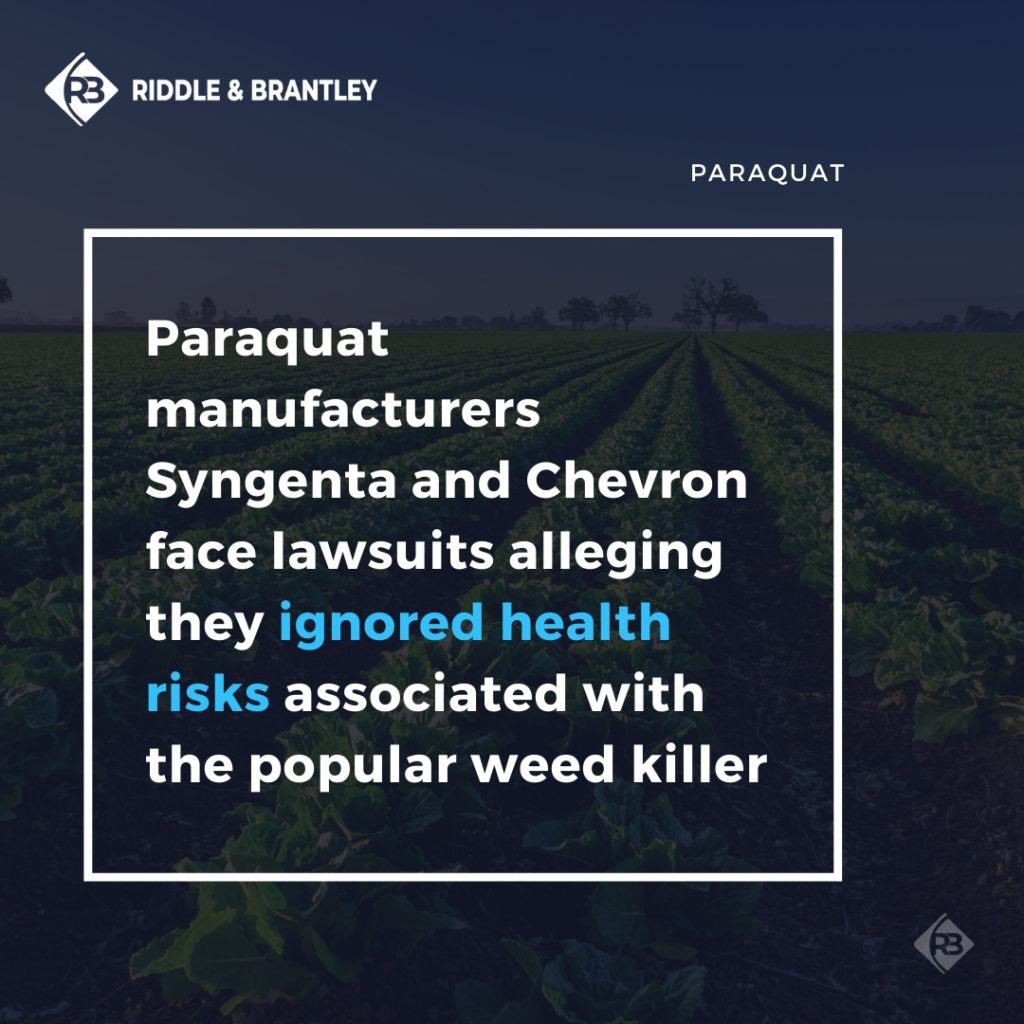 Paraquat Parkinson's disease lawsuits continue to be filed across the country, with the first of many trials scheduled to begin in June 2021 in St. Claire County Circuit Court in Illinois. As a "bellwether" trial, Hoffman v. Syngenta will allow plaintiffs' and defense attorneys to gauge the strength of arguments — and the potential for Paraquat settlements in the future.
Legal analysts increasingly believe that Paraquat lawsuits will result in multi-million dollar settlements for those alleging that Paraquat caused their Parkinson's disease.
Have You Suffered from Parkinson's Disease After Exposure to Paraquat?
Paraquat exposure has been linked to Parkinson's disease, and our Paraquat lawyers are actively investigating these claims against manufacturers like Syngenta and Chevron.
For a FREE consultation with an experienced Paraquat lawsuit attorney about how to file a Paraquat lawsuit, please call 1-800-525-7111 or complete the fast and easy form below.
The consultation is free and you won't pay any attorney fees unless we win your case and you receive compensation.
Call 1-800-525-7111 and let's review your claim.
Those at higher risk of Paraquat exposure include:
Farm workers
Pesticide and herbicide applicators, mixers, and loaders
Property owners near farms using Paraquat
Schoolchildren who attended rural schools near farms using Paraquat
Those nearby farms affected by overspray or agricultural drift
Why Riddle & Brantley?
Since 1985, we've been fighting to hold manufacturers of potentially dangerous products like Paraquat accountable. In the last 20 years alone, we've recovered more than $600 million in total compensation for victims of others' negligence.
Our experienced trial attorneys have been recognized for their experience and results by such prestigious organizations (see disclaimer below) as:
The National Trial Lawyers Top 100
The National Association of Distinguished Counsel
Multi-Million Dollar Advocates Forum
Million Dollar Advocates Forum
Super Lawyers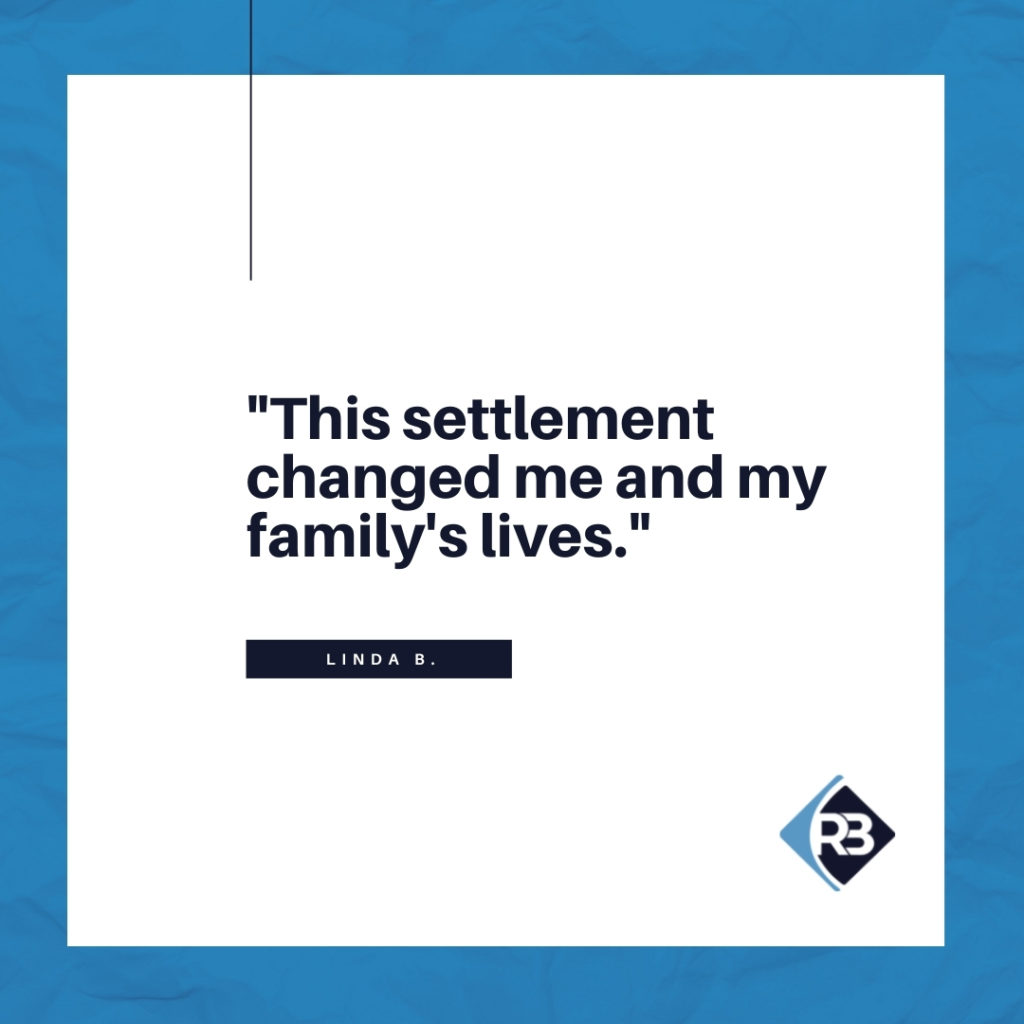 We are proud to help those exposed to Paraquat fight for justice. For a FREE consultation with an experienced Paraquat attorney handling Parkinson's disease claims, please call 1-800-525-7111. We can help determined your eligibility for a Paraquat lawsuit and, if you decide to hire us, fight aggressively for your right to maximum compensation.
Justice Counts for those who have suffered from Parkinson's disease potentially due to Paraquat exposure, and we are ready to help however we can.
Call 1-800-525-7111 and let's talk.
---
*** Disclaimer: The results mentioned are intended to illustrate the type of cases handled by the firm. These results do not guarantee a similar outcome, and they should not be construed to constitute a promise or guarantee of a particular result in any particular case. Every case is different, and the outcome of any case depends upon a variety of factors unique to that case.
*** Disclaimer: An attorney must meet certain requirements to join these organizations or receive these awards. For more information on Membership Criteria for Million Dollar Advocates Forum, Multi-Million Dollar Advocates Forum, Super Lawyers, The National Trial Lawyers Top 100, The National Association of Distinguished Counsel, AV Preeminent by Martindale-Hubbell, the Litigator Award, and other memberships, awards, and accolades, please visit our Membership Criteria page. These awards and memberships should not be construed as a promise or guarantee of a similar result. Each case is different and must be evaluated separately.