Does Toxic Baby Food Cause Brain Damage or Autism?
Is Toxic Baby Food Causing Brain Damage in Infants?
Evidence suggests that heavy metal contamination in popular baby foods may cause brain damage and other neurological and behavioral problems, potentially including autism and ADHD. In November 2019, following a series of complaints about toxic baby food and an alarming report issued by a consumer safety-focused nonprofit, a congressional committee requested that many popular baby food manufacturers turn over testing documentation for their baby food products.
The committee's final report revealed that many commercially produced baby foods contained "significant levels of toxic heavy metals including arsenic, lead, cadmium, and mercury." This has triggered a lot of concern not only among regulators but also among consumers, with the key question being whether baby food causes brain damage in infants. Baby food lawsuits have since been filed alleging that manufacturers knew about the potential risk for brain damage and neurological problems tied to heavy metal contamination — and failed to warn consumers. Defendants have strongly denied any liability and/or wrongdoing associated with these claims.
Can Heavy Metals in Baby Food Cause Neurological Problems?
Heavy metals are substances that naturally occur in our environment. It is generally agreed that heavy metals are toxic to humans, especially in higher doses, but research has shown that infants and children are especially sensitive to the effects of heavy metal exposure.
At high levels of exposure, heavy metals act as neurotoxins, and many researchers believe they can lead to long-term health effects such as:
Slowed cognitive development
Learning disorders
Stunted growth
Cancer
Research is still ongoing as to what levels of exposure can lead to these effects. Still, overall, scientists agree that due to the increased sensitivity of infants and children, exposure to heavy metals should be extremely limited.
Could Heavy Metals in Baby Food Cause Autism?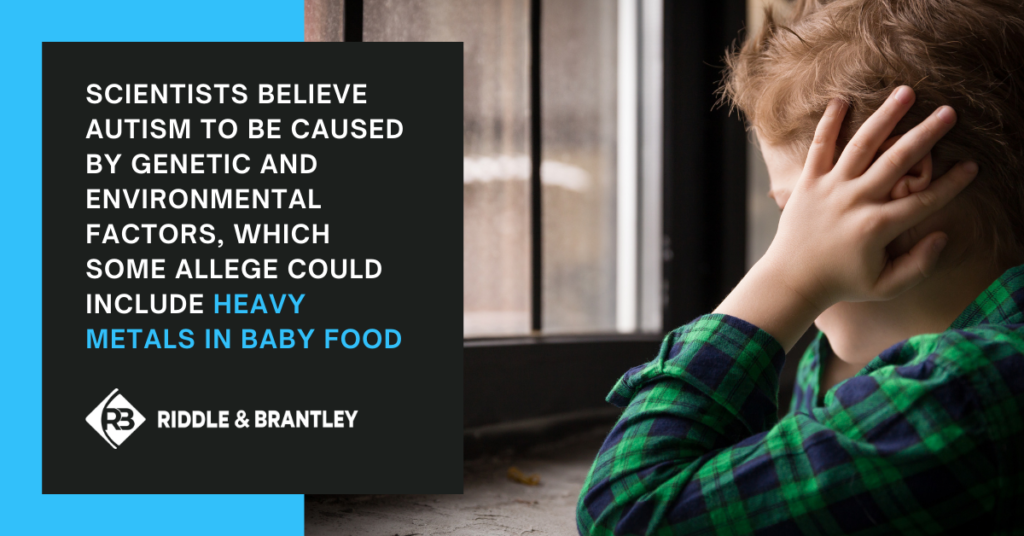 With the news about heavy metal content in baby foods, many concerned parents have also begun wondering if exposure to heavy metals in baby foods may cause autism. Our firm is actively investigating claims that toxic baby food can cause autism, and we offer free consultations concerning potential baby food lawsuits.
Autism (collectively known as Autism Spectrum Disorder or ASD) is primarily a genetic disorder, and according to the National Institute of Neurological Disorders and Stroke, "scientists believe that both genetics and environment likely play a role in ASD." The NINDS notes that "rates of autism have been increasing in recent decades without full explanation as to why." Could an "environmental" factor such as heavy metal contamination in baby food play a role in causing autism in certain infants? It is at least possible, and research is ongoing.
Toxic Baby Foods and Autism: Further Investigation Needed
It's important to note that while scientists believe that environmental factors (potentially including heavy metal toxicity) likely contribute to autism, NINDS reports that "no specific environmental causes have yet been identified."
What Baby Foods Should Be Avoided?
With the discovery of heavy metals in commercially produced baby foods and snacks, there are some types of baby foods that parents are being cautioned to avoid due to their tendencies to contain higher levels of heavy metals.
Rice-based foods and snacks — rice was once considered a safe baby food, but recent testing has found high levels of arsenic in rice that may be harmful to babies.
Commercially-produced fruit juices — not only are commercially produced fruit juices high in sugars that can lead to tooth decay and obesity, but they can also contain unusually high levels of lead and arsenic.
More research is required to verify how many of these foods are safe, consult your pediatrician so when in doubt about the safety of baby food.
Brands of Baby Food Contaminated with Heavy Metals
Baby food products found to contain dangerous levels of heavy metal toxins include but may not be limited to:
Nurture (HappyBABY and Happy Family Organics)
Hain Celestial Group (Earth's Best Organic)
Beech-Nut 
Gerber
Campbell Soup (Plum Organics)
Walmart (Parent's Choice)
Sprout Foods (Sprout Organic Food)
Response from Baby Food Manufacturers
When the initial request for document review was made, Gerber, Beech-Nut, Hain Celestial, and Nurture Inc. all turned over their documents. However, Walmart, Sprout Foods, and Campbell Soup Co. did not respond to the request. This lack of cooperation was noted in the report:
"The Subcommittee is greatly concerned that their lack of cooperation might be obscuring the presence of even higher levels of toxic heavy metals in their baby food products than their competitors' products."
Currently, the Food and Drug Administration (FDA) does not have any limits on the amount of heavy metals that can be present in baby foods. However, the FDA has issued guidance about the amount of inorganic arsenic that they consider safe for consumption by infants and children.
Since the report was published, Beech-Nut issued a voluntary recall of some of their rice-based products, citing excessive levels of arsenic. They stated that they wanted to remove the product from shelves after it was brought to their attention that it contained inorganic arsenic levels above the FDA guidance levels. However, other manufacturers have not issued such recalls.
Baby Food Lawsuits
In September 2021, two consumers filed a class-action lawsuit against Gerber. They allege that the high levels of heavy metals in Gerber's baby food products put their children at risk for long-term neurological damage. Another lawsuit was recently filed alleging that metal toxins in baby food caused childrens' autism.
Our firm is actively investigating claims that toxic baby food may cause serious brain damage and neurological and behavioral disorders, including autism and ADHD. For a FREE, no-obligation consultation about baby food lawsuit eligibility, please call 1-800-525-7111 or complete the fast and easy form below. There is no obligation and you won't pay any attorney fees unless we win your case and you receive compensation.
Please call 1-800-525-7111 and let's review your baby food brain damage claim.