EVALI – E-Cigarette & Vaping Product Use Associated Lung Injury
What is EVALI?
Following hundreds of reported cases and multiple deaths, the Centers for Disease Control and Prevention (CDC) has formally named the mysterious illness associated with JUUL and other e-cigarette use (otherwise known as "vaping"). The e-cigarette-related lung illness has been named EVALI, which stands for "e-cigarette or vaping product use associated lung injury."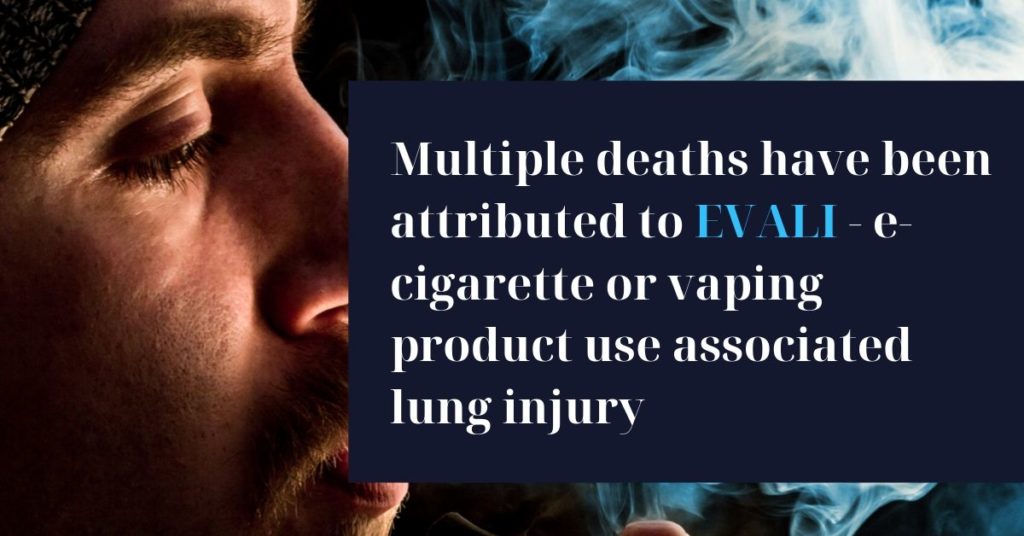 As of late early 2020, more than 2,000 EVALI cases had been reported in the United States. More than 50 deaths had been attributed to EVALI according to the CDC.
***Our product liability attorneys are representing certain client who have vaped with JUUL e-cigarettes between ages 14 and 26 and suffered addiction, illness, injury or death. Please call 1-800-525-7111 for a FREE consultation. You may be entitled to compensation.
As of late 2019, 80% of EVALI cases reported involve patients less than 35 years old. 70% of affected patients are male.
For more information on the severe lung disease associated with vaping (now known as EVALI), please visit the CDC's guide to vaping-related lung injury.
Symptoms of EVALI
Those who have contracted e-cigarette or vaping product use associated lung injury (EVALI) often experience pneumonia-like symptoms, including:
Coughing
Chest pain
Shortness of breath
Other symptoms associated with EVALI include:
Abdominal pain
Nausea
Vomiting
Diarrhea
Some patients have been diagnosed with chemical pneumonia caused by vaping, as well.
The CDC advises health care providers to be especially vigilant in screening for EVALI during flu season, as EVALI symptoms can appear similar to symptoms associated with flu.
Is EVALI linked to THC?
According to the CDC, "the specific chemical exposure(s) causing lung injuries associated with e-cigarette use, or vaping, remains unknown at this time."
While the CDC and FDA have yet to identify any specific product or chemical that causes EVALI, more than 80 percent of lung injuries reported have thus far been associated with products containing THC.
The FDA has issued a warning to consumers to stop any vaping products containing tetrahydrocannabinol (THC), or any vaping products bought off the street.
Have you been injured by JUUL or other e-cigarettes?
If you've suffered addiction or injury (including EVALI) after using JUULs e-cigarettes between ages 14 and 26, you may be entitled to compensation and qualify for a potential JUUL lawsuit.
Please call 1-800-525-7111 for a free consultation and case review with one of our experienced product liability lawyers.
For years, JUUL and other manufacturers of e-cigarettes have marketed their products as a safer alternative to traditional tobacco-burning cigarettes, while downplaying increased levels of nicotine.
There is also considerable evidence that e-cigarettes like JUULs may cause cancer.
It is also alleged that e-cigarette manufacturers like JUUL deliberately marketed their products to minors by making their products easy to conceal and offering "fun" flavors like mango and Fruit Loops.
We believe that's wrong.
If JUUL and other e-cigarette companies deliberately downplayed health risks and knowingly engaged in deceptive marketing, they should be held accountable for contributing to EVALI.
At Riddle & Brantley, our product liability attorneys have been holding negligent companies accountable since 1985. Together, we have more than 220+ years of combined legal experience and would love to help you if we can.
For a FREE consultation regarding a potential JUUL lawsuit, please call 1-800-525-7111 or complete the short form below.
***Please note at this time, JUUL lawsuit eligibility requirements mean that those who used JUUL e-cigarettes between age 14 and 26 and suffered addiction, injury or illness may be entitled to compensation.
There is no obligation and if you decide to hire us, there is no upfront cost and no attorney fees unless we win your case.
Call 1-800-525-7111 to speak with an experienced JUUL lawsuit lawyer today.
Companies whose negligence results in injury should face justice. If you've used JUULs or other e-cigarettes and suffered EVALI or other injuries, please call us today.
Justice Counts.