Firefighting Foam Cancer: What You Need to Know
For firefighters, AFFF — otherwise known as "firefighting foam" — is a highly effective fire suppressant. However, firefighting foam cancer potentially caused by PFAS chemicals in AFFF raises serious questions about the suppressant's safety and risks to those exposed.
 What is firefighting foam?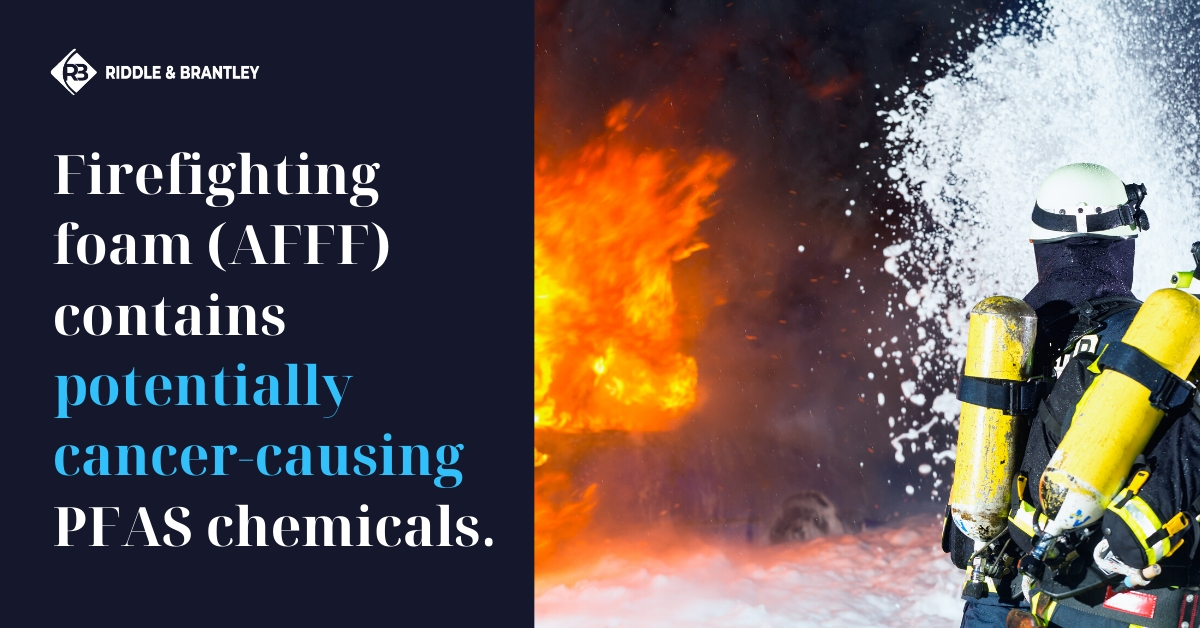 Firefighting foam, or AFFF (Aqueous Film Forming Foam), is a fire suppressant that has been used by firefighters in the United States for more than half a century. AFFF is especially effective in suppressing high-hazard flammable liquid fires (sometimes called "Class B" fires). Firefighting foam works by coating fuel and preventing its contact with oxygen, effectively denying it the opportunity to combust.
Firefighting foam was originally invented for fighting oil fires, which traditional water-based methods of firefighting are ineffective in suppressing.
In the 1960's, the US Navy developed AFFF, and it has since been used by civilian and military firefighting crews to suppress liquid fires, often those involving jet fuel and gasoline.
While AFFF is considered highly effective, serious health risks — including potential firefighting foam cancer risk — have drawn increased scrutiny and AFFF firefighting foam lawsuits in recent years.
Do the PFAS in Firefighting Foam Cause Cancer?
AFFF contains chemicals within the PFAS class (per- and polyfluoroalkyls). PFAS chemicals are commonly referred to as "forever" chemicals because once in the environment or human body, they last for an extremely long amount of time.
The PFAS chemicals present in firefighting foam are also known carcinogens, meaning they can cause cancer. The presence of PFAS in AFFF means firefighting foam cancer presents a serious risk to firefighters, airport workers, and property owners exposed to this fire suppressant.
Firefighting foam cancers potentially caused by PFAS chemicals in AFFF include:
Kidney cancer
Testicular cancer
Non-Hodgkins lymphoma
Other lymphomas
Prostate cancer
Pancreatic cancer
Breast cancer
Bladder cancer
Leukemia
Liver cancer
Ovarian cancer
Other cancers may be caused by firefighting foam, as well.
AFFF Foam Cancer Risk in Firefighters
The potential cancer risk associated with AFFF for firefighters is well-documented and evidence is growing.
In 2015, a study led by chemists at the University of Queensland examined fluorinated chemicals in the blood of firefighters exposed to AFFF and "found nine fluorinated compounds, either exclusively or at a significantly higher level, in the firefighters' blood."
Another 2015 study found that concentrations of PFAS chemicals were "three times higher" in the blood of southern California firefighters than those in the general population.
A recent report states that "Firefighters are particularly at risk from PFAS exposure because they are exposed to AFFF during both training and actual fires."
Recognizing the potential firefighting foam cancer risk to military servicemembers and communities surrounding military installations, in December 2019 the U.S. Senate voted to phase out the military's use of PFAS-based AFFF beginning in 2024. The 2020 National Defense Authorization Act (NDAA) also bans military training exercises using PFAS-based firefighting foam.
Firefighting Foam Cancer Risk for Nearby Property Owners
The potential cancer risks associated with AFFF foams are not limited to firefighters (both civilian and military), airport workers, or military personnel, however.
Potential firefighting foam cancer is a risk to property owners and communities adjacent to airports and military bases where PFAS-based AFFF is used, as well.
A report in Chemical & Engineering News found that "Airports and military bases use large amounts of firefighting foams for training purposes, and in some cases, the perfluorinated surfactants have slipped into groundwater and surface water supplies," potentially endangering surrounding communities.
AFFF runoff can contaminate well water and public drinking water and potentially cause cancer in people exposed to these firefighting foam chemicals.
Have you been diagnosed with cancer potentially caused by AFFF firefighting foam?
Firefighters (civilian and military), airport workers and property owners who have been exposed to AFFF or PFAS-contaminated water and diagnosed with cancer deserve justice.
If you've been exposed to firefighting foam and diagnosed with kidney cancer, testicular cancer or another form of cancer, you may be eligible for an AFFF cancer lawsuit.
The experienced firefighting foam lawsuit attorneys at Riddle & Brantley have been fighting to hold negligent companies accountable for decades. Our attorneys have more than 220+ years of combined legal experience and we are committed to justice for those injured due to someone else's negligence.
For a FREE consultation regarding your eligibility for a firefighting foam cancer lawsuit, please call 1-800-525-71111 or complete the short form below.
Founding partner and attorney Gene Riddle is a member of Million Dollar Advocates Forum and Multi-Million Dollar Advocates Forum, Super Lawyers and The National Trial Lawyers Top 100. He maintains a prestigious AV Preeminent rating from Martindale-Hubbell and is the recipient of the 2014 Litigator Award.
"Those exposed to firefighting foam and potentially diagnosed with cancer as a result deserve justice."
–Gene Riddle, attorney and founding partner, Riddle & Brantley
Please call 1-800-525-7111 today and let's review your case. If you've suffered from cancer as a result of exposure to firefighting foam, you deserve justice — and you may be entitled to significant financial compensation.
We believe Justice Counts and are ready to help however we can.