Hand Sanitizer and Methanol: What's the Risk?
The Food and Drug Administration (FDA) has issued an urgent warning that many hand sanitizers may contain methanol, a potentially dangerous and even life-threatening substance. In this post we'll examine the hand sanitizer methanol danger.
IMPORTANT: If you've been exposed to hand sanitizer containing methanol and experienced any of the symptoms described below, seek immediate medical attention.
Hand Sanitizer and Methanol: What's the Risk?
Most hand sanitizers contain ethyl alcohol and/or isopropyl alcohol, which help destroy bacteria and viruses. However, the FDA has warned that certain popular hand sanitizers contain methanol, which is sometimes called "wood alcohol." Methanol is toxic and there is significant hand sanitizer methanol danger associated with these specific products.
Exposure to methanol in hand sanitizer may cause serious and even life-threatening injury, including blindness, damage to the nervous system, and death.
Symptoms of methanol toxicity may include but are not limited to:
Nausea
Headache
Blurred vision
Permanent blindness
Vomiting
Seizure
Coma
Permanent damage to the nervous system
Death
Hospitalization may be required in order to treat those affected by methanol poisoning associated with toxic hand sanitizer.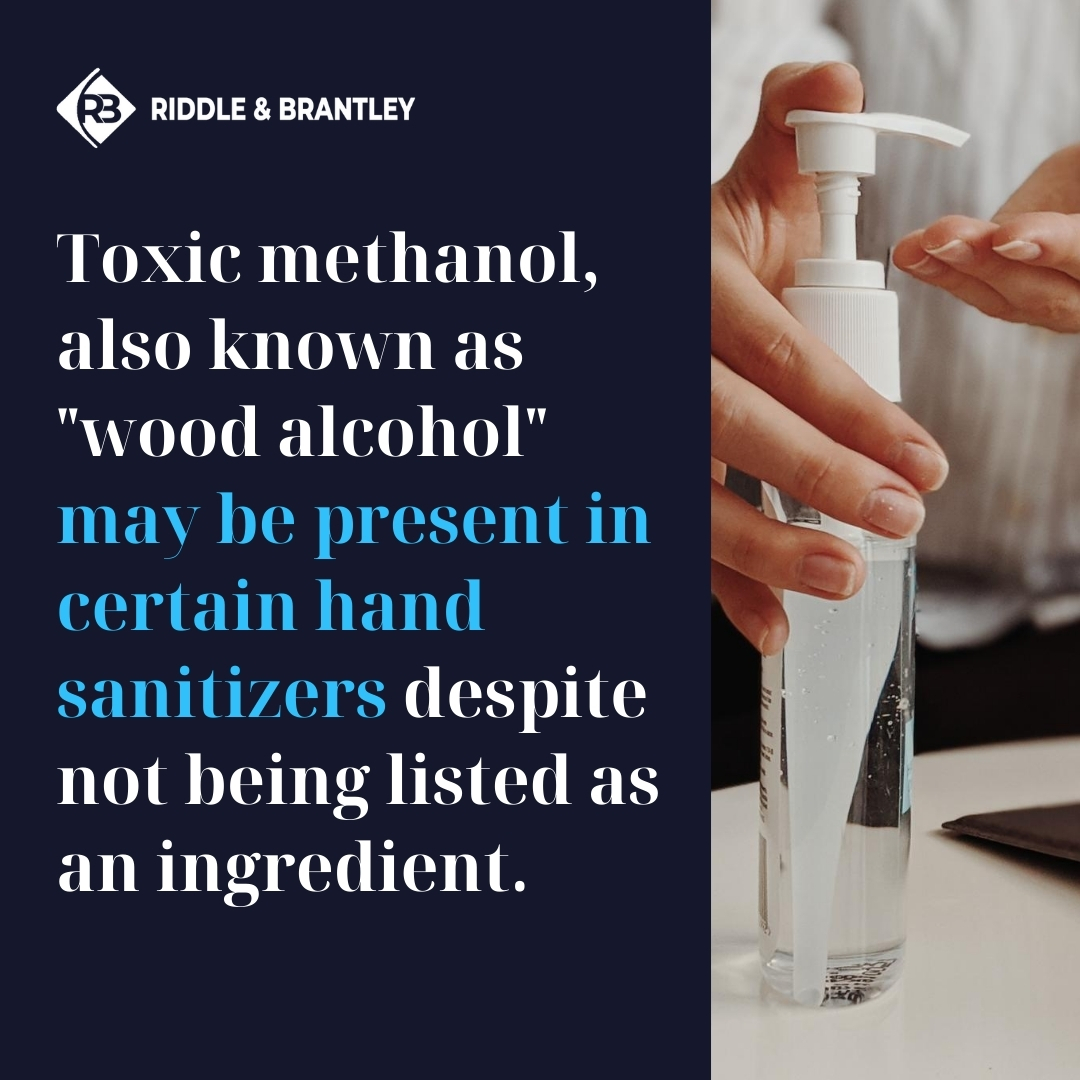 The Centers for Disease Control and Prevention (CDC) describes methanol as a "toxic alcohol that is used industrially as a solvent, pesticide, and alternative fuel source."
While severe methanol poisoning is often associated with methanol ingestion, the CDC also cautions that:
"Inhalation of high concentrations of methanol vapor and absorption of methanol through the skin are as effective as the oral route in producing toxic effects."
The FDA is even more clear: "Methanol, or wood alcohol, is a substance that can be toxic when absorbed through the skin or ingested and can be life-threatening when ingested."
A report in the Washington Post further notes that:
"Methanol can be toxic when absorbed through the skin … and can cause blindness. It can be lethal if ingested."
The CDC advises professionals to use personal protective equipment (PPE) when handling methanol, underscoring hand sanitizer methanol dangers.
IMPORTANT: To be clear, most hand sanitizers do not contain methanol and are not dangerous, but some products do contain this dangerous chemical and consumers are advised to pay attention to the FDA's hand sanitizer warning and recalls page.
Hand Sanitizer Methanol Warnings and Recalls
Issuing its warning, the FDA stated that "Methanol is not an acceptable active ingredient for hand sanitizers and must not be used due to its toxic effects."
Many manufacturers have issued hand sanitizer recalls due to methanol, but according to the Washington Post, "Because the products are mislabeled, consumers would not be able to tell which hand sanitizers actually contain methanol."
In a statement, the FDA said that "the agency has seen a sharp increase in hand sanitizer products that are labeled to contain ethanol (also known as ethyl alcohol) but that have tested positive for methanol contamination."
These recalls may affect a large number of people as the use of hand sanitizer has skyrocketed in response to the coronavirus (COVID-19) pandemic.
HEADS UP: For the most up-to-date information on product warnings and recalls, please visit the FDA's list of hand sanitizers containing methanol.
Potential Legal Action Against Hand Sanitizer Manufacturers
Those who have suffered injury or illness due to methanol poisoning associated with potentially dangerous hand sanitizers deserve justice and may be entitled to compensation.
While major litigation is not yet underway, our firm is actively monitoring the situation and may engage in legal action against potentially negligent manufacturers in the future. Please stay tuned to the Riddle & Brantley blog for the latest information on this fast-changing situation.