Is Your Hand Sanitizer Toxic? FDA Issues Urgent Warning
Is your hand sanitizer toxic?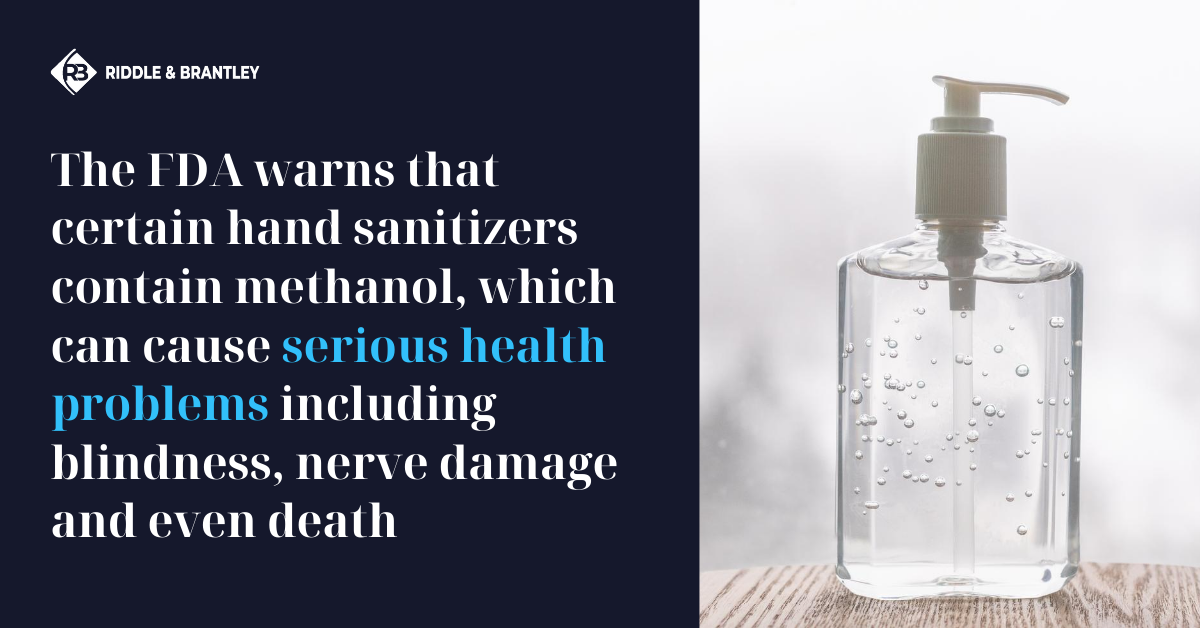 An alarming report by the Food and Drug Administration (FDA) reveals that many popular hand sanitizer products may be toxic and potentially cause serious health problems. The FDA has already issued warnings on many hand sanitizers due to potentially deadly levels of methanol (otherwise known as wood alcohol), and manufacturers have issued hand sanitizer recalls.
According to a report in the Washington Post, since June 2020, the FDA has identified at least 77 hand sanitizers that may be dangerous and even deadly. The FDA urges consumers to avoid these hand sanitizers.
For a continually updated list of potentially toxic hand sanitizers, please visit the FDA hand sanitizer toxic warnings page.
Toxic Hand Sanitizers: What is the Risk?
Most hand sanitizers contain ethanol (also known as ethyl alcohol), isopropyl alcohol, or both, which serve as agents that kills bacteria and viruses. These sanitizers work by destroying microbes' protective outer proteins and dissolving their membranes. The FDA recommends that individuals use hand sanitizers containing at least 60 percent alcohol in order to more effectively kill bacteria and viruses. Concentrations up to 90 percent alcohol are preferable.
Recently, hand sanitizers have become extremely popular (and sometimes hard to find) as a defense against the coronavirus, also known as COVID-19.
Hand sanitizers are not considered as effective as traditional hand washing (with soap and water), but are a suitable alternative when on-the-go. The Centers for Disease Control and Prevention (CDC) recommends only using hand sanitizer when soap and water are unavailable.
However, despite their potential effectiveness, certain hand sanitizers may be toxic. This is generally due to the presence of alternative alcohols (substitutions for ethyl alcohol and/or isopropyl alcohol).
Methanol is a dangerous and toxic alcohol that has been discovered in many hand sanitizers.
According to the FDA:
"Methanol is not an acceptable active ingredient for hand sanitizers and must not be used due to its toxic effects."
Methanol is also known as "wood alcohol."
Methanol contained in toxic hand sanitizer that is ingested by adults or children can lead to blindness, damage to the nervous system and even death. Hospitalization is sometimes required.
Methanol in toxic hand sanitizer may cause the following:
Nausea
Vomiting
Headache
Blurred vision
Permanent blindness
Seizure
Coma
Permanent damage to the nervous system
Death
If you or a loved one have experienced any of these symptoms due to methanol in toxic hand sanitizer, seek immediate medical attention. 
The safety of you and your loved ones is most important.
Is Hand Sanitizer Toxic? (The Short Version) 
"Is hand sanitizer toxic?"
Most hand sanitizers are not toxic, however the FDA has warned that some contain methanol (also known as wood alcohol), which is toxic and can cause serious and even life-threatening conditions. Toxic hand sanitizers may result in vision loss (including permanent blindness), permanent damage to the nervous system, and even death.
Remember, the FDA has a list of toxic hand sanitizers that is updated frequently. The FDA advises consumers not to use hand sanitizers on this list.
Stay tuned to the latest updates and stay safe.
Potential Hand Sanitizer Lawsuits
The FDA has warned that certain hand sanitizers may be toxic, and many hand sanitizer companies have issued recalls. Those who have suffered injury potentially due to exposure to toxic hand sanitizers may be entitled to compensation.
Our firm is actively monitoring this situation. For the latest information on potential toxic hand sanitizer lawsuits, please stay tuned to the Riddle & Brantley blog.
We believe Justice Counts for those injured due to potentially dangerous products.