Johnson & Johnson Baby Powder Recall
Johnson & Johnson has issued the first-ever recall of its popular baby powder after the Food & Drug Administration (FDA) discovered evidence of asbestos contamination. For years, Johnson & Johnson has denied allegations that its talc-based baby powder was contaminated with the potentially cancer-causing substance.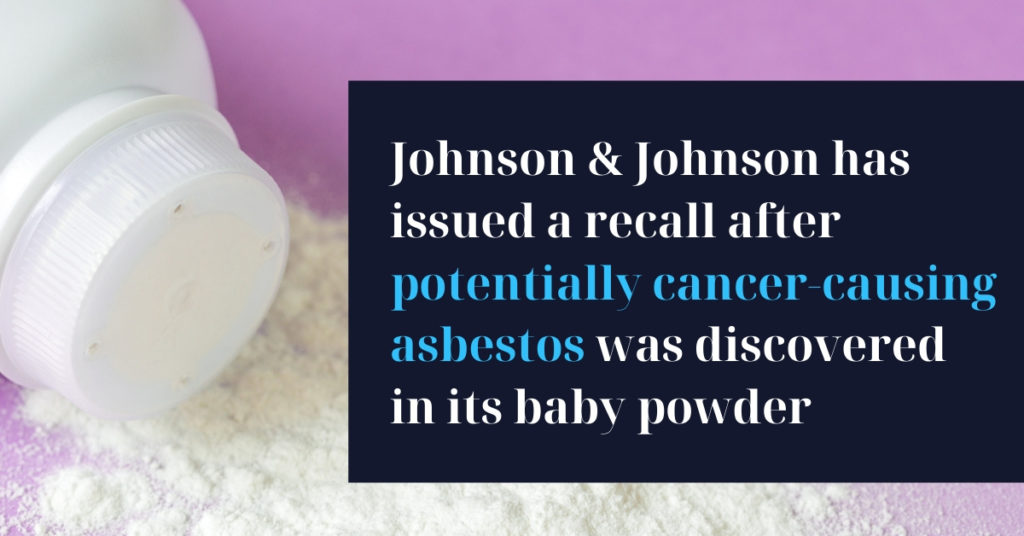 In recent years, Johnson & Johnson has faced thousands of baby powder lawsuits brought by individual diagnosed with mesothelioma or ovarian cancer. These individuals allege that exposure to potentially asbestos-contaminated Johnson & Johnson baby powder caused their cancer.
Several juries have awarded multi-million-dollar judgements against the company. Johnson & Johnson has strongly denied any wrongdoing and insists its talc-based baby powder is safe.
The company currently faces more than 15,000 baby powder lawsuits alleging Johnson & Johnson knew its talcum powder was contaminated with asbestos and did not report it to authorities or the public.
Johnson & Johnson Baby Powder Recall: How Will It Affect Pending Lawsuits?
According to David Noll, a law professor at Rutgers University, the decision to recall its baby powder is a "whopper" for Johnson & Johnson.
"I can't imagine an attorney for Johnson & Johnson standing up in front of a jury now and saying with a straight face that the product is safe."
-David Noll, professor of law, Rutgers University
Johnson & Johnson decided to issue the recall of 33,000 bottles of baby powder after the FDA discovered trace amounts of asbestos in a sample. The FDA has advised consumers with baby powder from lot number 22318RB to "stop using it immediately."
You or a loved one may qualify for a J&J Baby Powder / talcum powder lawsuit if you meet the following criteria:
Must have used Johnson & Johnson Baby Powder or Shower-to-Shower talcum powder for 4+ years continuously in the general area
Must be diagnosed with ovarian cancer, mesothelioma, or endometroid ovarian cancer
Must have been diagnosed in 2009 or later
Must have used talcum powder before menopause
Johnson & Johnson Questions FDA Test Results
In a statement, Johnson & Johnson continued to defend the safety of its product, saying that "thousands of tests over the past 40 years repeatedly confirm that our consumer talc products do not contain asbestos."
The company also seems to be questioning the validity of the FDA's testing. Johnson & Johnson said that it is working with the FDA to "determine the integrity of the tested sample and the validity of the test results."
According to legal analysts, the baby powder lawsuits may ultimately cost Johnson & Johnson as much as $5-10 billion. The recall will undoubtedly complicate the company's efforts to fight the allegations and may force it to settle.
According to a 2018 investigation by the New York Times, Johnson & Johnson executives first raised internal concerns about possible asbestos contamination in the 1970s. The company reported this year that it is the subject of a Justice Department and Securities & Exchange Commission (SEC) investigation.
Have you been diagnosed with ovarian cancer or mesothelioma after exposure to Johnson & Johnson baby powder?
If you've been exposed to Johnson & Johnson talc-based baby powder and been diagnosed with ovarian cancer or mesothelioma, you deserve justice — and you may be entitled to compensation.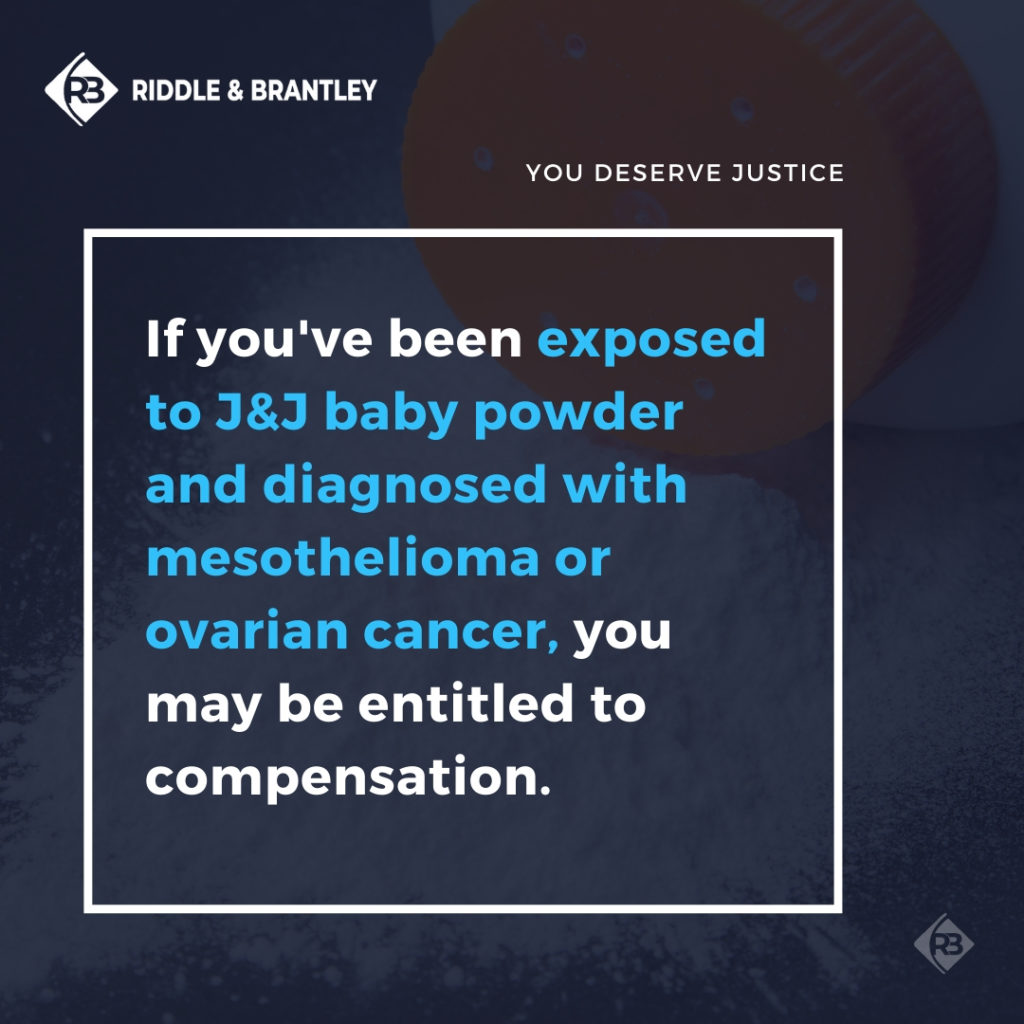 The baby powder lawsuit attorneys at Riddle & Brantley would love to help you if we can. For more than three decades our lawyers have been holding companies accountable for negligence resulting in injury.
We believe Justice Counts and are committed to fighting for justice for those injured due to others' negligence.
For a FREE no-obligation consultation, please call 1-800-525-7111 or complete the short form below.
There are no upfront costs or attorney fees unless we win your case and you receive financial compensation for your injuries.
Please call 1-800-525-7111 today and let's talk.
We will review your case and advise you on your best legal options. You may be eligible for a baby powder lawsuit, and if you decide to hire us to represent you, we will fight tirelessly for your rights.
Call Riddle & Brantley today at 1-800-525-7111.
Justice Counts.