JUUL to Pay $40 Million to Settle North Carolina Lawsuit
JUUL will pay $40 million to settle a lawsuit brought by the State of North Carolina, alleging that the company deliberately marketed its popular e-cigarettes to minors. The JUUL lawsuit was filed in 2019 by the North Carolina Attorney General, Josh Stein.
IMPORTANT: This settlement covers the lawsuit filed by the State of North Carolina ONLY, and does not impact individual claims against JUUL concerning serious lung injury potentially caused by JUUL e-cigarettes.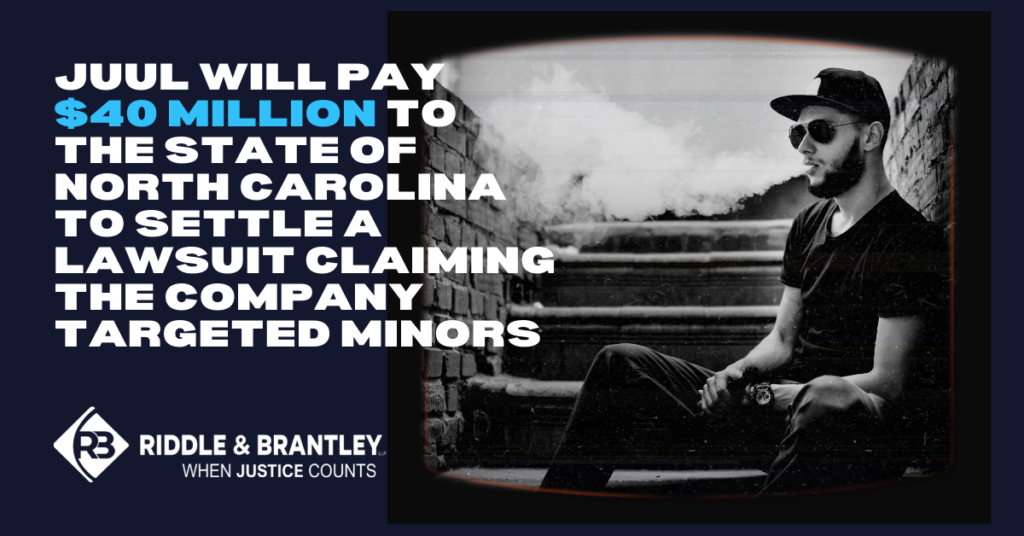 As a result of the settlement, JUUL agreed to significantly modify its advertising in North Carolina. According to a statement by the North Carolina Attorney General's office, "JUUL must abandon all marketing strategies and content that appeals to young people."
Settlement Restricts JUUL Advertising in North Carolina
In North Carolina, the $40 million settlement means that JUUL can no longer engage "influencers" in advertising, use outdoor advertising near schools, sponsor sporting events or concerts, and — perhaps most importantly — use social media to promote its e-cigarette and vaping products.
JUUL had been accused of knowingly targeting minors with advertising that downplayed health risks and relied heavily on social media.
Are More JUUL Settlements on the Horizon?
The announcement marks the first settlement between JUUL and a state government. Multiple states have filed lawsuits against the e-cigarette company, alleging that it knowingly targeted minors, downplayed health risks, and engaged in manipulative marketing. The company is also the subject of thousands of other JUUL lawsuits by individual plaintiffs.
According to the North Carolina Attorney General's office, settlement funds will support youth affected by e-cigarettes, such as those suffering from e-cigarette and vaping product-associated lung injury (EVALI), a serious injury identified among vapers. Settlements funds will also support vaping cessation and prevention programs.
"This win will go a long way in keeping JUUL products out of kids' hands, keeping its chemical vapor out of their lungs, and keeping its nicotine from poisoning and addicting their brains," said North Carolina Attorney General John Stein. "We're not done — we still have to turn the tide on a teen vaping epidemic that was borne of JUUL's greed."
"Does This Affect Other JUUL Lawsuits?"
Thousands of JUUL lawsuits have been filed by individual plaintiffs, alleging that JUUL e-cigarettes and vaping products caused serious lung injury, including EVALI. These individual lawsuits are NOT affected by JUUL's settlement with the State of North Carolina.
If you've been diagnosed with a serious lung injury (including EVALI) after using JUUL e-cigarettes, call 1-800-525-7111 to speak with a JUUL lawsuit attorney for a free consultation.
Do You Have a JUUL Lung Injury Claim?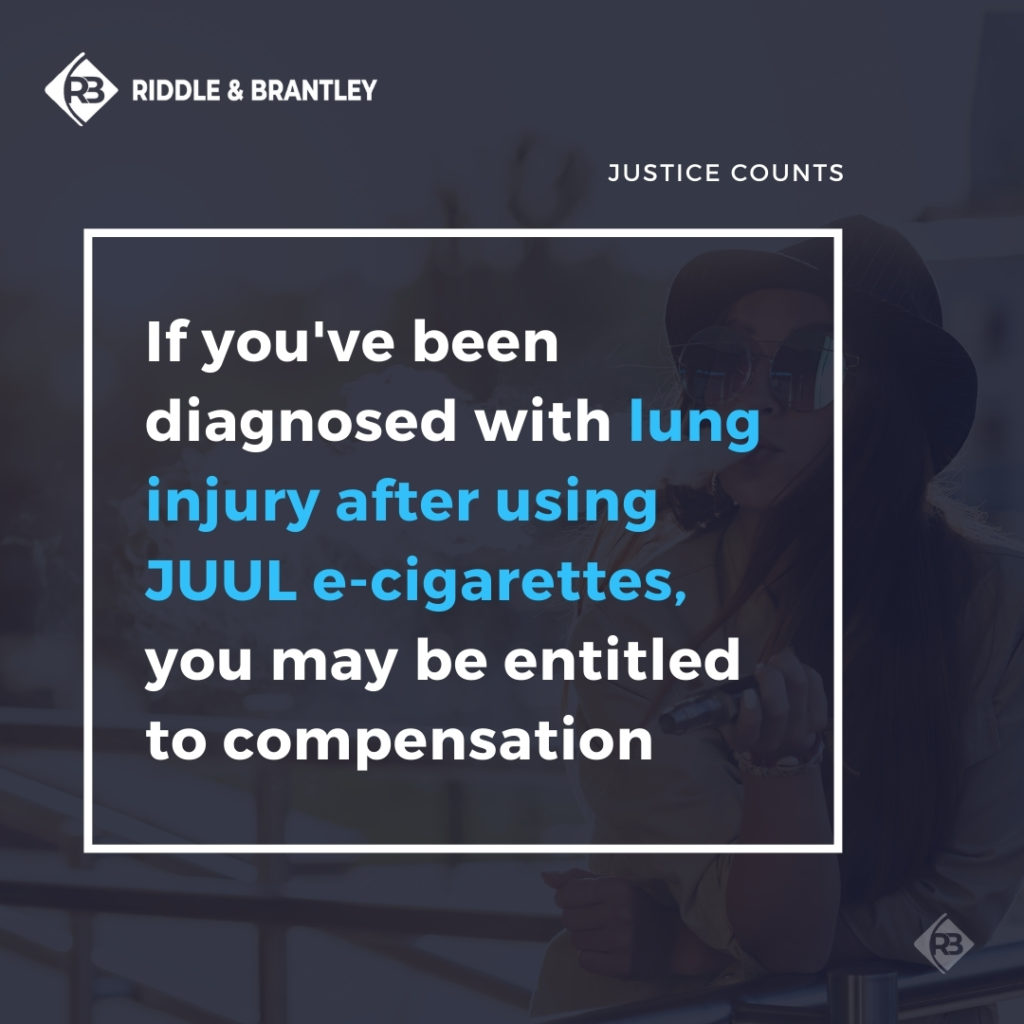 Our firm is still actively investigating claims that JUUL e-cigarettes caused serious injury including EVALI. For a FREE, no-obligation consultation concerning a potential JUUL lawsuit with an experienced product liability attorney, please call 1-800-525-7111.
The consultation is free, and you won't pay any attorney fees unless we win your case and you receive compensation.
Call 1-800-525-7111 and let's review your claim. If you used JUUL e-cigarettes and were diagnosed with EVALI or another serious lung injury or cancer, you may be entitled to compensation and we are ready to help however we can.
Our team of product liability attorneys has more than 220+ years of combined legal experience, and we've recovered millions of dollars in compensation for victims of others' negligence (see disclaimer below). For a FREE consultation, please call 1-800-525-7111.
Justice Counts.
---