Paraquat Lawsuit Update: Lawsuits Mount Against Syngenta
Paraquat, a popular weedkiller (herbicide) used in commercial and residential agriculture, and its manufacturer Syngenta continue to face mounting Paraquat lawsuits that allege a connection between Paraquat exposure and the onset of Parkinson's disease.
Syngenta and its chief distributor, Chevron, have attempted to abate the lawsuits by settling several pending Paraquat cases in June of 2021 for $187.5 million. However, this has not stopped new lawsuits from being brought against the chemical manufacturer.
Paraquat Lawsuits Continue to Grow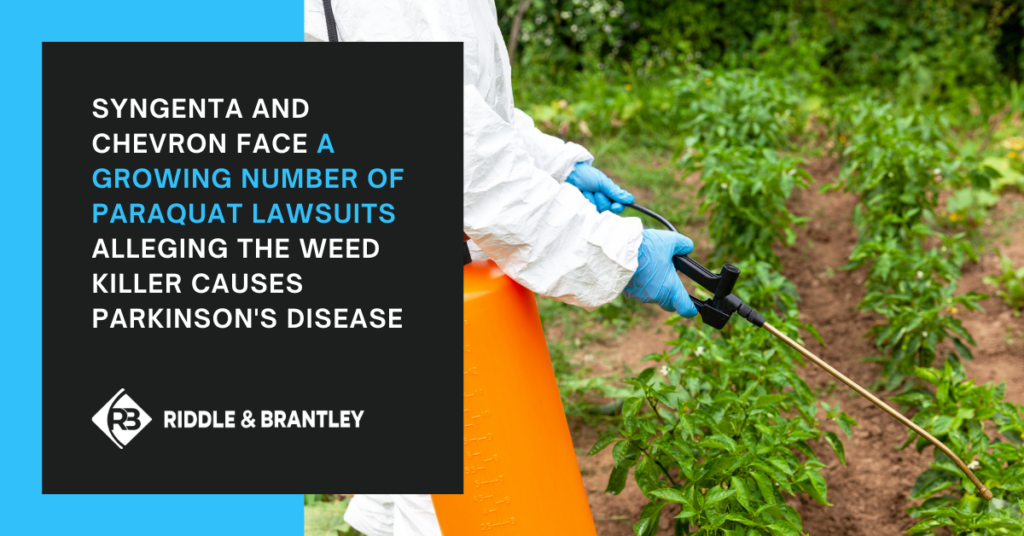 As of October 2021, over 100 Paraquat cases are pending, and experts estimate that potential settlement amounts could total billions of dollars if the claimants are successful. Some legal analysts have predicted that the Paraquat litigation could be "the next Roundup," a reference to Roundup lawsuits that have already cost manufacturer Bayer more than $10 billion in settlement and legal costs.
Paraquat has been used in residential and commercial agriculture in the United States since 1961. However, after multiple studies found links between Paraquat exposure and neurodegenerative diseases like Parkinson's, it has been banned from use in over 35 countries.
However, in August 2021, the US EPA renewed Paraquat's registration to be used in U.S. agriculture. This renewal came with updated safety measures, but many people believe these will not be enough to prevent the dangerous consequences of exposure.
Syngenta and Chevron Deny Paraquat-Parkinson's Connection
With new Paraquat exposure cases being filed almost every day for the past eight months, Syngenta and Chevron continue to deny any connection between their product and the onset of Parkinson's disease.
Saswato Das, a spokesperson for Syngenta, said in a recent statement, "There is no credible evidence Paraquat, which has been widely used for more than 55 years, causes Parkinson's disease. No peer-reviewed study, including the largest study which involved 38,000 farmers, has ever concluded Paraquat causes Parkinson's disease."
Additionally, in a statement released on Syngenta's official website, the company said:
"We find it heartbreaking that people have been harmed through accidental or intentional ingestion of paraquat, and we empathize with the pain of those who have lost loved ones. We believe that society needs to address the root cause and focus on mental health issues, not deprive the world of important agricultural products … We absolutely reject the accusations made. We did not base decisions on emetic levels on cost motives. In fact, this product contributes less than 1 percent of our profit. But it is an important product to farmers in their quest to produce food for an increasingly populated world. We will defend ourselves rigorously."
So it seems there will be no backing down by Syngenta anytime soon. However, with almost a quarter-billion dollars already paid out and many cases still pending, it would appear that Syngenta's legal costs are only just beginning in their defense against these claims.
Parkinson's and Farmworkers Advocates Sue EPA over Paraquat Decision
Following the re-approval of Paraquat for commercial use, a group of non-profits and advocacy groups has come together to sue the EPA for their decision. These groups include the Farmworker Association of Florida, The Michael J. Fox Foundation for Parkinson's Research, Farmworker Justice, and the Center for Biological Diversity.
The lawsuit claims that the renewal of Paraquat's registration violates the Federal Insecticide, Fungicide, and Rodenticide Act, which sets the standards for pesticide registration in the U.S. and states that registered pesticides must "not generally cause unreasonable adverse effects to the environment."
According to these advocacy groups, the risks of Paraquat exposure do not align with these standards.
Next Steps for Paraquat Lawsuits
Since the settlement in July, Syngenta and Chevron have made no indications that they intend to settle any additional lawsuits. Instead, the companies have been largely silent except for the statements released on their websites.
Paraquat MDL
Meanwhile, in June 2021, the U.S. Judicial Panel on Multidistrict Litigation ordered that all federally filed Paraquat lawsuits be consolidated into a multidistrict litigation (MDL) in the Southern District of Illinois. This means that all federal Paraquat lawsuits will be presided over according to the laws governing multidistrict litigations, which are intended to streamline the legal process.
As of September 2021, there were over 289 active cases in the MDL, and plaintiffs continue to claim that Syngenta knew about the risks associated with Paraquat and did not provide sufficient evidence to people who used or were potentially exposed to the herbicide about those risks.
It is believed that the first "bellwether" Paraquat trial will take place in November 2022 and will set a precedent for all MDL cases moving forward.
Have You Been Exposed to Paraquat and Suffered from Parkinson's?
Riddle & Brantley's experienced Paraquat lawsuit attorneys will continue to monitor the situation and keep you updated. If you've been exposed to Paraquat and suffered from Parkinson's disease, call 1-800-525-7111 for a free, no-obligation consultation. You may be entitled to significant compensation in a Paraquat lawsuit and we would love to help however we can.
Call 1-800-525-7111 and let's see how we can help.