Paraquat Lawsuits Could Cost Syngenta and Chevron Billions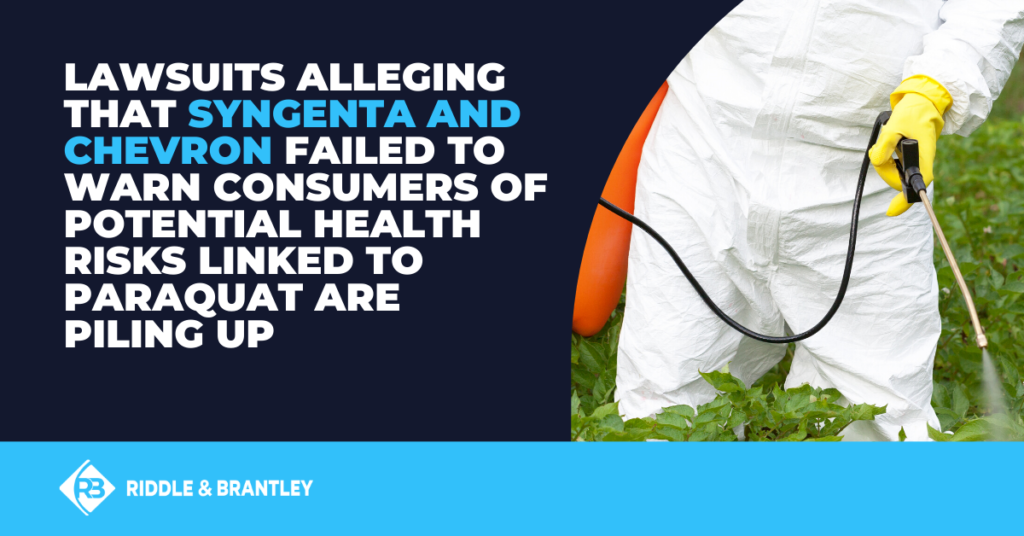 Swiss chemical manufacturer Syngenta and its chief distributor Chevron face mounting lawsuits against the popular weed killer paraquat (often marketed under several different paraquat brand names). As dozens of cases continue to be filed, some legal analysts anticipate that potential Paraquat lawsuit settlement amounts could total billions of dollars.
Paraquat has been widely used in residential and commercial agriculture but has recently been linked to an increased risk of Parkinson's disease from regular exposure.
According to an article released by Bloomberg, new Paraquat exposure cases have been filed almost every day for the past seven months. As of June 2021, 157 cases were pending in both state and federal courts, prompting the U.S. Judicial Panel on Multi-District Litigation to approve the consolidation of pre-trial proceedings in the Northern District of California.
Syngenta Prepares for Major Paraquat Litigation Expenses
Due to these mounting lawsuits, Syngenta revealed in its investor report that the company had already paid out over $187.5 million to settle an undisclosed number of lawsuits. With nearly a quarter-billion dollars already paid out and so many cases still pending, it seems like legal costs related to Paraquat are not going to taper off any time soon.
IMPORTANT: Our firm is actively investigating cases of Parkinson's disease potentially caused by paraquat. If you or a loved one have been diagnosed with Parkinson's disease after exposure to this potentially dangerous weed killer, please call 1-800-525-7111 for a free consultation. There are no upfront costs, and we don't get paid unless you receive compensation.
Why Does Syngenta Face So Many Paraquat Lawsuits?
Many of the plaintiffs who have brought lawsuits against Syngenta allege that Syngenta was aware of the health risks associated with Paraquat exposure but failed to adequately disclose those risks to consumers.
Most of these risks are associated with the contaminant MPTP, a neurotoxin that causes brain damage similar to Parkinson's disease. Upon discovering MPTP in Paraquat, dozens of countries have banned its use altogether. However, the US has continued to allow the use of Paraquat in commercial agriculture and other applications.
Because of this, many people are at risk of being exposed to neurotoxins in paraquat, including:
Farmers
People exposed to farm animals
People who live on farms
People with known exposure to herbicides
People who drink well water
People who live in a rural area
The last two are especially significant because of phenomena such as overspray and drift, which can put people at risk who have not chosen to handle the substance directly.
Because of all these avenues of exposure, lawsuits continue to mount even as Syngenta and Chevron have taken steps to reduce exposure risk, such as no longer selling the product directly to consumers.
"Do I Qualify for a Paraquat Lawsuit?" 
To qualify for a Paraquat lawsuit, you must have been exposed to Paraquat and later developed Parkinson's disease or another neurodegenerative disease. As we mentioned before, if you work directly with Paraquat in an agricultural setting or live in a rural area, you may be at risk of exposure.
However, figuring out if you qualify for a lawsuit can be a complex process, which is why we highly recommend you speak with an attorney familiar with these cases to discuss your individual situation.
To determine if you may qualify for a Paraquat lawsuit, call Riddle & Brantley today at 1-800-525-7111 for a free consultation.
The consultation is free, and with Riddle & Brantley, you will never pay ANY attorney fees unless you receive compensation for your claim.
Call 1-800-525-7111 and let's review your claim.