Philips Facing CPAP Class Action Lawsuits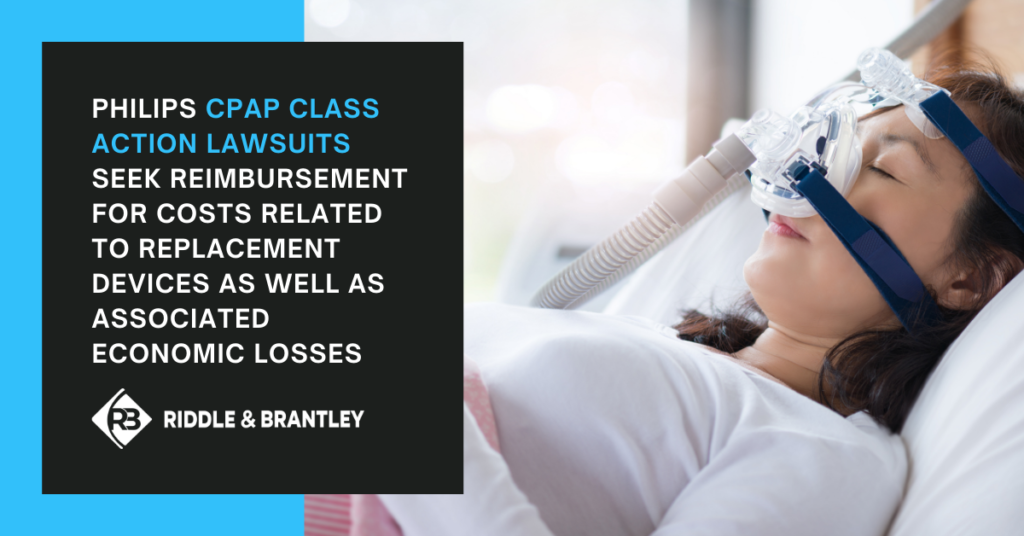 Following a recall of many of its popular CPAP and ventilator machines due to potential cancer and other health problems risk, Philips now faces several CPAP class action lawsuits brought against them by former users of the recalled devices.
This is the first wave in what is expected to be a large number of class action claims and individual injury claims related to potential health problems. These health risks include a potential increased risk for cancers, including lung cancer, kidney cancer, colorectal cancer, and liver cancer, to name a few.
It is estimated that around three to four million people were using these devices worldwide before the recall, which means that Philips could be facing tens of thousands of CPAP class action and other CPAP lawsuits.
Why is Philips Recalling CPAP and Ventilator Machines?
In June 2021, Philips announced that it would recall many different CPAP machines, BiLevel PAP machines, and ventilator machines due to a product defect that could potentially cause cancer.
According to the recall submitted to the U.S. Food and Drug Administration, a polyester-based polyurethane sound abatement foam component (PE-PUR) installed in the recalled CPAP machines "may degrade into particles which may enter the device's air pathway and be ingested or inhaled by the user, and the foam may off-gas certain chemicals."
Some of the devices that were recalled include:
All CPAP and BiLevel PAP devices manufactured before April 26th, 2021
E30 model continuous ventilator
Dreamstation ASV, Dreamstation ST/AVAPS, Dreamstation GO systems
All mechanical ventilators manufactured before April 26th, 2021
Potential CPAP Health Risks
When PE-PUR is exposed to moisture, it can begin to degrade and release small pieces of particulate and toxic chemicals. These chemicals can present a variety of health risks, the most troubling being potential carcinogenic (cancer-causing) effects.
This is especially troubling for users of CPAP and ventilator machines, as the device's design allows moisture and air to pass by the PE-PUR part. This means that as the material degrades, the off-gassed chemicals and particulate can be directly inhaled by the user.
According to the recall order, the health risks associated with exposure to chemical off-gassing and particulate inhalation include:
Headache
Airway irritation
Inflammation
Respiratory issues
Hypersensitivity
Nausea/vomiting
Other possible toxic and carcinogenic effects
Patients who are inhaling these toxic substances may have an increased risk for lung cancer and other respiratory system cancers, as well as kidney cancer, liver cancer, and rectal cancer.
Philips CPAP Class Action Lawsuits and Personal Injury Claims
There are two kinds of lawsuits currently being brought against Philips:
Users seeking reimbursement for replacement machines and other associated costs (CPAP class action lawsuits)
Personal injury claims stating that use of a Philips CPAP or ventilator machine led to respiratory illnesses or cancer
CPAP Class Action Lawsuits
In July of 2021, three class-action lawsuits were filed against Philips by plaintiffs in Pennsylvania and Massachusetts. They are seeking reimbursement for costs associated with having to replace their defective Philips devices. These not only include the cost of a new device but other costs, including missed work due to not having access to a safe machine.
CPAP Personal Injury Claims
On July 7th, a plaintiff in Pennsylvania filed a motion requesting his case, and all other similar CPAP injury cases be combined into multidistrict litigation (MDL) to help make the process easier for the claimants and avoid contradictory rulings in separate courts.
"I've Used a Recalled CPAP Device. What Should I Do?"
If you are currently using one of these recalled devices, you should consult with your physician to discuss other options for continuing your care. If possible and advised by your healthcare professional, you should discontinue using the device immediately and seek alternative treatment.
Do You Qualify for a CPAP Lawsuit?
If you used one of these recalled devices and later suffered damages in the form of health consequences or high replacement device costs, you may be entitled to compensation in a CPAP class action lawsuit or CPAP personal injury claim.
IMPORTANT: Due to developments in the multi-district litigation, we can no longer accept kidney or liver cancer claims related to Philips CPAP machines. Other cancers and health problems may still qualify. Please call 1-800-525-7111 for a free case review.
Call Riddle & Brantley today at 1-800-525-7111 for a FREE review of your CPAP injury claim. There are no upfront costs and you won't pay any attorney fees unless we win your case and you receive compensation.
One of our experienced medical device lawyers will carefully review your unique case and see if you may be eligible for a Philips CPAP lawsuit.
If you've suffered injury due to a defective CPAP machine, BiLevel PAP machine, or mechanical ventilator, our priority is to help you heal and get the compensation you deserve.
We know how the bills can pile up when an unexpected injury occurs, and that's why with Riddle & Brantley, you will never pay ANY attorney fees unless you receive compensation for your claim.
"Every time I've needed them, they were there for me."
–Tyronnie T., Riddle & Brantley client
Justice Counts and we're ready to help however we can. Please call 1-800-525-7111 and let's review your claim.