Salmonella and Listeria Found in Ice Cream Manufacturing Facilities
IMPORTANT FOOD SAFETY ALERT:
The Food & Drug Administration (FDA) has announced that harmful pathogens (disease-causing microorganisms) have been found in 21 percent of the ice cream production facilities inspected in the last year. These facilities account for 16 percent of U.S. ice cream manufacturers registered with the FDA.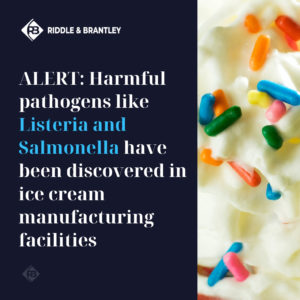 Listeria monocytogenes was discovered in 19 of the 89 ice cream facilities inspected, while Salmonella was found in one facility. Both Listeria monocytogenes and Salmonella are dangerous pathogens that can cause nausea, vomiting, diarrhea, abdominal cramping, fever, muscle aches, and even death. In severe cases, infection can enter the bloodstream and spread throughout the body, affecting organs like the kidneys.
Visit the FDA website for more information on dangerous pathogens found in ice cream manufacturing facilities.
The FDA also documented "objectionable" conditions or practices at more than half of the ice cream facilities inspected.
Salmonella & Listeria in Ice Cream Recalls
In 2015, a major listeria outbreak associated with Blue Bell ice cream was blamed for three deaths and 10 hospitalizations. The FDA launched a full investigation shortly afterward.
In all, 16 ice cream products have been recalled since 2013 due to the presence of dangerous pathogens.
Have You Suffered Injury Due to Contaminated Food Products?
If you or a loved one has fallen ill or been injured after consuming ice cream or other food products, consult a doctor immediately and visit the FDA website for more information on known food contaminations, recalls, and safety alerts.
Our North Carolina personal injury lawyers are also ready to investigate illness and injury caused by the negligence of another person or company. For a free consultation, please call 1-800-525-7111 or complete the short form below. There is no obligation, and there are no attorney fees unless we win your case and get you financial compensation.
With offices in Raleigh, Goldsboro, Kinston, and Jacksonville, we are ready to serve and get you the justice you need and deserve. Please contact us today.