P&G Issues Dry Shampoo and Conditioner Recall for Cancer Risk Due to Benzene
On the heels of a similar recall of spray-on deodorants, Proctor & Gamble has issued a voluntary recall of popular aerosol "dry" shampoo and conditioning products after they were found to be contaminated with benzene, a known cancer-causing chemical. The recall includes many popular brands of shampoo and conditioner, including Pantene, Herbal Essences, Aussie, Old Spice, and Waterless.
IMPORTANT: Our firm is actively investigating these claims. If you've used one of the recalled dry shampoos or conditioners and later developed a form of leukemia, multiple myeloma, or non-Hodgkins lymphoma, call us today at 1-800-525-7111 for a free consultation concerning a potential dry shampoo lawsuit.
Proctor & Gamble's Shampoo Recall Announcement
"Following recent reports that indicated traces of benzene in some aerosol spray products, we began a review of our total portfolio of aerosol products," P&G said in a statement accompanying the shampoo recall. "While benzene is not an ingredient in any of our products, our review showed that unexpected levels of benzene came from the propellant that sprays the product out of the can."
Proctor & Gamble strongly denies any liability, negligence, and/or wrongdoing in connection with benzene contamination in its consumer products. While our firm is considering litigation based on forthcoming evidence and unfolding events, we have not filed any shampoo or conditioner lawsuits at this time.
What Shampoos and Conditioners Have Been Recalled?
The shampoo and conditioner recall affects many popular spray-on products manufactured by Proctor & Gamble, including "dry" spray-on shampoos and conditioners marketed under brand names such as:
Pantene
Aussie
Herbal Essences
Old Spice
Waterl<ess
For a complete list of specific products affected by the spray-on shampoo recall, visit P&G's recall announcement page.
Consumers are encouraged to stop using the recalled shampoos and conditioners immediately, and can call 1-888-674-3631 to speak with P&G's Consumer Care team for more information.
Spray-On Dry Shampoo and Conditioner Cancer Risk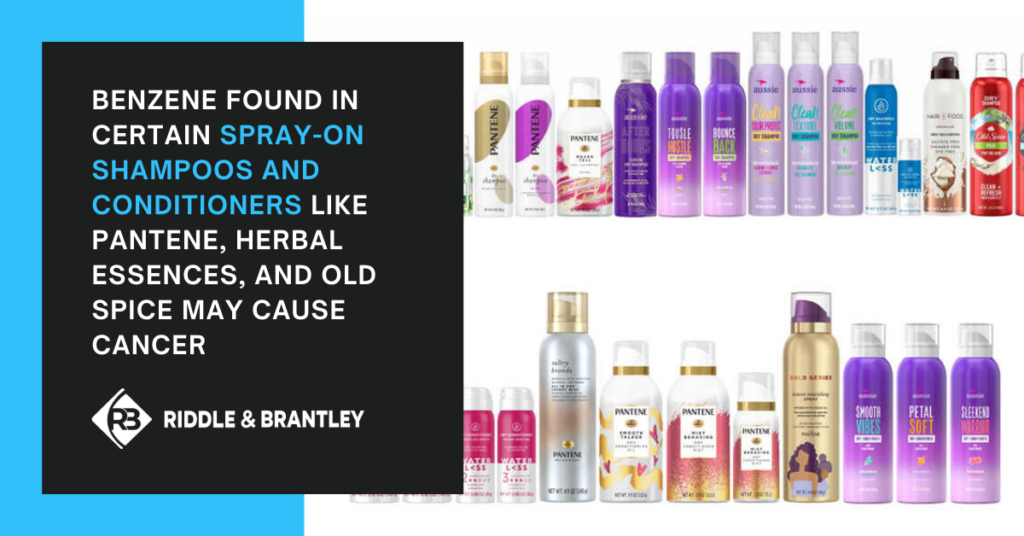 Benzene is a known carcinogen, meaning it can cause cancer in humans. Benzene has been linked to various forms of blood-based cancers, including certain types of leukemia, multiple myeloma, and non-Hodgkin's lymphoma (NHL).
Do Recalled Shampoos and Conditioners Cause Cancer?
To be clear, the presence of benzene in certain spray-on shampoos and conditioners may put consumers at elevated risk of developing cancer.
Benzene has recently been found in several other consumer products, including certain spray-on deodorants and sunscreens. Deodorant lawsuits and sunscreen cancer lawsuits have been filed as a result, and our firm is actively considering litigation against any spray-on hair product manufacturer whose potential negligence may have put consumers at risk of developing cancer.
"What Are My Legal Options?"
If you've used a benzene-contaminated spray-on hair product, such as certain shampoos and conditioners marketed under brand names Pantene, Herbal Essences, Old Spice, Aussie, and Waterless, and later developed cancer, you may qualify for a potential shampoo and conditioner lawsuit.
Our firm is actively investigating these claims. For a FREE consultation, please call 1-800-525-7111 today. An experienced product liability attorney at Riddle & Brantley will evaluate your claim and help determine your eligibility for a potential lawsuit.
We believe Justice Counts and we are committed to fighting for potential victims of benzene-contaminated shampoos and conditioners. Please call 1-800-525-7111 and let's review your claim.