Target Hand Sanitizer Lawsuit Alleges Deceptive Business Practices
A potential class action lawsuit has been filed against Target, alleging that the retailer's Up&Up brand hand sanitizer's claims are not backed by scientific evidence. The Target hand sanitizer lawsuit follows recent lawsuits against other hand sanitizer retailers and manufacturers, including GOJO Industries, maker of the popular Purell brand of sanitizer.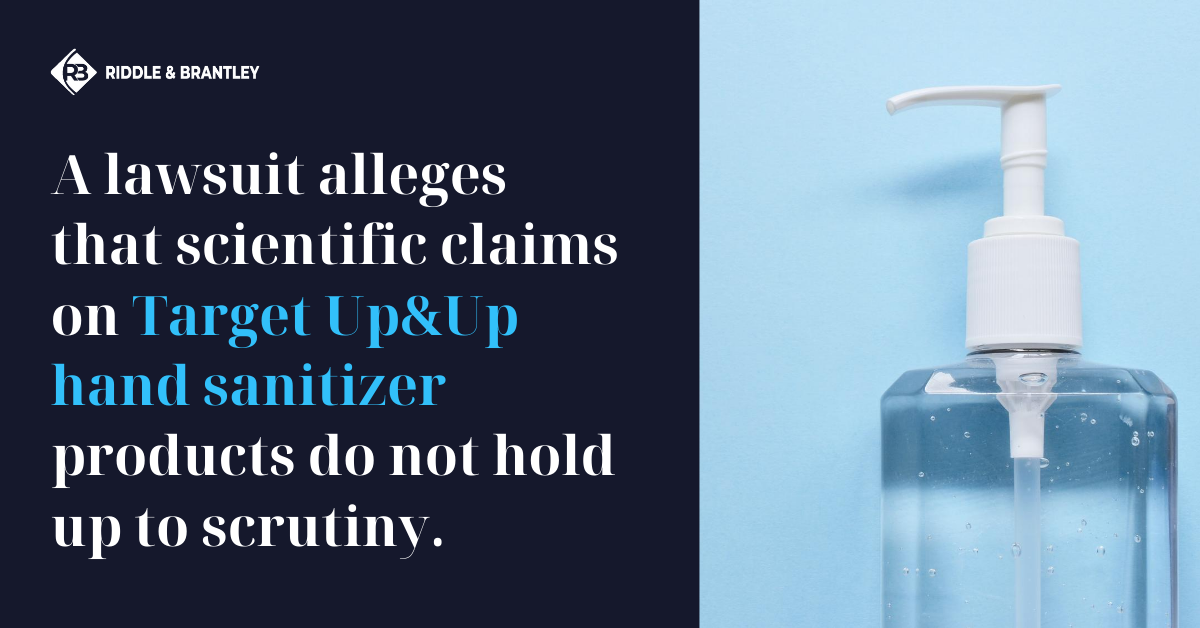 Purell manufacturer GOJO Industries recently received a warning from the FDA  stating that many of its claims are not supported by scientific evidence. Regarding its claim that Purell can kill "99.99 percent" of germs, etc., the FDA wrote that it is not aware of "any adequate and well-controlled studies that killing or decreasing the number of bacteria or viruses on the skin by a certain magnitude produces a corresponding clinical reduction in infection or disease caused by such bacteria or virus."
Both Purell and Target's Up&Up hand sanitizer use 70 percent ethyl alcohol as their active ingredient.
The FDA's warning letter stated that Purell must take "prompt action to correct the violations cited."
"Why a hand sanitizer lawsuit against Target, then? Isn't this a Purell issue?"
The potential class action lawsuit against Target alleges that because Target's Up&Up store brand hand sanitizer is marketed as comparable to Purell and also claims it "kills 99.99% of germs," the FDA's warning letter applies to Target, as well.
According to the lawsuit filed by a consumer in California, "By making such a representation and by comparing it to Purell on its labeling, the [Target] Hand Sanitizer implicitly represents that its product is as effective as Purell's, addresses the consumer's concerns of catching the flu or other viruses and suggests that by using the [Target] Hand Sanitizer, the consumer will no longer contract the disease."
Going further, the Target hand sanitizer lawsuit claims that:
"Target uses indirect statements to give an unfair, deceptive, untrue, or misleading impression to the consumer that the [Target] Hand Sanitizer can prevent the flu and other viruses."
-Tasklakian v. Target Corporation et al.
According to a recent report, "The lawsuit claims Target is misleading consumers into believing its hand sanitizer is as effective as Purell's and can therefore prevent disease or infection from, for example, Coronavirus and flu."
Similar accusations have been leveled against Walgreen's for claims made in support of the company's popular Germ-X hand sanitizer.
The plaintiff is seeking compensatory and punitive damages in the Target hand sanitizer lawsuit due to the company's allegedly deceptive business practices. The lawsuit also seeks a court order that would prevent Target from continuing to make such scientific assertions in marketing its Up&Up hand sanitizer products.
"Can I join the hand sanitizer lawsuit against Target?"
Those interested in joining this particular Target hand sanitizer lawsuit must be residents of California. The potential class action aims to represent those in California who have purchased Target's Up&Up hand sanitizer (with or without aloe) in any size within the last four years.
"What about other hand sanitizer lawsuits?"
Hand sanitizers are drawing increasing scrutiny to the surge in demand related to the coronavirus (COVID-19). Recently, the FDA issued a serious warning that many hand sanitizers may contain methanol — a dangerous and potentially life-threatening toxin.
Methanol in hand sanitizer can cause vision loss (including permanent blindness), permanent damage to the nerve system, and even death.
Our product liability lawyers are actively monitoring this situation. If it is determined that manufacturers' potential negligence may have resulted in injury or death in these toxic hand sanitizer cases, we may pursue legal action.
Please stay tuned to our legal news blog for the latest information. This is a developing situation and details may change quickly.