TCE and Parkinson's Disease: Another Risk Factor?
Cases of Parkinson's disease potentially associated with the herbicide Paraquat are increasing at an alarming rate, which has spurred researchers to search for previously unlinked substances that may be causing the terrible disease. Researchers increasingly believe that the chemical trichloroethylene (TCE) also may be linked to the development of Parkinson's disease.
IMPORTANT: If you or a loved one have been diagnosed with Parkinson's disease after exposure to Paraquat, you may qualify for a Paraquat lawsuit and be entitled to compensation. Call Riddle & Brantley today at 1-800-525-7111 for a FREE, no-obligation consultation. Remember, we don't get paid unless you do.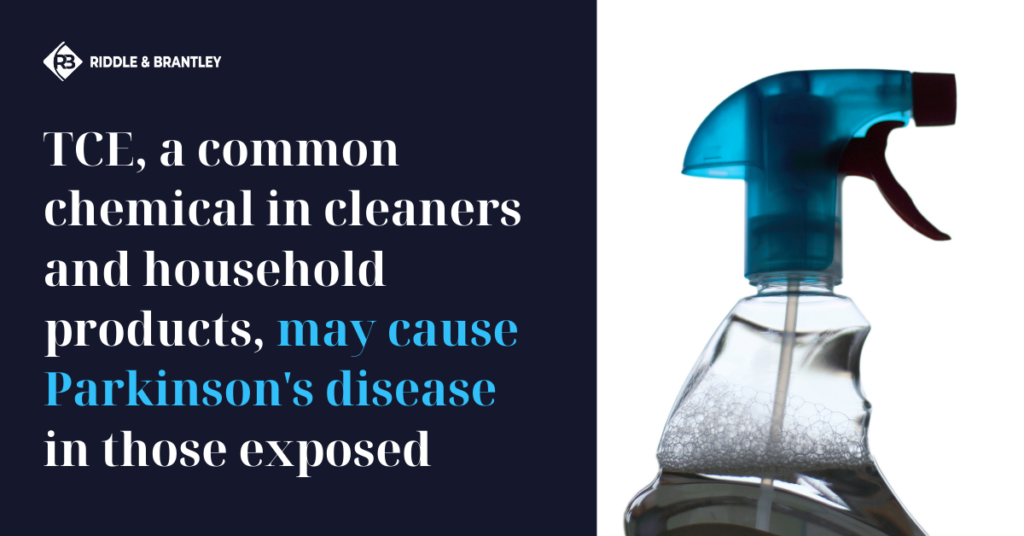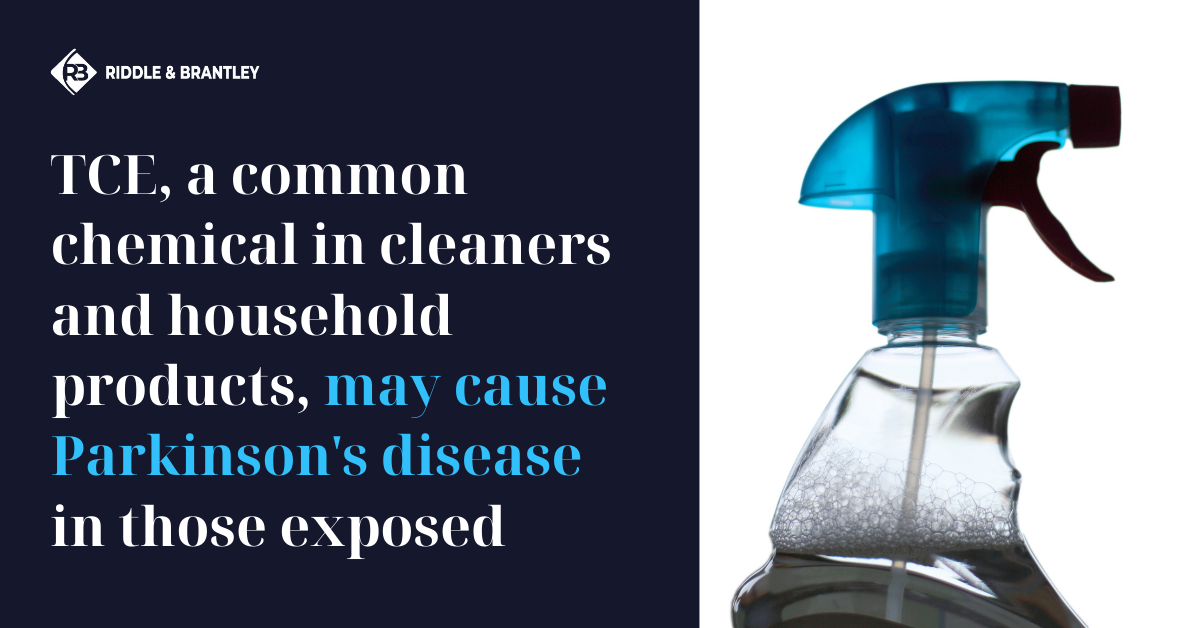 TCE may cause Parkinson's disease among other illnesses in those exposed. In this blog post, we'll share what we know about TCE poisoning and potential Parkinson's disease risk, as well as the related risk of Parkinson's due to Paraquat exposure.
What is TCE?
Trichloroethylene (TCE) is a chemical compound that has been used in many cleaning products from industrial dry-cleaning compounds to household cleaning supplies like carpet cleaner. TCE and Parkinson's disease, as well as certain cancers, may be related.
TCE and Cancer
TCE is also a known human carcinogen, meaning it can cause cancer in humans. Cancers potentially caused by TCE include:
Kidney cancer
Non-Hodgkin Lymphoma
Liver cancer
Renal cell carcinoma
Cervical cancer
Breast cancer
TCE and Parkinson's Disease
While TCE has been known to cause cancer for many years, its relationship to Parkinson's disease has not been studied as extensively ­— though that is beginning to change.
Does TCE cause Parkinson's disease?
Previously, a causal link between TCE exposure and Parkinson's disease could not be established because Parkinson's typically develops many years after the exposure takes place.
However, a study conducted by the University of Kentucky in 2012 found a strong link between occupational exposure to TCE and a greater risk of developing Parkinson's disease later in life.
The research states:
"While prior research has indicated a link between TCE exposure and Parkinson's disease, the current findings are the first to report a statistically significant association — a more than six-fold increased risk."
While this is a staggering increase in risk of Parkinson's disease, the study also provides some hope for improving the chances for people who have been exposed to TCE.
Study lead author Samuel M. Goldman stated, "Our findings, as well as prior case reports, suggest a lag time of up to 40 years between TCE exposure and onset of Parkinson's, providing a critical window of opportunity to potentially slow the disease process before clinical symptoms appear."
Several Countries and States Have Regulated or Banned TCE
In the European Union, TCE can only be used with special authorization. In May 2020, Minnesota was the first U.S. state to ban the use of TCE, with New York following shortly behind.
In 2020, the U.S. Environmental Protection Agency (EPA) also concluded that TCE presents "unreasonable risks to workers, occupational non-users, consumers, and bystanders."
With the carcinogenic effects and now potential risk for TCE-associated Parkinson's disease, environmental and health agencies are calling for stricter measures to be brought down on toxic chemicals like TCE, but further action has yet to be taken by the EPA or other United States authorities.
Other Chemicals That Can Cause Parkinson's Disease
Paraquat, an herbicide (weed killer) that has been used in everything from commercial agriculture to home groundskeeping, has also been linked to an increased risk for Parkinson's disease.
Paraquat became a popular alternative to Roundup weed killer after Roundup became associated with non-Hodgkins lymphoma and other cancers.
Unfortunately, Paraquat is not the safer alternative it was once thought to be, as studies have linked Paraquat to Parkinson's disease after direct or environmental exposure.
Those at increased risk of Parkinson's disease due to Paraquat exposure include:
Agricultural workers
Groundskeepers
Property owners whose water is contaminated with Paraquat
Contact a Paraquat Parkinson's Disease Lawyer Today
At Riddle & Brantley, we believe no one should have to suffer due to exposure to dangerous and deadly substances. Unfortunately, manufacturers of these products often refuse to be held accountable for the damage they cause.
If you or a loved one have been exposed to Paraquat and later developed Parkinson's disease or other neurological diseases, you may be entitled to compensation.
Call us today at 1-800-525-7111 or fill out our convenient form for a FREE case review to see if you qualify for a Paraquat lawsuit.
At Riddle & Brantley, our priority is that our clients receive the justice they deserve. That is why you will never pay ANY attorney fees unless you receive compensation for your claim.
We have over 220+ years of combined experience fighting for our clients' rights and have recovered more than $600 million in total compensation since 2000 alone (see disclaimer below). We would love to help you recover Paraquat compensation for Parkinson's disease if we can.
At Riddle & Brantley, Justice Counts.
---
 *** Disclaimer: An attorney must meet certain requirements to join these organizations or receive these awards. For more information on Membership Criteria for Million Dollar Advocates Forum, Multi-Million Dollar Advocates Forum, Super Lawyers, The National Trial Lawyers Top 100, The National Association of Distinguished Counsel, AV Preeminent by Martindale-Hubbell, the Litigator Award, and other memberships, awards, and accolades, please visit our Membership Criteria page. These awards and memberships should not be construed as a promise or guarantee of a similar result. Each case is different and must be evaluated separately.