What is a Mass Tort Lawsuit?
A mass tort lawsuit is a civil action lawsuit involving numerous plaintiffs against one or several defendants. Mass tort lawsuits may be held in state or federal court.
Tort is a formal word for a "wrongful action" that causes injury. The word "mass" has several meanings when referring to mass torts.  The first meaning refers to the involvement of many plaintiffs in tort litigation. The second meaning refers to the use of mass media by the plaintiffs' lawyers to enlist more plaintiffs to become a part of the ongoing litigation and plaintiffs' class.
Mass torts have three distinct characteristics that make them different from personal injury lawsuits and other class action lawsuits:
Mass torts involve extensive claims against a product or device.
In addition, even though there are many plaintiffs involved in a mass tort lawsuit, the underlying facts and issues in discussion are similar, if not the same across the board.
Lastly, different claims in mass torts have an interdependence in value. Mass torts can make it easier for plaintiffs to succeed against large defendants like product and drug manufacturers who have significant resources to defend themselves in court.
Dangerous Drugs and Defective Medical Devices
Mass tort cases generally involve dangerous drugs or defective medical devices on the market that harm a large group of people.
Many of these claims are well publicized, while others never make headlines, but are just as painful to the injured parties.
Medical device makers and prescription drug companies are legally responsible for ensuring their products are safe. They must conduct adequate, FDA-required clinical trials and testing, clearly explain the risks and benefits of their products to healthcare providers and consumers and continue to test their products for safety.
If corporations fail to satisfy these or other requirements, they can be held liable to the people they harm.
Because mass tort claims involve multiple plaintiffs, they can take longer than typical personal injury cases.  There are statutes of limitations (a fixed period of time to file your claim or your claim is barred by the passage of time) in medical device and dangerous drug cases, so it is important to contact a lawyer as soon as possible if you think you have a claim.
What is the difference between a mass tort and class action lawsuit?
Although both mass torts and class action lawsuits involve a large group of people allegedly harmed, there are differences. The major difference is that in a mass tort, plaintiffs are treated as individuals whereas in a class action lawsuit, the lawsuit is filed on behalf of all injured parties.
Another difference is that mass torts typically involve many different types of injuries, whereas in class action lawsuits the plaintiffs usually have the same injuries.
Have you been injured by a dangerous drug or defective medical device?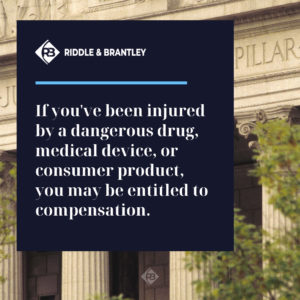 Mass tort cases require extraordinary resources and can be extremely complex. The North Carolina personal injury attorneys at Riddle & Brantley have the proper skills, resources and experience to prepare a mass tort case no matter how complicated.
If you've been injured by a dangerous drug or defective medical device or product, contact us for a free, no-obligation case review. We'll investigate the facts of your case and determine if we can help. There are no attorney fees unless we win your case and get you financial compensation. Please call 1-800-525-7111 or complete the form below.
You deserve justice, and we would love to help.