Rocky Mount Personal Injury Lawyer
The law firm of Riddle and Brantley has been serving the residents of Rocky Mount for over three decades.
If you're looking for a Rocky Mount personal injury lawyer, you should know…
Our personal injury lawyers represent the injured and disabled and fight tirelessly for justice for our clients.
If you've been seriously injured or disabled in an accident that was not your fault or you or a family member has been seriously injured at work, then you may be entitled to significant compensation — and a Riddle & Brantley personal injury lawyer with experience in Rocky Mount may be able to help.
For a free consultation, please call us at 1-800-525-7111 or complete the form below.
There is no upfront cost and no attorney fees unless we win your case.
How can a personal injury lawyer help?
We want to begin our investigation into your accident immediately so that we can preserve witness testimony, obtain and preserve all evidence and hire accident experts and reconstructionists if necessary.
We handle all types of accidents and injuries in the Rocky Mount NC area and statewide, including:
serious injury or death
truck accidents
auto accidents
motorcycle accidents
pedestrian accidents
bicycle accidents
dog bites
slip and falls
product liability cases
dangerous drug cases
sexual assaults
and more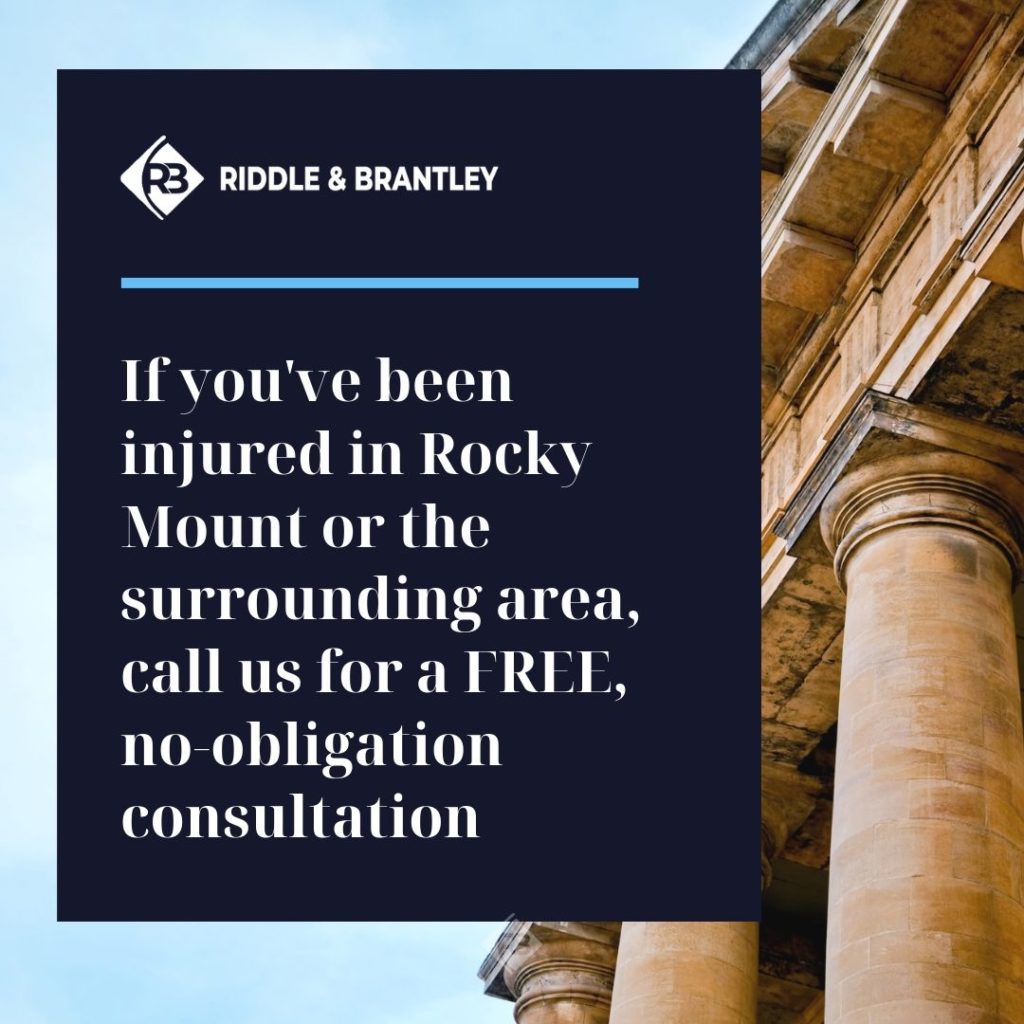 We have handled many accidents involving wrongful death, paraplegics and loss of limbs.  We understand the significant amount of physical and emotional pain suffered and endured on a daily basis after a serious accident.
We are also prepared to help our clients and families plan the medical treatment and payment of medical bills.  Riddle & Brantley lawyers also handle negotiations with Medicare, Medicaid, and health insurance claims for reimbursement of payments made on your medical bills.
At times our personal injury attorneys have to contest these claims and at other times we have to request hearings with Medicare appeals. The process can be complicated and complex, but we'll handle the entire process to save you time and stress.
Justice for Rocky Mount and North Carolina
Rocky Mount is the 17th most populated city in North Carolina but it is actually a suburb of the Raleigh metro area for statistical purposes.  It has won the All-American City Award twice since 1969. Rocky Mount is known for its dangerous roads which include I-95 and US highway 64. We have handled many accidents in and around Rocky Mount. The city is also known for the flooding of the Tar River when hurricanes stall over eastern North Carolina.
Riddle & Brantley expertise
Injury cases can be complicated and time-consuming. If you're seeking representation, the choice is ultimately a personal one, but you'll probably want a personal injury lawyer with experience representing accident victims and familiarity with the Rocky Mount area.
We take special pride in our ability to promptly investigate our clients' accidents in an effort to find and preserve all evidence and testimony that may be needed later through the course of the case including trial.
In truck accident cases, we like to interview the witnesses and investigating officers immediately after being hired. We also strive to preserve the vehicles and black boxes involved in the crash.  We can have Fleet Safety experts and accident reconstructionists to assist with our investigation so that we learn all there is to discover about what caused the accident.
In slip and fall cases, we send spoliation letters to the owner of the premises demanding that all evidence and video surveillance be preserved for future viewing and inspection. These tactics have led to many successful results for our clients even when initial accident and incident reports were not favorable to our clients' cases.
With convenient offices close to Rocky Mount, we do our best to make it easy for you. We'll even come to you.
What Our Clients Say
"Riddle & Brantley is a version of the Legal Dream Team. I would have never been able to sort things out without the professional representation this firm has provided."
– Elizabeth Ramos
"The great thing about Riddle & Brantley law firm is from the moment you walk in the door and are greeted by the receptionist, it's a wonderful, family atmosphere."
– C. Schaeffer
"The Riddle & Brantley law firm and staff treated my case very professionally, with respect from beginning to end."
– Joseph W.
A Track Record of Success
Here are just a few of the recent settlements and judgments won by Riddle & Brantley injury attorneys:
$2,000,000 truck accident death case. We were hired shortly after a commercial vehicle hit our client's car.  This allowed us to complete our investigation soon and prove that the commercial vehicle was at fault.  Our client was 75 years old and eventually died as a result of complications from her prior medical conditions and the new injuries suffered in her accident.  Lead attorney Jonathan Smith and founding partner Gene Riddle were able to settle the case well within a year of her death for her two sons and accomplished this by working with the attorney for the commercial truck without having to file suit.
$1,000,000 motorcycle crash. We were hired very soon after our client who was on his bike was hit when another car turned left in his path.  Our early investigation proved that the other driver was liable for the accident.  Our client suffered significant injuries to his left arm, shoulder and leg.  He had several successful surgeries to repair his injuries.  We did have to file suit and settled for the limits of the policy within a few weeks after filing suit.  Lead attorney Adam Smith and managing partner Gene Riddle handled the case.
$220,000 in life insurance proceeds. An insured under an employer-provided life insurance policy was killed in an accident involving a recreational vehicle.  The beneficiary of the life insurance policy filed a claim for a $110,000 policy but the insurance company denied it for various reasons.  We were hired and soon discovered that the policy was really $220,000.  After providing documents and records to the insurance company we were able to prove that the policy was $220,000, not $110,000, and we collected the insurance death benefits for our client. Managing partner Gene Riddle handled the case.
*** Disclaimer: The results mentioned are intended to illustrate the type of cases handled by the firm. These results do not guarantee a similar outcome, and they should not be construed to constitute a promise or guarantee of a particular result in any particular case. Every case is different, and the outcome of any case depends upon a variety of factors unique to that case.
For more on judgments and settlements won by Riddle & Brantley lawyers, please visit our results page.
Whether your injury was a result of a car accident, workplace accident or the result of someone else's negligence, please call us at 1-800-525-7111 for help or complete the form below. Our attorneys have experience representing victims in Rocky Mount and the surrounding area, and we may be able to help.
The consultation is free, there is no upfront cost, and there are no attorney fees unless we win your case and you receive financial compensation.
If we can't help, we may be able to give you another source to contact for legal help.
Please contact us today.