EPA & Justice Dept. Side with Bayer in Roundup Lawsuit
The United States government has sided with Bayer AG (formerly Monsanto) in a lawsuit alleging that the company's popular herbicide, Roundup, causes non-Hodgkins lymphoma and other forms of cancer.
In a "friend of the court" briefing, the Environmental Protection Agency (EPA) and the Justice Department said that glyphosate, the active ingredient in Roundup, is not a carcinogen (a cancer-causing substance).
The court filing came days after Bayer AG announced that it would be asking a federal appeals court to throw out a $25 million judgment it was ordered to pay in a recent Roundup lawsuit.
While the EPA previously warned that glyphosate may cause cancer, the agency later reversed itself following intense industry pressure.
The State of California, meanwhile, does consider glyphosate a human carcinogen and requires Roundup and other glyphosate-containing products to carry a warning label. The World Health Organization (WHO) has also included glyphosate on its list of probable human carcinogens.
Bayer, which acquired agriculture giant Monsanto last year for $63 billion, is facing thousands of lawsuits alleging that Roundup caused non-Hodgkins lymphoma and other cancers, primarily among farm workers and groundskeepers.
Multiple juries have determined that Roundup caused plaintiffs' cancer, and Bayer AG has been hit with multi-million and even multi-billion dollar penalties.
The company denies any wrongdoing, although in recent months Bayer has signaled openness to a potential Roundup lawsuit settlement to resolve the litigation.
Have you been exposed to Roundup and diagnosed with non-Hodgkins lymphoma?
If you work in agriculture, groundskeeping, or another job in which you've handled Roundup weed killer, you may have a legal case against Bayer if you've been diagnosed with non-Hodgkins lymphoma.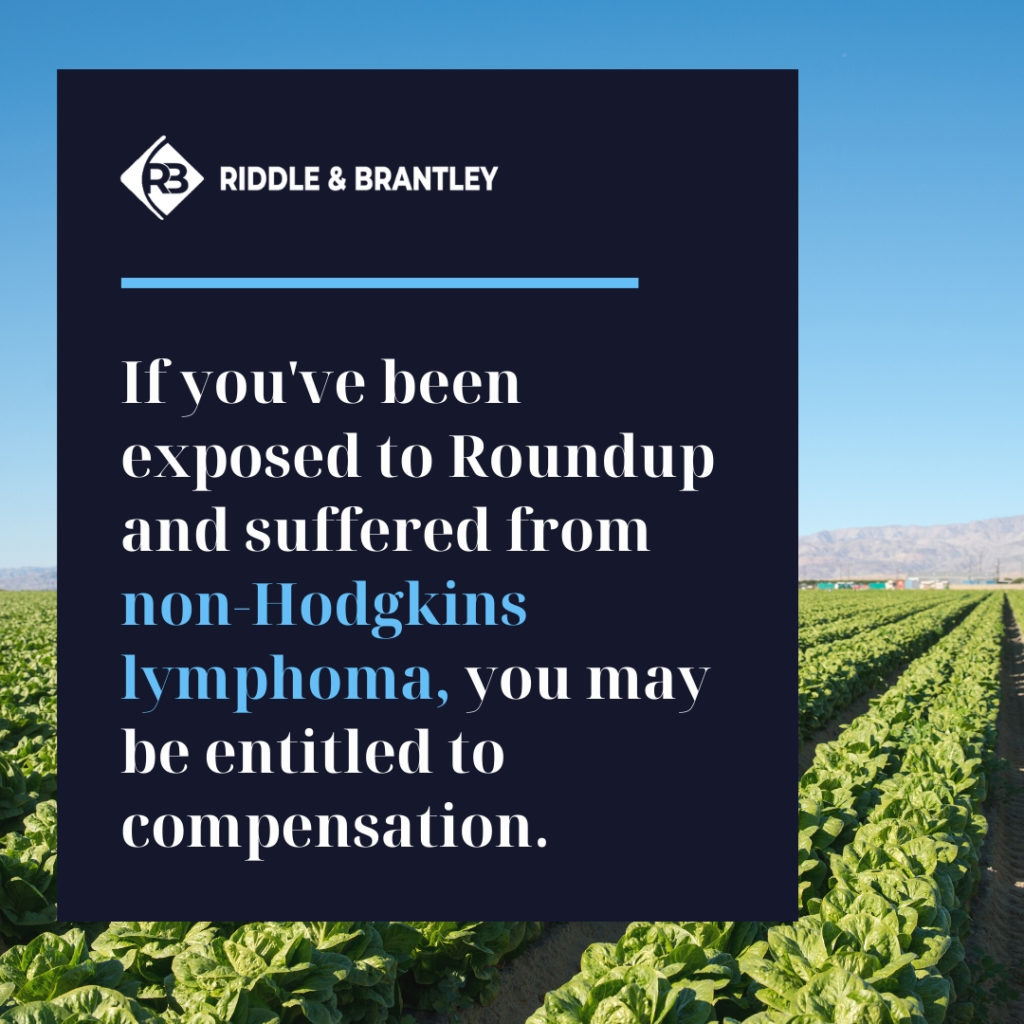 It is alleged that Monsanto (now Bayer AG) ignored known safety risks and that glyphosate-containing Roundup herbicide caused non-Hodgkins lymphoma and other cancers.
If you've suffered from non-Hodgkins lymphoma after significant exposure to Roundup, you deserve justice — and you may be entitled to significant financial compensation.
For a FREE consultation with one of our Roundup lawyers, please call 1-800-525-7111 or complete the short form below.
The consultation is no-obligation and if you decide to hire us there are no attorney fees unless we win your case and you receive compensation for your injuries.
With Potential Roundup Settlement, Now is the Time to Act
Given the possibility of a settlement, "now is the time to contact an attorney if you believe exposure to Roundup has caused your non-Hodgkins lymphoma," said Gene Riddle, attorney at Riddle & Brantley.
Call 1-800-525-7111 today and let's discuss your case.
Those who have suffered injury or death due to a company's negligence deserve justice. Riddle & Brantley's Roundup cancer attorneys have been fighting to hold negligent companies accountable for more than three decades and we would love to help you if we can.
Please call 1-800-525-7111 or complete the short form below for a FREE, no-obligation consultation.
Justice Counts.