Breakfast Cereals Contain Roundup Weed Killer Ingredient Glyphosate
Several cereals continue to test positive for glyphosate, the active ingredient in Roundup pesticide that is alleged to cause non-Hodgkins lymphoma.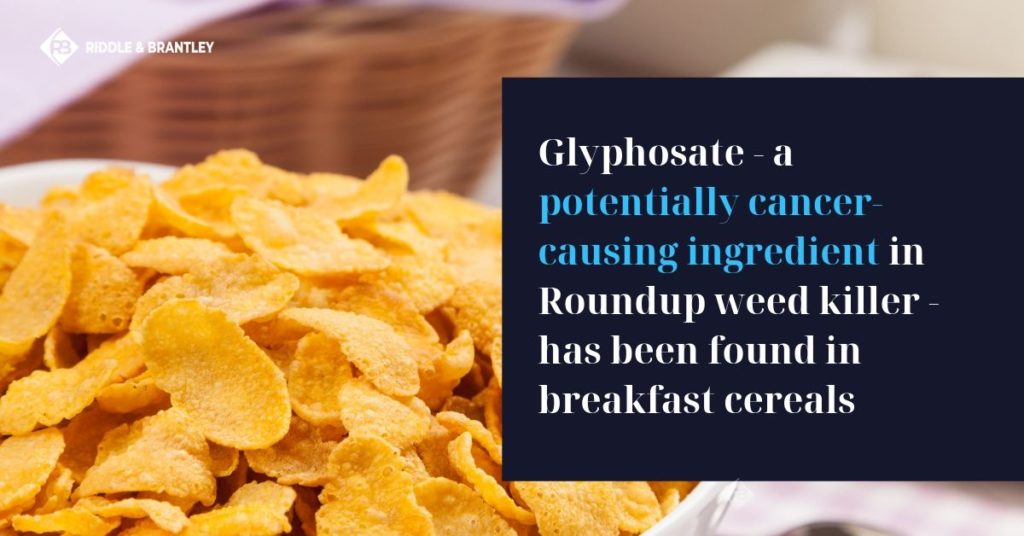 The study is the latest headache for Raleigh-linked Monsanto, which manufactures Roundup.
Roundup is currently the subject of thousands of lawsuits, and a California jury recently awarded $2 billion in damages to a couple who allege exposure to Roundup caused their cancer.
Glyphosate in Cereal
The Environmental Working Group — a nonprofit research organization with links to the organics industry — has released results of a study that found that all 21 products tested contained levels of glyphosate "higher than what EWG scientists consider protective for children's health."
Products testing positive for glyphosate include:
Honey Nut Cheerios
Multi Grain Cheerios
Cheerios Oat Crunch Cinnamon
Nature Valley Baked Oat Bites
Nature Valley granola bars
Nature Valley Oatmeal Squares
Fiber One Oatmeal Raisin Soft-Baked Cookies
Check out the complete listing of products testing positive for glyphosate in the EWG report.
Monsanto and General Mills maintain products are safe
Manufacturers maintain that the breakfast foods are safe, and Roundup manufacturer Monsanto continues to defend its most popular product in court. The company currently faces more than 11,000 lawsuits alleging a link between Roundup and non-Hodgkins lymphoma.
General Mills, which manufactures all of the products tested in the EWG's most recent report, acknowledged glyphosate in cereal but issued a statement following release of the findings.
"Most crops grown in fields use some form of pesticides and trace amounts are found in the majority of food we all eat." However, the company stated that it is working to "minimize the use of pesticides on the ingredients we use in our foods" nonetheless.
Does glyphosate cause cancer?
In February 2019, a study conducted by the University of Washington found that exposure to glyphosate raises the risk of cancer by 41 percent.
The researchers also determined that the risk of cancer is higher for those with the "highest exposure" to glyphosate, such as groundskeepers or those using the product in agriculture.
Glyphosate-containing Roundup is the world's most widely used herbicide, which are designed to kill undesirable plants or weeds. Roundup is used on roughly 80 percent of American croplands, including many farms in North Carolina.
Have you been exposed to Roundup? You may be entitled to compensation
 Do you work in groundskeeping or agriculture? Have you been exposed to Roundup? If so, and you've been diagnosed with non-Hodgkins lymphoma, you may be entitled to compensation.
You deserve justice, and the Roundup cancer lawsuit lawyers at Riddle & Brantley may be able to help.
For a FREE no-obligation consultation, please call 1-800-525-7111 or complete the form below. There is no upfront cost and no attorney fees unless we win your case and recover financial compensation for you.
We have been representing victims of dangerous products for decades, and will fight relentlessly for justice.
Please contact us today. We would love to help get you the justice and compensation you need and deserve.