Coronavirus (COVID-19) in North Carolina
The effects of the coronavirus (COVID-19) continue to ripple through American society and the economy. A report from the Associated Press paints a bleak picture of lost jobs, school closings, and dwindling retirement accounts as the stock market grapples with increasing uncertainty.
Public health experts caution that with limited testing, COVID-19 case and death counts are likely to continue to climb.
State of Emergency in North Carolina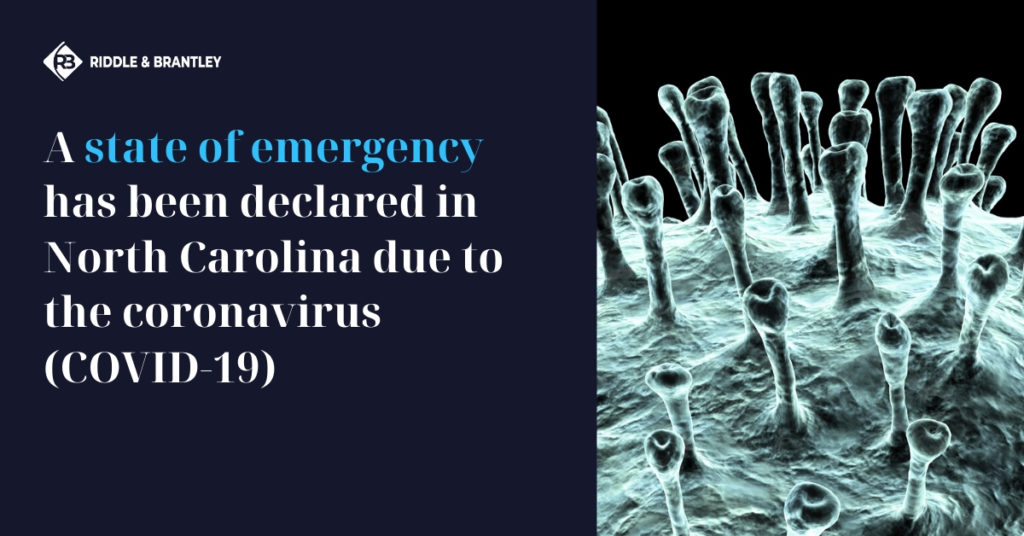 Governor Roy Cooper declared a state of emergency for North Carolina on March 10 as the state grapples with increasingly likely community spread of the disease. You can track COVID-19 cases in North Carolina online.
Governor Cooper has also ordered all public schools closed at this time.
North Carolina universities such as UNC-Chapel Hill and Duke University have also extended spring break and are making plans to move classes online.
Protect Yourself and Your Loved Ones from COVID-19
At this time, Riddle & Brantley urges all North Carolinians to exercise common sense and precaution in the face of the increasing threat of the coronavirus.
The North Carolina Department of Health and Human Services (NCDHHS) advises North Carolina residents to follow these instructions:
If you have COVID-19 or are experiencing symptoms of the virus, remain home and avoid interaction with other people. Unless you are experiencing difficulty breathing or other potentially life-threatening conditions, do not go to the emergency room or doctor's office. Instead call your health care provider and let them know that you may have the coronavirus. Follow your medical provider's instruction for possible testing and treatment.
If you are at "high risk," stay home and self-quarantine. NCDHHS advises that people at high risk for contracting COVID-19 and potential life-threatening conditions include those over 65 years of age; those with underlying health conditions including heart disease, lung disease, or diabetes; and those with weakened immune systems.
Exercise "social distancing." To the extent that you can, avoid interaction with large groups of people, including in the workplace and on public transit. North Carolinians are also encouraged to avoid public gatherings whenever possible. NCDHHS is encouraging employers to allow employees to work from home and cancel non-essential travel. According to NCDHHS, all North Carolinians are encouraged to practice "social distancing," or maintain a minimum distance of 6 feet away from others in community settings. UPDATE: the CDC has also advised Americans to avoid gatherings of 50 or more people for the next 8 weeks.
Wash Your Hands!
Public health officials with the Centers for Disease Control and Prevention (CDC) and NCDHHS also emphasize that frequent hand-washing is the best defense against contracting COVID-19. Wash your hands for at least 20 seconds with warm, soapy water, and use hand sanitizer when you cannot wash with soap. Authorities recommend using hand sanitizer with a minimum of 70 percent alcohol.
We encourage all North Carolinians to stay up-to-date on the coronavirus outbreak by visiting NCDHHS and CDC online.
"Do I have COVID-19?"
Symptoms of the COVID-19 (coronavirus) are similar to the flu and include:
Cough
Fever
Shortness of breath
The virus typically causes "mild to moderate respiratory illness," according to NCDHHS. The majority of cases do not require hospitalization, although certain populations may be at higher risk of severe illness and death, including the elderly, those with lung disesase, heart disease, diabetes and/or weakened immune systems.
Government Action
In the face of widespread social and economic disruption, the federal government is currently taking steps to address the COVID-19 outbreak. Economic Impact Payments have been sent out to Americans who qualify based on income, and the CARES Act has provided billions of dollars in emergency, forgivable loans to small businesses. Paid sick leave has also be extended for many U.S. workers.
To learn more about who is covered by the new paid sick leave law, click here.
In North Carolina, unemployment benefits have been modified to cover COVID-19-related unemployment. The federal government has additionally pledged an additional $600 per week in benefits to qualifying individuals for a limited period of time.
To learn more about unemployment benefits for those affected by COVID-19 in North Carolina, click here.
Uncertainty in North Carolina
The coronavirus pandemic threatens to upend North Carolinians' way of life and may especially impact employment. Here at Riddle & Brantley, we are committed to helping our fellow North Carolinians however we can in this difficult time.
We will continue to bring you updates on the coronavirus outbreak in North Carolina as information becomes available.
Safety Counts.