Southern Pines Disability Lawyer
Are you considering filing for disability benefits and looking for a  Southern Pines disability lawyer? Have you already filed for disability and need to appeal a denial?
If so, the NC Social Security disability lawyers at Riddle & Brantley may be able to help. We have the experience needed to fight for people with disabilities in Southern Pines as well as throughout North Carolina.
Filing for Social Security Disability (SSD) or Social Security Disability Insurance (SSDI) benefits can be complicated and confusing. Many applicants find it hard to fill out the necessary paperwork and submit proper medical documentation.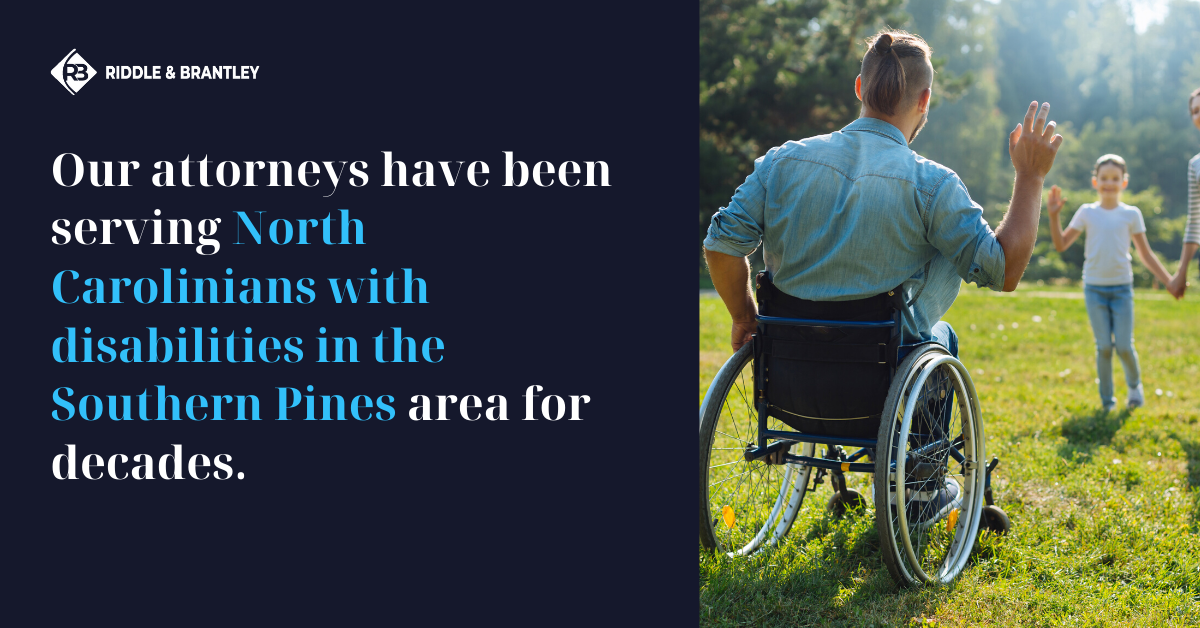 This is the primary reason that more than 70% of disability claims are initially denied. You may not technically need an attorney to help you navigate the Social Security Administration (SSA) during the application process, but hiring a disability lawyer serving Southern Pines will improve your chances of receiving approval for benefits.
By the statistics, the SSA is more likely to approve you if you are represented by a Disability Lawyer.
For a FREE consultation with a disability lawyer serving Southern Pines, please call 1-800-525-7111 or complete the short form below.
There is no obligation and you'll only pay attorney fees if we win your case and you receive disability benefits.
Call 1-800-525-7111 and let's review your claim.
How can Riddle & Brantley help?
The disability lawyers at Riddle & Brantley understand the application and appeals process. We will present our clients' cases in ways that make their disability obvious and not a matter of conjecture. We make sure clients have the necessary medical documentation from doctors and the hospitals where they were treated.
If you decide to hire us, our experienced disability lawyers serving Southern Pines will make sure you meet all criteria so the risk of your claim being rejected due to insufficient medical documentation and proof of disability is notably reduced.
Once your application is submitted, a Riddle & Brantley lawyer will check in with the SSA and offer you updates as they become available.
In addition to serving clients in Southern Pines, we also handle disability cases throughout North Carolina, including Fayetteville, Sanford, Fuquay-Varina, and Laurinburg.
Appeals
Should your original claim be denied, your Riddle & Brantley attorney will represent you in any appeals. Our attorneys will submit all medical evidence, communicate with any doctors and medical professionals who have treated you, and prepare you for any questions that you may be asked. We look out for your best interest by trying to move your case forward quickly.
There are many opportunities for appeal, including the Reconsideration, Hearing, Appeals Council, and federal court levels.
In a hearing before an Administrative Law Judge (ALJ), a disability lawyer serving Southern Pines can guide your testimony so that the judge understands how your disability has impacted your life and your ability to work and make money.
Should it be impossible for you to attend a hearing given your condition, your disability lawyer can request an OTR (on the record) decision from the judge. This will make it possible for your claim to be approved without having a hearing.
For a FREE consultation with a disability lawyer serving Southern Pines NC, please call 1-800-525-7111 today.
The consultation is free and there are no upfront costs or attorney fees unless we win benefits for you.
Call 1-800-525-7111 today and let's review your claim.
"I would recommend Riddle & Brantley to anyone who needs help with disability."
–B. Fields, Riddle & Brantley client
Helping You Navigate the Appeals Process
The Social Security disability appeals process involves a complex set of rules and regulations that are not easily understood.
Here are some important considerations to keep in mind as you apply for benefits and appeal a potential denial:
Many times, medical conditions aren't severe enough to qualify for disability benefits on their own. However, if you are denied benefits and have more than one medical condition, you should appeal. If your combined impairments have more than a minimal effect on your ability to work, the examiner should fully consider this to decide if your combined conditions create a disability.
Claims examiners usually focus on the main complaint in a disability application, such as a physical problem and ignore lesser complaints of emotional problems, such as anxiety and depression. If you feel the claims examiner did not explore your mental health complaint, it is important to state this in your request for hearing (HA-501). Before your hearing be sure to visit a mental health doctor so you will have up to date mental health records to show the judge at the hearing. Ask your mental health doctor to fill out a mental residual functional capacity (MRFC) assessment. This will help your chances of winning on appeal.
If your medical records contain information about several illnesses or injuries, it is not uncommon for the claims examiner to leave some of your limitations out of your Residual Functional Capacity (RFC). This will not fully reflect your inabilities. Always state which limitations your RFC neglected to include in your appeal request.
It is important to fully describe any past jobs (jobs you have had within the past 15 years) on your application. If you don't describe your past jobs, the claims examiner may mistakenly decide you can do your old job. You must specify all tasks you did at your last job. Your RFC may list certain tasks you are unable to do, but all should be mentioned. It is important to remember that even if your RFC lists reasons you can't do a certain job, it won't help you if you failed to specify all duties you were required to do at your last job.
The claims examiner will assess whether you are able to switch to less physically or mentally demanding work using your Residual Functioning Capacity. He or she will look at your past jobs to see if you picked up any skills that could bring you new work. Deciding you have transferable skills is a decision that needs to be based only on the jobs you have had in the last 15 years. These jobs should be full-time and held for a significant amount of time. This assessment needs to be based on job descriptions in the Dictionary of Occupational Titles (DOT).
A disability lawyer with experience handling cases in the Southern Pines NC area can help determine your eligibility and advise on your best legal options.
For a FREE consultation, please call our disability lawyers serving Southern Pines at 1-800-525-7111.
We will review your claim, advise you on your case and if you decide to hire us, we will fight tirelessly for your right to benefits.
Board-Certified Specialist in Social Security Disability
Attorney Scott Scurfield is a Board-Certified Specialist in SSD and is the leader of the disability team for Riddle & Brantley. Scott has a knowledgeable group of people he works with focused on Social Security disability work. Scott additionally represents clients in personal injury, VA benefits, and premises liability cases.
Scurfield earned his Juris Doctor degree from the University of Pittsburgh School of Law.
"There is nothing more satisfying than getting our clients the disability benefits they need and deserve."
–Scott Scurfield, disability lawyer serving Southern Pines NC
If you live in the Southern Pines, North Carolina or any surrounding areas and need a disability lawyer, Riddle & Brantley is here to help.
Please call 1-800-525-7111 or fill out the short form below for a FREE consultation with a disability attorney serving Southern Pines and greater North Carolina.
Justice Counts for you and your loved ones.
There is never a consultation fee and we don't get paid unless we get disability benefits for you.
Please call 1-800-525-7111 today and let's review your claim.