Talcum Powder Lawsuit Status: Early 2022 Update
One of the most popular manufacturers of talc-based products, Johnson & Johnson, is currently battling thousands of talcum powder lawsuits that allege their popular talc-based baby powder contained dangerous levels of asbestos and caused cancer.
Asbestos is a known carcinogen, and now-leaked internal documents from Johnson & Johnson suggest that the company knew their talc-based products were contaminated with asbestos and the harm that it could potentially cause to consumers. These discoveries have led thousands of consumers who are now battling cancer to seek compensation from Johnson & Johnson for alleged failure to disclose the risks associated with their baby powder and talc-based products.
"What's the Latest in Johnson & Johnson Baby Powder Lawsuits?"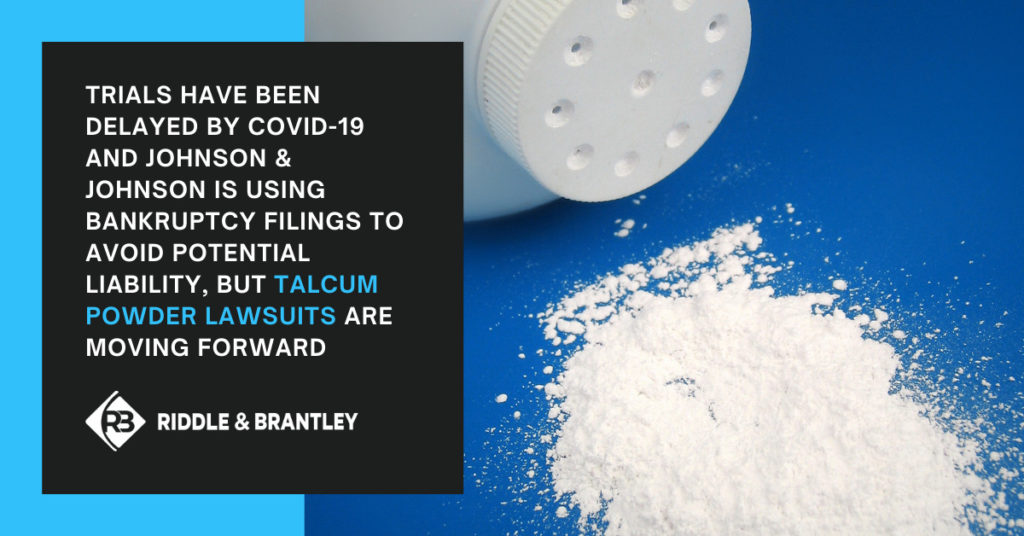 As of early 2022, here are some of the most important updates in ongoing talcum powder litigation against Johnson & Johnson:
COVID-19 Delays Trial Dates
As these lawsuits have moved forward, they've been hit with several roadblocks. First, the COVID-19 pandemic ground the courts to a halt and caused a significant backlog of outstanding cases. This delayed trials for many outstanding talcum powder cases.
Once the courts resumed in 2021, talcum powder cases were brought to trial in Illinois, Philadelphia, and St. Louis. Unfortunately for claimants, all of these cases were ruled in favor of the defense.
Johnson & Johnson Shifts Liability to New Corp.
In the wake of numerous lawsuits being brought against them, Johnson & Johnson created a new corporation called LTL Management LLC and assigned it all outstanding talcum powder liabilities. They then filed for bankruptcy on behalf of LTL, which immediately halts all pending litigation against the company until the bankruptcy process is complete (which can take years). This is a legal move known as the "Texas Two-Step" that can be used to evade large settlements or litigation.
While litigation against LTL is halted, the legal teams representing the claimants have attempted to argue that litigation against the parent company (Johnson & Johnson) should still proceed, while Johnson & Johnson has argued that the litigation stay (pause) should also apply to them.
North Carolina Judge Rejects Bankruptcy Case
On November 10th, 2021, the judge overseeing the bankruptcy case in North Carolina ruled that there was insufficient contact between the company and the state of North Carolina and ordered the case to be transferred to New Jersey. The judge then ordered a stay on all litigation against LTL and Johnson & Johnson for 60 days to allow the new judge in New Jersey to review the case and decide how to move forward.
Legal representatives for the claimants are hopeful that this move to New Jersey will allow them more opportunities to present a case that holds Johnson & Johnson fully responsible.
Next Steps for Baby Powder Lawsuits
Once the 60-day litigation stay expires on the cases in the New Jersey courts, the claimants' legal teams have made it clear that they intend to continue appealing to the court to allow them to bring litigation against Johnson & Johnson directly instead of waiting for the bankruptcy process against LTL to complete.
Lawmakers on both sides of the aisle have also voiced their disapproval at the tactics that Johnson & Johnson are using to seemingly evade litigation, with Senator Elizabeth Warren tweeting: "Another giant corporation is abusing our bankruptcy system to shield its assets and evade liability for the harm it has caused people across the country" [in reference to the LTL bankruptcy filing].
As the process continues moving forward, previous settlements that have been won against Johnson & Johnson and other entities continue to encourage claimants and their legal teams to keep pressing on in hopes that the company will be held responsible for the health risks their products may pose to consumers.
Riddle & Brantley is Actively Investigating Baby Powder Cancer Claims
Have you been diagnosed with ovarian cancer, endometrial ovarian cancer, or mesothelioma after using Johnson & Johnson talcum powder? If so, you may be entitled to compensation in a baby powder lawsuit and our attorneys would love to help however we can. Call 1-800-525-7111 today for a free, no-obligation consultation. There are no upfront costs and you won't pay any attorney fees unless we win your case and you receive compensation.
Justice Counts for those who have suffered from cancer potentially due to contaminated talcum powder. We are ready to help however we can. Please call 1-800-525-7111 and let's review your claim.