Thomasville Work Injury Lawyer
"Do I need a lawyer to get workers' compensation benefits?"
If you've been injured on the job, you may be considering a Thomasville work injury lawyer.
The North Carolina work injury lawyers at Riddle & Brantley have been serving clients in the Thomasville NC area for decades and may be able to help.
There are several factors that determine if you need a lawyer after an injury on the job.
If any of the following are true, you should talk with a work injury attorney serving Thomasville and greater North Carolina as soon as possible:
Your workplace injuries are severe and require surgery.
Your workplace injuries are moderate to severe and you and your doctor believe your health will not return to the condition it was before your injury. If this is the case, you may be entitled to a permanent partial disability award.
You feel you can no longer work on a regular basis in any job.
Although you feel you can not return to your current job, you believe you can work in some capacity.
You have a substantial pre-existing disability.
Your medical benefits have been denied.
You feel you are not receiving the correct benefits or believe there are additional benefits you should receive.
You would like to dispute an adverse decision made by your employer, your employers insurance carrier, or your state's workers' compensation division regarding your claim.
You don't understand the workers' compensation process and would feel better with an attorney explaining things and working on your side.
Your employer disputed any decisions made by your states worker's compensation division.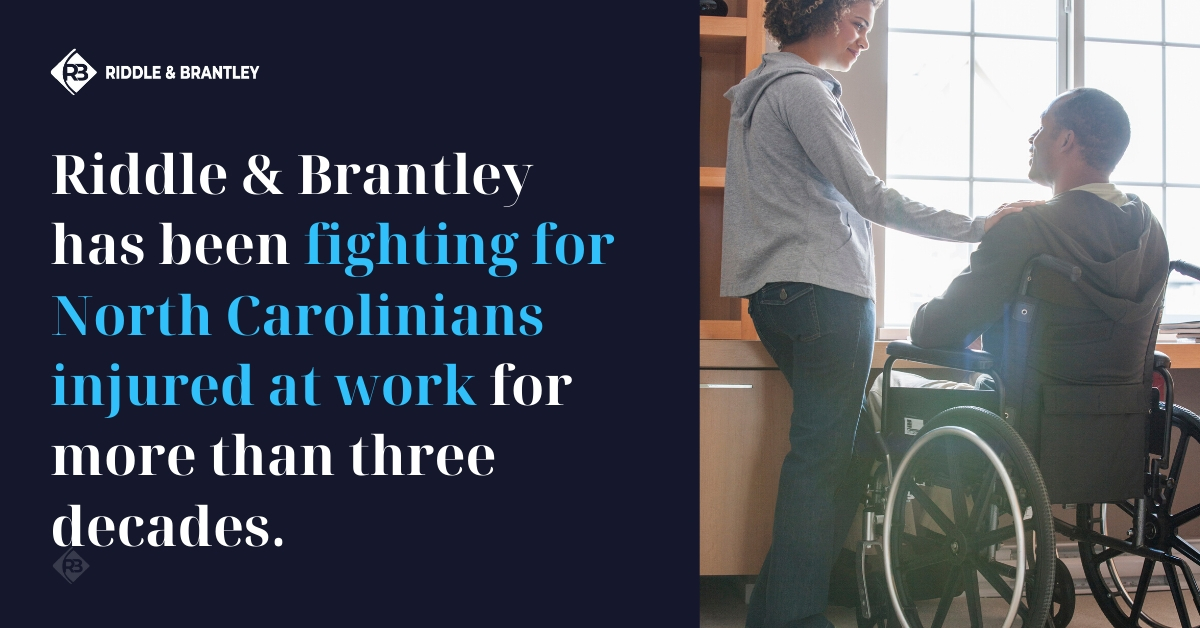 If you live in Thomasville, North Carolina or the surrounding Piedmont Triad, regardless of the circumstances of your workers' compensation claim, you have the right to hire a lawyer.
Riddle & Brantley's work injury lawyers may be able to help you get workers' compensation benefits.
Please call us at 1-800-525-7111 or fill out the form below for a FREE consultation with a work injury lawyer serving Thomasville, North Carolina. 
The consultation is always free and there are no upfront attorney fees and we won't get paid unless we win compensation for you.
Please call 1-800-525-7111 to speak with a workers' comp attorney serving Thomasville clients today.
"We believe all North Carolinians deserve justice and we're proud to fight for injured workers in Thomasville and the Triad."
-Gene Riddle, attorney and managing partner, Riddle & Brantley
Justice for Injured Workers in Thomasville and Across North Carolina
For more than 30 years Riddle & Brantley has been helping injured workers get the justice and compensation they deserve. Our work injury lawyers handle cases throughout North Carolina, and we have helped many in the Thomasville area and greater Piedmont Triad.
How Does Workers' Compensation Work in North Carolina?
North Carolina law requires most employers to purchase workers' compensation insurance.
Workers' compensation insurance provides benefits to workers who suffer work-related injuries or illnesses. An injury or illness is covered under workers' compensation insurance if it took place in the "course and scope" of your employment. Although hard to define, you may even be covered for an injury that occurs while you are on break or just on the employer's premises.
It doesn't matter what occupation or industry you work in, if you've been injured while at work, you may have a claim for compensation.
Injuries occur at work, whether your job is in technology, health care, hospitality, maintenance, law enforcement, construction, transportation or any number of other industries.
Workplace injuries and illnesses result from accidents, exposure to dangerous chemicals and substances, or cumulative wear and tear on workers' bodies that happens over time.
Riddle & Brantley workers' compensation lawyers are committed to serving the Thomasville NC area and can assist with cases involving all kinds of injuries, including:
Back injuries
Hand injuries
Neck injuries
Head injuries
Severe brain injuries
Amputation (loss of limbs)
Crush injuries
Burns
Repetitive motion injuries (such as carpel tunnel)
Illness due to exposure to dangerous chemicals or substances such as asbestos
Vision loss
Hearing loss or tinnitus
Breathing problems
And more…
Whether you have been injured in a work-related accident in Thomasville or elsewhere in North Carolina, a Riddle & Brantley work injury lawyer can help manage your case from start to finish.
Our priority is to make the process as seamless and convenient as possible so you can get back to the life you are accustomed to.
We believe you deserve an experienced lawyer on your side and that Justice Counts for victims of workplace injuries in North Carolina, including Thomasville.
For a FREE consultation and case review with a work injury lawyer serving Thomasville and the greater Triad, please call 1-800-525-7111.
A work injury attorney at Riddle & Brantley with experience in Thomasville NC can help you with all aspects of your injury claim or lawsuit, making sure nothing is overlooked. This may include making sure that:
You don't waive your legal rights or accept an unfair settlement with the insurance company
Your employer and insurance carrier receive formal notice of your injury
The North Carolina Industrial Commission (NCIC) receives Form 18 (notice of your workplace injury)
Your insurance company acknowledges your claim filed with the NCIC
You don't lose an opportunity at justice due to an expired Statute of Limitations or other critical deadline
You receive your disability payments on time (and in the correct amount)
Any tests and medications prescribed by your doctor are approved by the insurance company in a timely manner
An unbiased doctor provides a qualified second opinion
You are not forced to accept a position created by your employer solely to avoid paying disability benefits
You receive medical care through your employer's insurance coverage
And more…
Please call 1-800-525-7111 or complete the fast and easy online form today for a FREE consultation with a work injury lawyer serving Thomasville and greater North Carolina.
There are no upfront costs and no attorney fees unless we win your case and you receive workers' compensation benefits that you need and deserve.
We Care About Justice for You and Your Loved Ones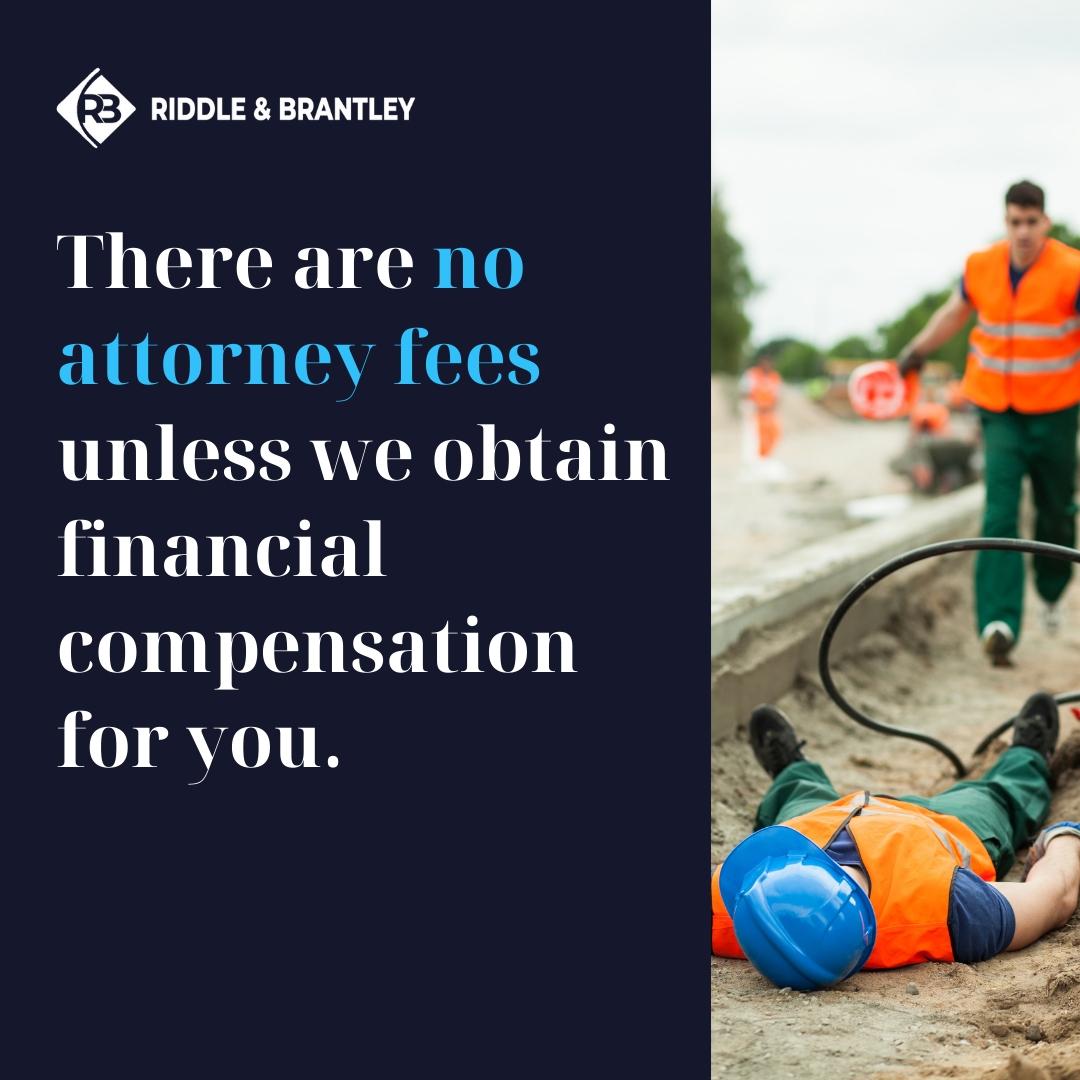 Riddle & Brantley has the knowledge and experience to tackle complicated and high value cases. At the same time, we have a great track record building small and difficult cases for underserved populations.
Our team is led by two Board-Certified Specialists in Workers' Compensation law — Christopher Brantley and Adam Smith.
These attorneys have passed a rigorous exam administered by the NC State Bar and proven their experience and expertise in handling work injury claims in North Carolina.
We are proud of our client-friendly approach. We frequently respond to calls and emails after hours and on weekends and even have Spanish-speaking translators available to assist if necessary.
We're humbled by the words of our clients describing their experience working with our attorneys and staff:
"I would recommend Riddle & Brantley to anyone who needs help with disability or workers' compensation."
–B.F., Riddle & Brantley client
Please call 1-800-525-7111 to speak with an experienced workers' compensation lawyer serving clients in Thomasville NC.
There is absolutely no obligation and you'll only pay attorney fees if we win your case and you receive workers' comp benefits.
We cannot guarantee we will recover workers' comp benefits for you, but there are no upfront costs and you only pay attorney fees if we recover a settlement for you.
Call 1-800-525-7111 today and let's see what we can do to secure justice and compensation for you.
If for any reason we're not able to assist, we will do our best to put you in touch with someone who can. That's our promise to you.
Justice Counts for injured North Carolina workers.
Let's see how we can help.