Should I Join the Rapid Appeals Modernization Program (RAMP)?
Veterans who substain an injury while serving in the military are generally entitled to receive compensation for the level of disability that results. The governmental agency overseeing the process of applying for and receiving benefits is the Department of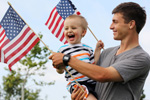 Veterans Affairs ("VA").  Unfortunately, not all veterans who seek compensation for their disabilities have their claims properly handled. When this happens, the veteran must ask the VA to correct the error. That process can be extremely complicated and time-consuming, often taking four to five years for a contested claim to make it through the system.
In response to this slow process, the VA has faced much scrutiny and scorn from the media. Veterans with legitimate disabling conditions can become destitute, homeless, and helpless while waiting for their claim to make its way through this bureaucratic nightmare of a system. As a result, the VA has created a new program called the "Rapid Appeals Modernization Program ("RAMP").
What is the "Rapid Appeals Modernization Program (RAMP)?
"Rapid Appeals Modernization Program (RAMP)," is part of the "Veterans Appeals Improvement and Modernization Act of 2017" which signed into law in August of 2017. It is an effort to give disabled veterans "streamlined choices" for seeking review of a VA decision denying their claim. Letters are being sent to some veterans with appeals pending, inviting them to voluntarily participate in the RAMP program.  Some VA Disability clients at Riddle & Brantley have received these letters.
Should I Participate in RAMP?
To a disabled veteran seeking approval of their benefits claim, the RAMP program sounds promising; however, veterans' advocates are not so sure, for several reasons:
This is a new program and we are not sure how well it will work, if at all. The VA is notorious for rolling out "big ideas" from time to time and then failing to support them or mismanaging them into extinction.  The first "batch" of veterans through this new effort might find that it is under-funded and insufficiently supported to be worthwhile.
As slow and clunky as the current claim and appeal system is, at least it's a known quantity. Such is not the case with RAMP.  The promise of faster claim handling is, for now, just that – a promise.  If the new program is abandoned, there is no way to know how claims in the RAMP program will be affected.
By its own terms, the RAMP program would prohibit veterans from submitting new evidence while the claim is being considered. If a veteran's condition worsens, that worsening will apparently not be considered while the claim is in the RAMP program.  We say "apparently" because, like most things about RAMP, it is not clear.
For these and other reasons, we are currently taking a "wait and see" attitude about RAMP, and advising our clients NOT to opt in.
Should I Contact A Lawyer If I Receive An Invitation to Join RAMP?
If you are a veteran who is waiting on your benefits claim with the VA and have received an invitation to join RAMP, we encourage you to contact the Veterans' Benefits attorneys at Riddle & Brantley. Our attorneys have several years of experience in Veterans' Benefits and are following this program closely to provide the most accurate information and advice to our clients. For more information on RAMP or how our attorneys can help you receive the benefits you deserve, contact us online or at (800)525-7111. For our veterans, justice counts.