VA Disability Now Available for Blue Water Navy Vets Exposed to Agent Orange in Vietnam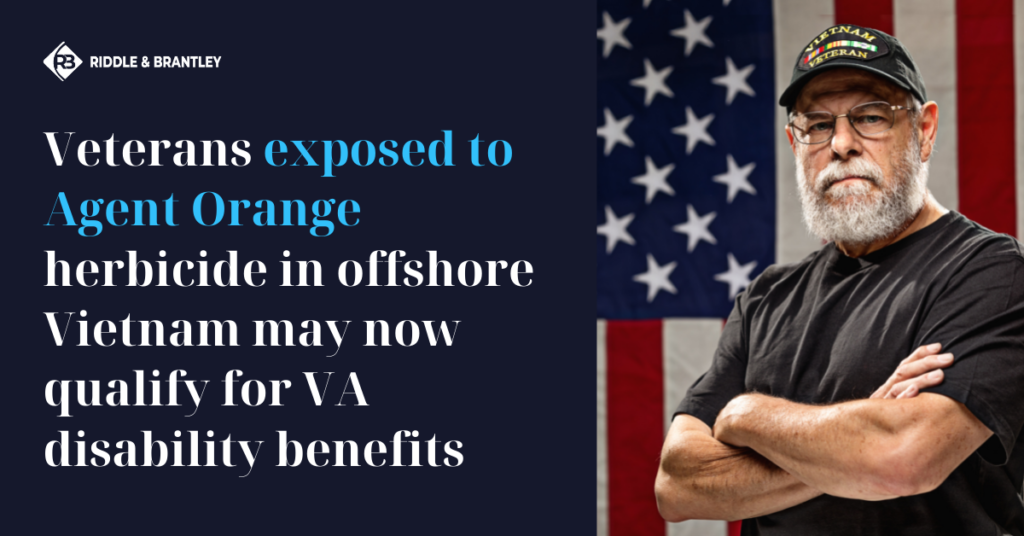 The Department of Veterans Affairs has announced that certain veterans who were previously denied for VA disability benefits related to Agent Orange exposure in Vietnam may now qualify. At issue are cases of herbicide-related cancer that occurred following exposure to Agent Orange in the offshore waters of Vietnam. Certain Korean War veterans may also qualify.
Surviving family members of deceased veterans who suffered due to this exposure may also qualify for benefits.
Why Were These Claims Previously Denied?
Previously, the VA ruled that exposure to Agent Orange and related herbicides in the offshore waters of Vietnam (and the DMZ in Korea) was not "service-related" because it did not occur during "in-country" service. Riddle & Brantley believes this is wrong and we are glad to see the VA has updated its position to provide justice to those who served our country with honor.
"Those who served our country deserve justice."
–Gene Riddle, attorney and managing partner, Riddle & Brantley
Who Is Eligible to Apply (or Re-Apply) for Benefits?
The VA's decision will allow certain veterans of the Vietnam War and Korean War, who were exposed to Agent Orange in the offshore waters of Vietnam or the Korean DMZ, to apply for VA disability benefits based on "service-related" illness. The law specifically covers "Blue Water Navy" (BWN) veterans and those serving in the Korean DMZ who meet the following criteria:
Served as far as 12 nautical miles offshore of Vietnam between Jan. 6, 1962 and May 7, 1975 OR served in the Korean Demilitarized Zone (DMZ) between Jan. 1, 1967 and August 31, 1971
Developed at least one of 14 conditions tied to exposure of certain herbicides like Agent Orange
Certain children of veterans who served in Thailand during the Vietnam War may also be eligible for benefits.
For a FREE claim evaluation — or assistance with re-filing for benefits or appealing a denial — call 1-800-525-7111.
Do You Qualify for VA Disability Benefits?
If you suffered a service-related injury or illness while serving in the U.S. military, you may be entitled to veterans disability benefits and our North Carolina VA disability lawyers may be able to help.
For a FREE consultation with an experienced veterans disability lawyer serving veterans in North Carolina, please call 1-800-525-7111 or complete the short form below.
There is no obligation, and you won't pay any attorney fees unless we secure VA disability benefits for you.
Our VA disability team knows the VA system inside and out, and we are ready to assist with any claim or appeal for an increased rating.
Call 1-800-525-7111 and let's review your claim.
IMPORTANT: Blue Water Navy (BWN) veterans and certain veterans who served in the Korean DMZ during the Vietnam and/or Korean Wars and suffered cancer or other illness due to Agent Orange and other herbicide exposure may now be entitled to benefits. Call 1-800-525-7111 for a FREE, no-obligation consultation.
"By far the best law firm that actually cares about helping veterans."
–B. Fields, Riddle & Brantley client
Those who served our military with honor deserve justice, and we are ready to help however we can.
Justice Counts.