Wilson Car Accident Lawyer
Looking for a Wilson car accident lawyer?
When you've been injured in a car, truck, motorcycle or other auto accident, if someone else was negligent, you deserve justice — and you may be entitled to compensation.
With more than 225 years of legal experience, Riddle & Brantley car accident and injury lawyers have been fighting for justice for North Carolinians since 1985. We have experience representing clients in the Wilson area and throughout North Carolina, and would love to see if we can help you.
For a FREE consultation and case review, please call 1-800-525-7111. You can also complete the quick form below if you prefer.
There is never any obligation, and if you decide to hire us, there are no attorney fees unless we win your case and get you compensation.
We serve clients injured in all types of auto and related accidents, including:
Car accidents
Truck accidents
Tractor-trailer accidents
Motorcycle accidents
Moped accidents
Scooter accidents
Bicycle accidents
Pedestrian accidents
Road construction accidents
Rideshare accidents (Uber and Lyft)
Auto accidents while on the job
Wrongful death accidents
Hit and run accidents
We say Justice Counts and we mean it. Every North Carolinian is entitled to equal justice under the law, and it's what we fight for every day. 
Our Commitment to Wilson
Wilson, North Carolina is located roughly 40 miles east of Raleigh and lies next to the I-95 and I-795 interstates. US-301 and US-264 also run through the area.
Those busy roads, frequent construction and a growing population mean that auto accidents are unfortunately common.
We have experience representing clients with all kind of injuries as a result of car accidents and other types of auto accidents, including:
Broken bones
Cuts, scrapes and contusions
Head injuries
Neck injuries
Back and spinal cord injuries
Traumatic brain injuries
Loss of limbs
Memory loss
Burns
Internal organ damage
Internal bleeding
Concussions
Emotional trauma like PTSD
And more…
We can also help Wilson accident victims injured while on the job with their workers' compensation claims. We even have two Board-Certified Specialists in Workers' Compensation law who have been recognized by the North Carolina Bar Association for their proficiency.
For a free, no-obligation consultation, please call 1-800-525-7111 or complete the form below. We'll advise you on your legal options and determine if we think you have a potential claim or lawsuit.
There's no obligation and no attorney fees unless we win your case.
As a founding member of the firm, Gene Riddle has been fighting tirelessly for area clients since 1985 and our 12 attorneys are very familiar with eastern North Carolina.
"Riddle & Brantley has been serving eastern North Carolina since 1985 and we're proud to fight for justice for all North Carolinians." -Gene Riddle
What can I expect working with Riddle & Brantley?
At Riddle & Brantley we pride ourselves on our excellent client service. We treat clients like family and you'll be supported by an experienced attorney, case manager, and a team of paralegals and investigators committed to your success.
We have four convenient offices in North Carolina and can even come to you. Our staff often responds to emails and calls after hours and on weekends.
We also have bilingual staff available for our Spanish-speaking clients.
Although every case is different and no responsible or ethical lawyer can make a guarantee, Riddle & Brantley is proud of the settlements and judgments we've won for our clients.
These case results include:
$800,000 | Auto Accident — Attorney Gene Riddle represented a client who was injured when another vehicle made a sudden turn in front of them. The defendant's counsel contested liability after suit was filed and the claim was ultimately resolved through pre-trial negotiations for a total settlement of $800,000 for the victim.
$1,925,000 | Auto & Pedestrian Accident — Our client was severely injured when hit by a cement truck while walking across a parking lot. Managing partner Gene Riddle and late partner Gene Jenkins took the case and directed a thorough accident investigation. Alleging the truck driver was liable, Riddle and Jenkins took the case to court and ultimately secured a $1.925,000 settlement.
$5,450,000 | Tractor-Trailer Accident — A family of four was killed when their vehicle was rear-ended by a tractor-trailer on a busy North Carolina highway. Attorneys Gene Riddle and Kurt Dixon were hired by the surviving family to fight for justice. Following accident investigation and reconstruction, suit was filed and parties moved to mediation, where Riddle and Dixon won $5.45 million in total compensation for the victims' family. Separate litigation against an involved pavement marking company is still pending.
*** Disclaimer: The results mentioned are intended to illustrate the type of cases handled by the firm. These results do not guarantee a similar outcome, and they should not be construed to constitute a promise or guarantee of a particular result in any particular case. Every case is different, and the outcome of any case depends upon a variety of factors unique to that case.
"They treated me professionally and with respect. I am very satisfied with how my case was handled." -Vivian R.
For more case results and client testimonials, please visit our settlements and judgments and Riddle & Brantley reviews pages.
If you've been injured in a Wilson car accident or other motor vehicle accident, please call Riddle Brantley today at 1-800-525-7111. Our car accident lawyers have experience in Wilson and throughout North Carolina and we would love to help if we can.
Looking for a Wilson car accident lawyer?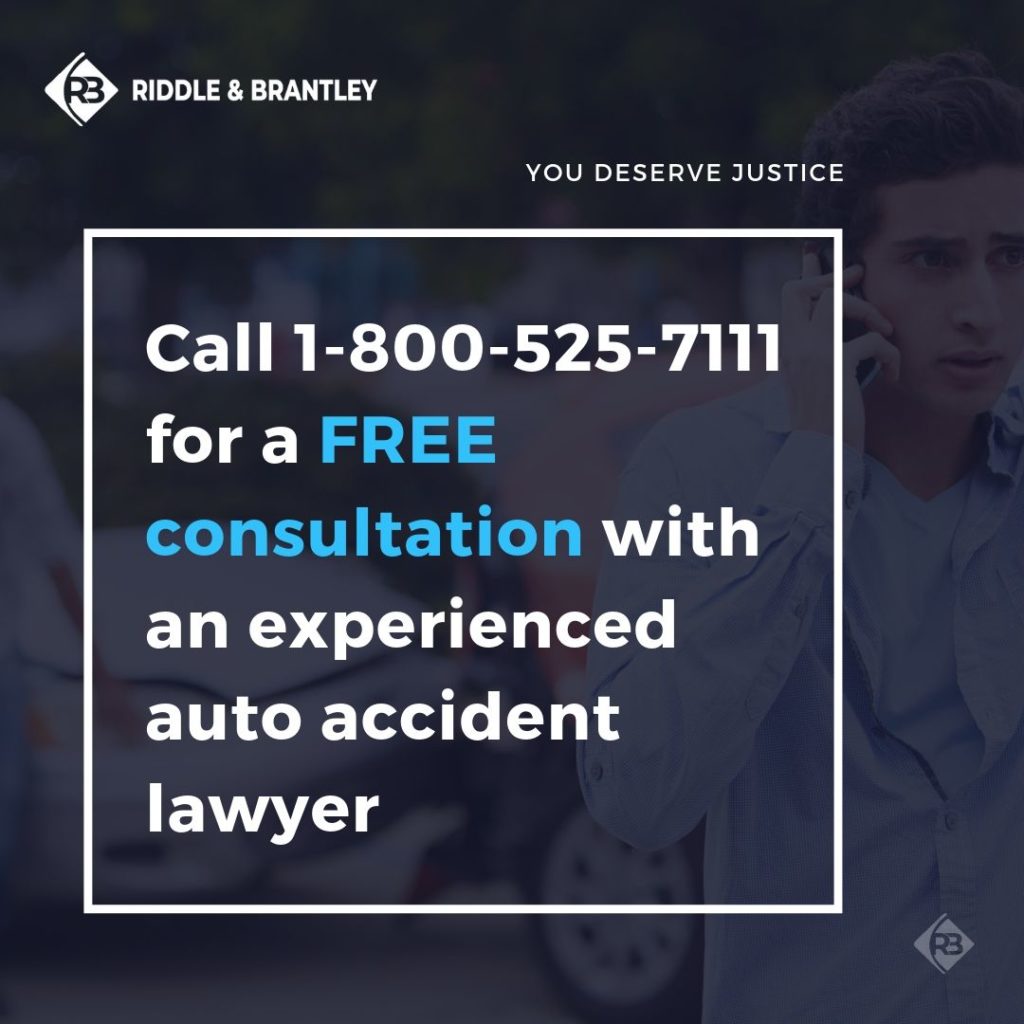 If you're searching for a car accident lawyer with experience in Wilson and eastern North Carolina, you may want to consider Riddle & Brantley.
Our car accident, workers' compensation and wrongful death attorney know the law in North Carolina and are committed to fighting for justice for each and every client.
Whether you've been injured in a car accident, truck accident, motorcycle accident or something else in the Wilson area, call Riddle & Brantley at 1-800-525-7111 for a free consultation.
There is no obligation, no upfront cost and no attorney fees unless we win your case.
You can also complete the online form if it's more convenient.
Justice Counts, and we fight for it for every North Carolina client we serve. We'd love to see if we can help you. Please call 1-800-525-7111 and let's talk.