Workers' Compensation for Coronavirus / COVID-19
The coronavirus pandemic has upended daily life for millions of Americans — and North Carolina workers are no exception. Because contracting the coronavirus can mean lost work and wages, many have questions about workers' compensation for coronavirus. Does workers' comp apply to COVID-19? The answers aren't necessarily clear, but Riddle & Brantley's North Carolina workers' compensation lawyers have some insight.
"Can I file a worker's compensation claim if I contract the coronavirus?"
In North Carolina, workers' compensation is designed to compensate employees who are injured on the job.  The system regularly handles "injury by accident" claims. For example, workers' compensation benefits would apply if a worker was injured by a falling object while on the job.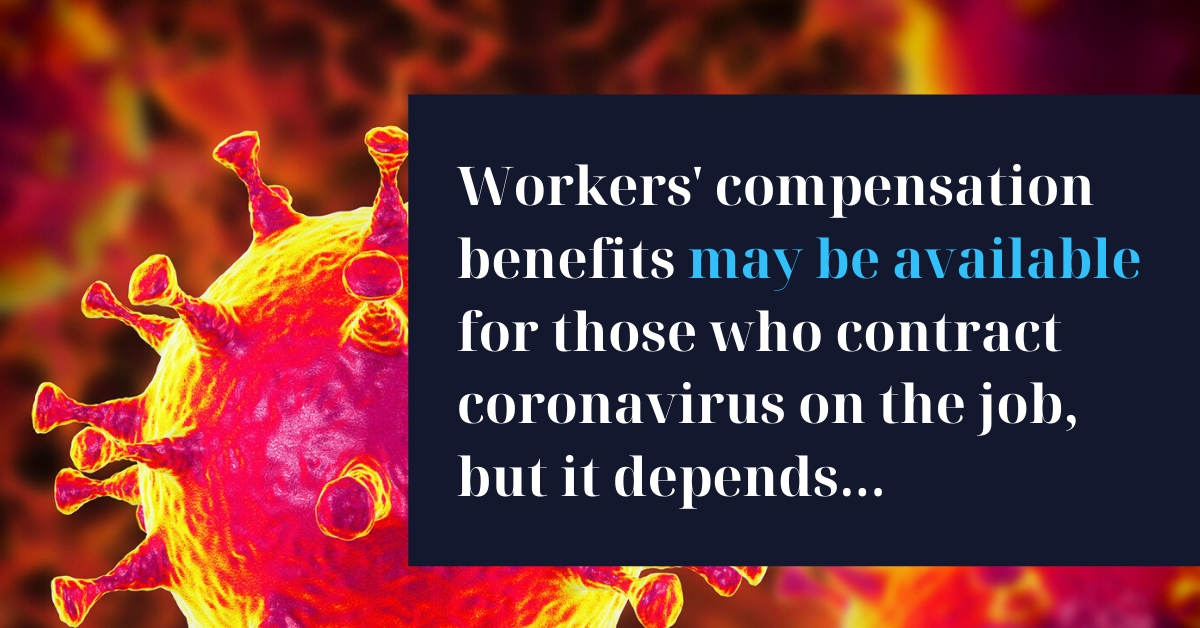 However, many people have injuries that occur on the job that are not clearly covered under the workers' comp system. For example, if an employee is stung by a bee at work, or even struck by lightning, the courts will not automatically assume an employee is entitled to worker's compensation benefits. Instead, they will apply a test to determine to what extent there is a link between the employment and the injury. So a roofer who is struck by lightning would have a better claim than an office worker.
Workers' compensation claims for coronavirus and resulting COVID-19 illness are likely to be subjected to the same test. So a grocery store employee, working around the public, or a nurse working with sick patients, would each have a stronger claim for coronavirus workers' compensation benefits than the typical office worker.
Of course, some courts may ask whether we can even know that a person contracted coronavirus at work, or if they contracted COVID-19 at home or during their free time off the clock. In this sense, coronavirus claims for workers' compensation benefits are more like asbestos and mesothelioma claims where a person may be exposed to asbestos in multiple settings.
"Can I sue my employer if I contract the coronavirus at work?"
In North Carolina, there are numerous limitations on when you can sue your employer. The novel coronavirus pandemic or COVID-19 will require the courts to revisit this issue in a new context. Riddle & Brantley's workers' comp attorneys expect that courts will be willing to at least entertain coronavirus-related lawsuits against employers in some situations, such as when an employer may have failed to take appropriate precautions or unnecessarily put employees at increased risk of COVID-19 infection.
Riddle & Brantley's workers' compensation attorneys expect that courts will be willing to at least entertain coronavirus-related lawsuits against employers in some situations.
"If I work around people during the coronavirus outbreak, what should I do?"
During the coronavirus pandemic, your health and the health of those around you is the most serious and immediate concern. If you work in a job where you may be exposed, consider wearing protective equipment whenever possible. Maintain "social distancing" (physical distancing). This is not always easy.
Ask your employer for any equipment or job routine modifications that may be possible in order to protect yourself and other workers from coronavirus. Some people can work from home, and some cannot. So every instance is different, but requesting modifications in writing is a wise option. 
Do you have a potential coronavirus workers' compensation claim?
If you've contracted COVID-19 (coronavirus) while on the job, you may be entitled to workers' compensation benefits. The law is not yet entirely clear in this regard, but our work injury lawyers can consult with you on your legal options.
For a FREE consultation on coronavirus workers' compensation with an experienced North Carolina workers' comp attorney, please call 1-800-525-7111 or complete the short form below.
There is no obligation and you won't pay any attorney fees unless we win your case and you receive the workers' compensation benefits you need and deserve.
We believe Justice Counts for ALL North Carolina workers and would love to help however we can.