Can You Sue for PTSD After a Car Accident in North Carolina?
"Can I File a Claim for PTSD from a Car Accident?"
Motor vehicle accidents can cause much more than physical pain and injury. These nerve-wracking and often terrifying events may leave lasting emotional scars that manifest as Post Traumatic Stress Disorder (PTSD), a mental condition that can be triggered after exposure to a traumatic event. In most cases that we have handled involving PTSD, our clients suffer physical injuries as well.
While shock, fear, anxiety, and feelings of helplessness are common in the immediate days following a car accident, they usually dissipate. In people with PTSD, however, these physiological reactions continue and even worsen in severity, which can undermine the victim's quality of life.
Having represented car accident victims in North Carolina for more than three decades, our attorneys are often asked, "Can I sue for PTSD after a car accident?" The answer is that yes, in most cases, you can sue or file a claim for PTSD potentially suffered as a result of a car accident in North Carolina. However, these cases can be complicated, and we always recommend consulting with an experienced North Carolina car accident lawyer in advance.
Suing for PTSD After a Car Accident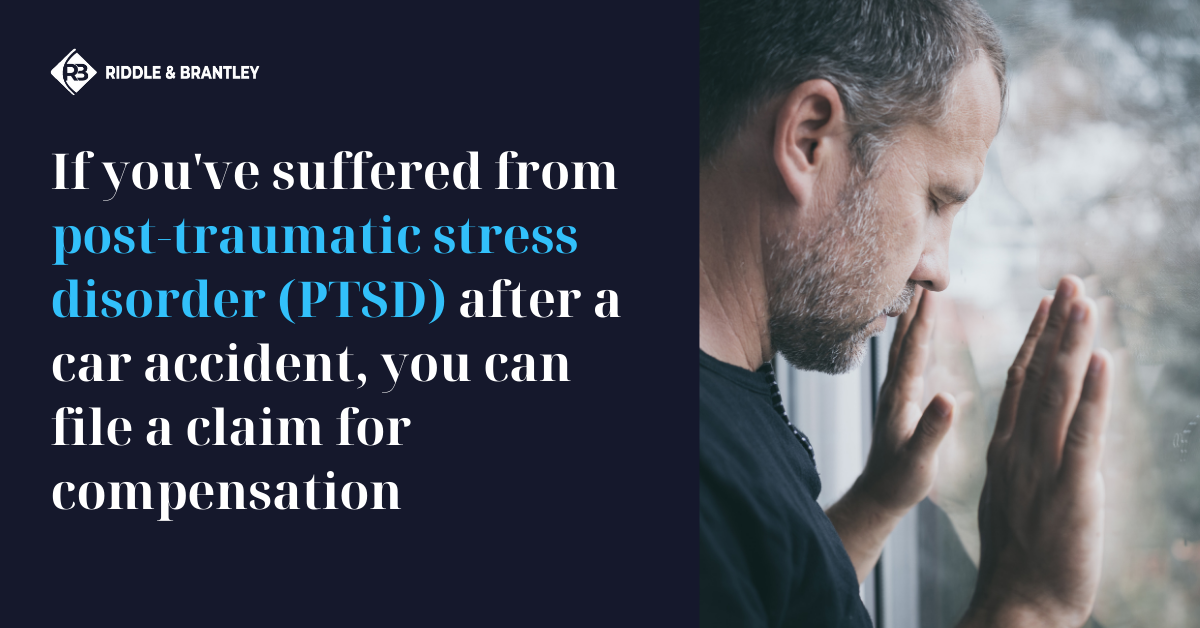 If you have developed PTSD after a car accident in North Carolina, you may be eligible to seek damages from the at-fault driver. Recovering fair compensation for car crash-induced PTSD is feasible but much more complicated than a regular injury claim, requiring the skill of an experienced North Carolina car accident lawyer at Riddle & Brantley. We provide sound guidance and compassionate support to auto accident victims who are struggling to navigate the legal process.
Depression, panic attacks, chronic anxiety, and recurring flashbacks of the traumatic ordeal are hallmark signs of PTSD. But in order to sue for damages, we must be able to prove that the car accident was, in fact, responsible for this mental condition, which means medical documentation is crucial.
The symptoms of PTSD may be subtle or non-existent for weeks after the accident. In fact, many people do not develop PTSD for several months after being involved in or witnessing a traumatic event.
For these reasons, it's essential to seek a medical evaluation at the slightest hint of PTSD. In order to have a medical diagnosis of Post Traumatic Stress Disorder, victims must experience symptoms for one month or longer following the accident.
What are the Symptoms of PTSD?
The symptoms of PTSD vary dramatically from person to person, but are typically categorized into one of four groups:
Negative changes in thinking and cognition
Intrusive memories
Avoidance
Changes in emotional or physical reactions
Statistics show that women are more likely to develop this potentially debilitating condition than are men, and more than 8 million people in the U.S. suffer from PTSD.
Consider seeking medical attention if you are having disturbing thoughts about the car accident, or have experienced any of the following symptoms:
Nightmares and flashbacks about the accident
Physiological reactions to any reminders of the incident
An exaggerated startle response
Persistent feelings of horror, anger, shame, or guilt
Difficulty concentrating
Feelings of detachment/isolating behavior
Loss of interest in usual activities
Feelings of hopelessness about the future
Severe depression
Inability to feel positive emotions
Outbursts of anger
Emotional numbness
Purposeful avoidance of places, people, or other reminders of the trauma
Getting a prompt diagnosis and appropriate treatment can help prevent PTSD symptoms from worsening with time. Remember, what's most important after a car accident is protecting your health, safety, and well-being. Call a doctor if you are experiencing emotional trauma after a car accident.
"Do I Need an Attorney to Sue for PTSD After a Car Accident?"
Statistics don't lie. They show that those who hire an attorney to represent them in their personal injury claim recover more compensation on average than those who represent themselves. A car accident attorney may be especially important, however, when seeking damages for PTSD suffered in an auto wreck. That's because these cases are often very complicated.
Dealing with insurance companies that want to pay out the bare minimum is another challenge in and of itself. Claims adjusters may try to deny or minimize your claim for PTSD, especially if the onset of symptoms was delayed by several months.
Hiring a North Carolina personal injury lawyer with a strong track record of success winning car accident claims is a step in the right direction. When you partner with Riddle & Brantley, you can count on powerful advocacy and an empathetic team of litigators who will ensure your voice is heard.
A successful injury claim can recoup damages to pay for medication, psychotherapy, counseling, and other PTSD treatments. Plaintiffs can also recover compensation for any income that was lost because of their inability to work, as well as damages for emotional anguish and suffering.
Contributory Negligence
North Carolina adheres to rules of contributory negligence, which bar a plaintiff from securing damages if they are even 1 percent to blame for the accident. Because of this caveat, it is essential to retain expert legal counsel before making a statement to the insurance company.
To be clear, do NOT give a recorded statement to an insurance company before first speaking with an experienced car accident lawyer.
Riddle & Brantley: Protecting Your Legal Rights
If you are experiencing signs of PTSD after an auto accident, call 1-800-525-7111 today for a free, no-obligation consultation with a personal injury attorney at Riddle & Brantley.
Our lawyers handle claims on a contingency-fee basis throughout North Carolina, including:
We also serve clients throughout the greater Charlotte area as well as other cities across North Carolina.
Our injury attorneys leverage more than a combined 220+ years of legal expertise, and some of our attorneys are members of the esteemed Multi-Million Dollar Advocates Forum and The National Association of Distinguished Counsel (see disclaimer below).
For a FREE, no-obligation consultation concerning a potential PTSD claim resulting from a car accident, call 1-800-525-7111 or complete the fast and easy form below.
We believe Justice Counts and we would love to help however we can.
---
*** Disclaimer: The results mentioned are intended to illustrate the type of cases handled by the firm. These results do not guarantee a similar outcome, and they should not be construed to constitute a promise or guarantee of a particular result in any particular case. Every case is different, and the outcome of any case depends upon a variety of factors unique to that case.
*** Disclaimer: An attorney must meet certain requirements to join these organizations or receive these awards. For more information on Membership Criteria for Million Dollar Advocates Forum, Multi-Million Dollar Advocates Forum, Super Lawyers, Super Lawyers "Rising Star" designation, The National Trial Lawyers Top 100, The National Trial Lawyers Top 40 Under 40, The National Association of Distinguished Counsel, AV Preeminent designation by Martindale-Hubbell, the Litigator Award, and other memberships, awards, and accolades, please visit our Membership Criteria page. These awards and memberships should not be construed as a promise or guarantee of a similar result. Each case is different and must be evaluated separately.