What is Assumption of Risk in North Carolina Personal Injury Law?
In North Carolina, there are various defenses insurance companies and defense attorneys use to prevent or bar certain claims. These defenses include the "assumption of risk." The assumption of risk defense aims to prevent recovery based on the premise that the injured party was aware of the risk that in turn caused their injury.
Proving Assumption of Risk
To successfully bring an assumption of risk defense, the defendant must prove two important things:
That the injured party was aware of the inherent risks associated with the activity.
That even though the plaintiff was aware of these known risks they decided to partake in the activity anyway.
However, in North Carolina, the assumption of risk defense only applies to risks that are inherent or known to the plaintiff.
"How Can You Assume Risk According to North Carolina Law?"
Based on North Carolina case law, a plaintiff can assume a risk either verbally or through implicit actions. This means that the even if you do not say, "I am assuming the risk," by continuing with the activity, you have assumed the risk nonetheless.
Examples of Assumption of Risk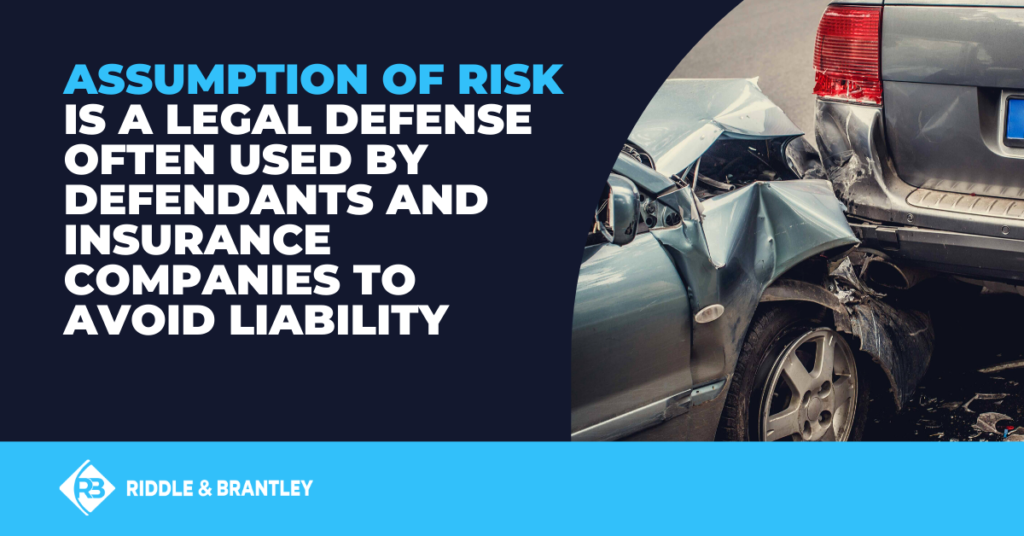 For instance, if you were injured while getting tackled playing football, then you likely do not have a claim to recover compensation. This is because you were injured in a sport known for tackling and injuries.
The "Equine Statute" is another example of how North Carolina law applies assumption of the risk. Under this law, owners and operators of equestrian facilities are not responsible for injuries caused from "inherent risks of equine activities." Essentially, the equine statute protects equine business owners or operators from liability for injuries that normally occur while riding horses. For example, if you are riding a horse that suddenly is spooked by a gust of wind and you fall off and break your arm, the owner is not liable for your injuries. On the other hand, an owner may be liable if they improperly saddle the horse and as a result you sustain injuries.
Assumption of Risk in Drunk Driving Cases
"Does assumption of risk apply to passengers in vehicles driven by a drunk driver?"
One question our attorneys are asked a lot is whether assumption of risk defense applies to passengers injured from drunk driving. The short answer is it depends on the facts and circumstances surrounding the incident. Accepting a ride from a drunk driver can weaken an injured party's claim. However, all the facts and circumstances must be considered to determine whether assumption of risk applies. Our North Carolina personal injury attorneys have extensive experience handling these types of cases.
If you were a passenger injured while riding in a vehicle driven by a drunk driver, we recommend you seek legal counsel as soon as possible. Having an attorney on your side can help ensure that your recovery is not barred.
The Importance of Talking with a Personal Injury Attorney
Unfortunately, the assumption of risk doctrine favors defendants and insurance companies. Hiring an experienced personal injury lawyer can help you overcome certain assumption of the risk defenses. Therefore, it is very important to speak to an attorney before proceeding with any claim.
Insurance companies will often try to apply assumption of risk to both general injuries and auto accidents. Under certain circumstances, insurance companies may not properly apply the law to the specific facts of your case. Our experienced personal injury attorneys understand the intricacies of the assumption of risk defense.
For a FREE, no-obligation consultation with an experienced North Carolina personal injury lawyer who can fight back against assumption of risk defenses, call 1-800-525-7111.
The consultation is free, there are no upfront costs, and we don't get paid unless you do. If we don't recover compensation for you in your injury claim, you won't pay any attorney fees.
We have offices throughout the state of North Carolina and our legal team is readily available to answer any of your questions. Call 1-800-525-7111 today and let's review your claim.