Raleigh Police Brutality Lawyer
Police brutality, also called excessive force, is not a new issue, but it is one that has gained new recognition in recent years. Thanks to police body cameras, smartphones, and other technologies, civilians are holding law enforcement more accountable for their actions than ever. Unfortunately, this has not necessarily translated into less of a problem. If you've experienced police brutality or misconduct and believe the police have violated your civil rights in Raleigh, North Carolina, our Raleigh police brutality lawyers can help.
We've successfully handled these cases in the past and we will listen to your story and see if we can help you.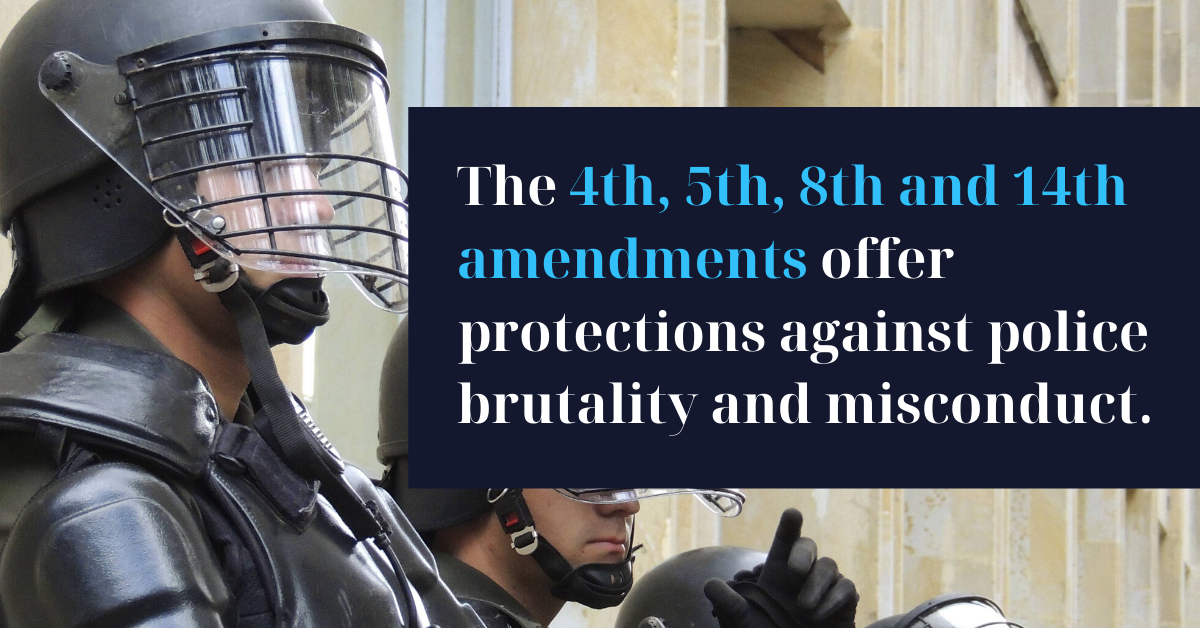 In addition to serving clients in Raleigh, we also handle police brutality cases in Durham, Greensboro, Winston-Salem, High Point, Fayetteville and Goldsboro, as well as many other cities in North Carolina.
For a FREE, no-obligation consultation with a Raleigh police brutality lawyer, please call (919) 876-3020 or complete the fast and easy form below.
There is no obligation and you won't pay any attorney fees unless we win your case and you receive financial compensation for your injuries or Constitutional rights violation.
Call 1-800-525-7111 today and have a Raleigh personal injury lawyer review your case.
Examples of Police Brutality and Misconduct
Law enforcement officers for the most part perform their duties with great respect for the job and their communities. Some, however, are bad seeds with the police department. You might not realize you're dealing with an officer who is guilty of misconduct at the time or it may be obvious right from the start. While police brutality can take many different forms, the most common are as follows:
Excessive force
Unnecessary use of a deadly weapon
Discrimination or harassment
False arrests or imprisonment
Unlawful traffic stops
Unlawful search and seizure
Arrest without probable cause
Denial of medical care to those in custody
Coercive sexual conduct
You should always be polite and cooperative to police officers when they approach you, conduct a traffic stop, or even place you under arrest. Resisting arrest and arguing with police officers will not get you out of trouble. In fact, it can get you into a deeper legal battle. The best way to protect your rights is to stay cooperative, but vigilant. Don't lie but don't admit guilt and don't answer any police officer questions.
Instead, utilize your Fifth Amendment right to remain silent until you have a lawyer present. Then, contact a Raleigh police brutality lawyer at Riddle & Brantley.
For a FREE consultation with a Raleigh police brutality and misconduct lawyer, please call (919) 876-3020 today.
We will review your claim and advise you on your best legal options. Please call 1-800-525-7111 today and let's review your police misconduct claim. You may be entitled to significant financial compensation.
Experienced Raleigh Police Brutality Lawyer
Attorney Gene A. Riddle has plenty of experience representing victims of police brutality and misconduct in the greater Raleigh area. Our lawyers know how to handle these types of claims to their clients' advantage.
One of the most successful related cases attorney Gene Riddle worked on resulted in a $5 million verdict for his client (see disclaimer below).
In this case, the courts found the Wayne County Sheriff Department negligent after the claimant brought one former deputy's cruel and unusual punishment to light in the federal courts. The claimant won $1.5 million in actual damages and $3.5 million in punitive damages for the deputy's criminal actions, which involved demanding sex from inmates. This is just one example of a police misconduct case our attorneys successfully won.
"We are proud to fight for victims of alleged police brutality in Raleigh and across North Carolina."
–Gene Riddle, Raleigh police brutality lawyer
Why Riddle & Brantley for Your Police Brutality Claim in Raleigh?
Riddle & Brantley has more than 220+ years of combined legal experience amongst its attorneys. We understand how to handle police brutality and misconduct cases and are not afraid to take them to trial. We truly care about our clients and always put them first. We are especially passionate about cases involving civil rights violations, as we believe no individual – criminal defendant or not – should have to suffer this type of wrongdoing.
"They handled my case very professionally, with respect from beginning to end."
-Joseph W., Riddle & Brantley client
Know Your Rights – Get Answers – Call Riddle & Brantley
The United States Constitution and the Civil Rights Act of 1964 are two of the main legal doctrines giving citizens basic civil rights. Knowing your rights while talking to officers and during stops can help you recognize when an officer is illegally infringing upon them. For instance, you have a basic civil right to be free from racial profiling, discrimination and harassment. If an officer singled you out because of how you look, dress, talk, or act, you could have a case of police misconduct on your hands.
The best thing you can do for yourself after an incident involving police brutality or misconduct is to hire an attorney. A Raleigh injury lawyer can explain your rights, investigate your case, and help you understand your options for recourse against the police department, the county, and/or other parties.
Schedule a free, confidential case review with a Raleigh police brutality lawyer at Riddle & Brantley today.
Please call (919) 876-3020 for your free and 100% confidential consultation. 
There is no upfront cost and there are no attorney fees unless we win your case and you receive financial compensation.
Call 1-800-525-7111 and let's review your police brutality claim.
---
*** Disclaimer: The results mentioned are intended to illustrate the type of cases handled by the firm. These results do not guarantee a similar outcome, and they should not be construed to constitute a promise or guarantee of a particular result in any particular case. Every case is different, and the outcome of any case depends upon a variety of factors unique to that case.