Baby Powder Cancer: Are You at Risk?
Is baby powder a cancer risk?
Johnson & Johnson states that their baby powder is safe.  However, it is reported that cancer-causing asbestos in Johnson & Johnson baby powder (often found near talc, the key ingredient in baby powder) has been a concern inside this company for decades.  Was Johnson & Johnson aware of the carcinogen asbestos in their baby powder? Several high-profile baby powder cancer lawsuits have put the question to juries — and in 2018 juries in St. Louis and Los Angeles awarded billions of dollars in damages to affected women, who claimed to have developed ovarian cancer and mesothelioma due to using Johnson & Johnson baby powder.
Recently, Johnson & Johnson stocks fell in late February as the company announced it had been subpoenaed by the federal government in the ongoing talcum powder cancer investigation.
The baby powder cancer link: a brief history
In 1971, an executive at Johnson & Johnson indicated that talc, the main ingredient in its popular baby powder, could potentially be contaminated by asbestos.  Asbestos is a dangerous mineral that has the potential to cause cancer.  He recommended to senior staff that Johnson & Johnson "upgrade" its quality control.  Two short years later, another executive raised a red flag, explaining that Johnson & Johnson should no longer assume its talc mines were asbestos-free.  That executive went on to say that the baby powder sometimes contains materials that "might be classified as asbestos fiber," which can cause cancer.
Asbestos, a carcinogen, often appears underground near talc and has been a concern inside the company for decades. Although Johnson & Johnson is a brand that has been built on a reputation of trustworthiness and health, hundreds of pages of memos point to the fact that executives worried about a potential government ban of talc, the safety of Johnson's Baby Powder and any public backlash.
According to baby powder cancer lawsuit documents unsealed in 2017:
"Company reports highlighted the need to suppress concerns over asbestos contamination at talc mines in Vermont and Italy."
Baby powder cancer risk: did Johnson & Johnson suppress the truth?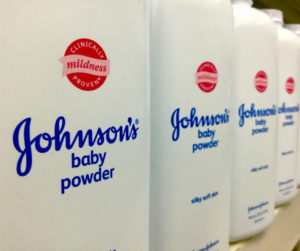 New testing procedures or replacing talc altogether were proposed by management. But the company continued trying to discredit research suggesting the talcum powder could be contaminated with asbestos, according to corporate documents obtained through the Freedom Information Act by The New York Times.
Johnson & Johnson, according to The Times, "feared baby powder's possible asbestos link for years."
The New York Times reports that in one instance, Johnson & Johnson demanded the government block unfavorable findings on the baby powder cancer risk from being made public.  An executive from Johnson & Johnson ultimately won affirmation when a Food & Drug Administration official ruled that detrimental findings would be blocked. But these alleged documented efforts to hide the truth are now reinforcing a new legal front in the long-running battle over Johnson's Baby Powder and its possible connection to cancer.
The connection between baby powder and cancer
Many people have claimed that talc particles caused their ovarian cancer as well as mesothelioma, a cancer of the lining of internal organs that is associated with asbestos.  Johnson & Johnson currently faces more than 12,000 baby powder cancer lawsuits across the country claiming its popular asbestos-linked product can cause cancer.
The company denies wrongdoing.
Johnson & Johnson defends the safety of its baby powder, stating that it has never contained asbestos and the claims are based on "junk science."  An attorney for one of the law firms defending Johnson & Johnson, stated that no tests over the last 50 years have detected the presence of asbestos in Johnson & Johnson talc.
Nevertheless, asbestos is an indisputable carcinogen.  Even trace amounts can be dangerous.  Asbestos fibers can penetrate deep into tissue and lead to cancer of the lungs, voice box, ovaries and mesothelioma.
Johnson & Johnson baby powder cancer lawsuits: do you have a case?
If you or a loved one has suffered from ovarian cancer or mesothelioma, and you've used Johnson & Johnson baby powder, the talcum powder lawsuit attorneys at Riddle & Brantley are actively evaluating these cases. You deserve justice, and you may be entitled to compensation. Contact our North Carolina law firm for a free consultation.
"We believe that asbestos is a dangerous and toxic compound.  We have handled cases in the past involving this compound and we encourage people to call us if they have developed cancer after being exposed to asbestos." —Gene Riddle
You may have a potential claim against Johnson & Johnson if you meet the following criteria:
Must have used Johnson & Johnson Baby Powder or Shower-to-Shower talcum powder for 4+ years continuously in the general area
Must be diagnosed with ovarian cancer, mesothelioma, or endometroid ovarian cancer
Must have been diagnosed in 2009 or later
Must have used talcum powder before menopause
For a free consultation by one of our experienced attorneys, call 1-800-525-7111 or click here.
As always, there are no attorney fees unless we win your case.