Toxic Polyurethane Foam in CPAP Machines
In June of 2021, Philips recalled approximately 4 million of their CPAP sleep apnea machines because these products all contain polyester-based polyurethane foam (PE-PUR foam), which can become toxic and may put users at risk of cancer and other health problems.
If you have been diagnosed with cancer or another health problem after using a Philips CPAP machine, you may be entitled to significant compensation. Call 1-800-525-7111 for a no-cost consultation with our knowledgeable, experienced North Carolina personal injury lawyers. If you are currently using a Philips CPAP machine, the manufacturer advises that you discontinue use immediately and consult a physician about the possible cancer and other injury risk and alternative treatments.
IMPORTANT: Due to developments in the multi-district litigation, we can no longer accept kidney or liver cancer claims related to Philips CPAP machines. Other cancers and health problems may still qualify. Please call 1-800-525-7111 for a free case review.
Toxic Polyurethane Foam and the Philips CPAP Recall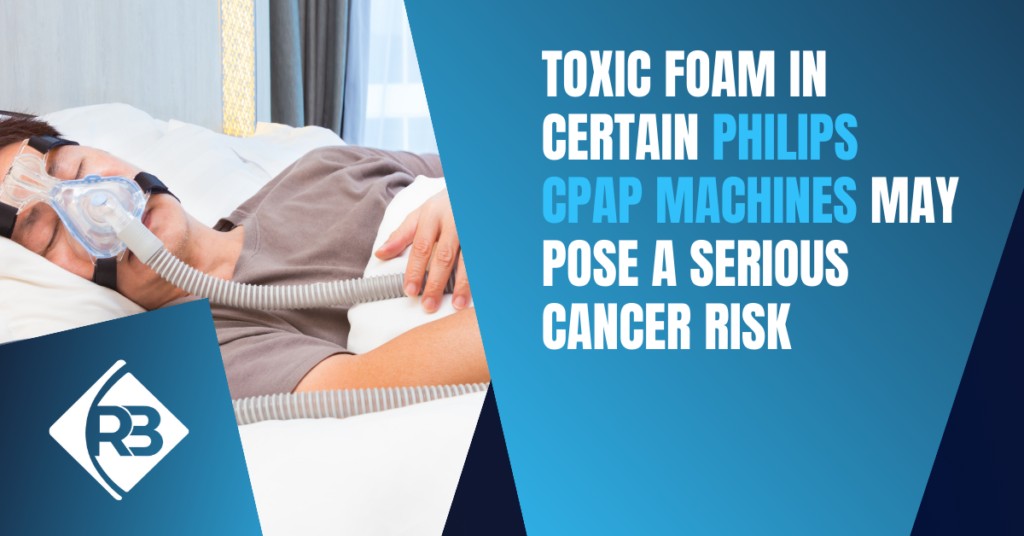 Philips, the world's largest manufacturer of sleep apnea CPAP machines, has recalled around 4 million potentially defective devices produced between 2009 and the spring of 2021. The company received multiple complaints about the presence of black debris within the device air pathway, in addition to reports of headaches, cough, chest pressure, sinus infection, and upper airway irritation.
Philips learned that the Polyester-based polyurethane (PE-PUR) foam, used to reduce sound and vibration, has a tendency to break down when exposed to moisture, humidity, or ozone cleaning products. Foam degradation can cause two distinct problems: off-gassing and the inhalation of black foam particles. Potential risks of toxic exposure are serious, ranging from airway irritation to cancer development.
Nearly all product lines have been affected, except for the next-generation DreamStation 2 models released in April 2021 – which raises questions as to when exactly the company knew that they had a toxic polyurethane foam problem. Philips also alerted investors to the known defect several weeks before consumers were informed, further suggesting that the company placed profits before patient safety.
What Causes Philips CPAP Toxic Foam to Degrade?
Polyester-based polyurethane foam is renowned for its high tensile strength, corrosive gas resistance, and compatibility with fire-retardant additives. However, PE-PUR foam has one significant weakness: its open cell nature makes it susceptible to deterioration in damp, hot, humid conditions. When the foam begins to break down, it releases gases and particulates into the airway circuit tubing. 
"What If I Am Exposed to Toxic PE-PUR Foam Particles or Gases?"
Third-party testing of the Philips CPAP machines identified the presence of PE-PUR foam byproduct diethylene glycol (DEG) – a colorless, odorless, and poisonous organic compound. Exposure is directly linked to acute kidney injury, which can be potentially fatal. While the CPAP filter should keep most particulates from escaping, many users have reported noticing black particles in the airway tubes. Possible symptoms of exposure may include headaches, inflammation, irritation, organ failure, and respiratory issues.
Independent tests also confirmed the emission of specific chemicals from degraded PE-PUR foam, particularly: Dimethyl diazine and Phenol 2,6-bis. Dimethyl diazene is commonly associated with dizziness, fatigue, headache, nausea, and vomiting, whereas Phenol exposure can result in exhaustion, liver and kidney damage, weakness, and weight loss.
Potential side effects of exposure to any of these toxic polyurethane foam particles or gases may include carcinogenic effects, including an elevated risk of developing kidney cancer, liver cancer, rectal cancer, lung cancer, and others.
"What's In PE-PUR Foam That Makes It Toxic?"
Investigations are ongoing as to the full range of specific hazardous chemicals CPAP patients may have been exposed to. The process of creating polyester-based polyurethane involves the joining of multiple urethane units through polymerization. These materials are not toxic to the touch, but they are not designed to be ingested or inhaled. The American Cancer Society lists urethane as a "probable human carcinogen," as ingestion and exposure have been linked to organ damage and tumor development in animals.
Often, the manufacturing process involves treatment of the polyurethane foam with two other hazardous chemicals that should never be ingested: toluene diisocyanate and methylene diphenyldiisocyanate. Short-term exposure can cause gastrointestinal and central nervous system issues, as well as skin, eye, and lung irritation; long-term exposure can cause progressively worsening impairment of long-term lung function.
As PE-PUR foam deteriorates, chemical reactions occur that may produce toxic gases such as:
Formaldehyde – This flammable, colorless chemical, also present in fungicide and disinfectant, is EPA-classified as a "probable human carcinogen" with prolonged exposure.
Benzene – Long-term exposure to high levels of Benzene causes cancer in humans – particularly leukemia and organ cancers – says the Department of Health and Human Services.
Methylene Chloride – Workers exposed to high levels of methylene chloride are at "increased risk of developing cancer, adverse effects on the heart, central nervous system and liver, and skin or eye irritation," according to OSHA.
Volatile Organic Compounds – Irritation of the eyes, nose, and throat occur when exposed to VOCs. "Some VOCs can cause cancer," according to the American Lung Association.
Solvents – Organic solvents present in polyurethane foam can be carcinogenic, neurotoxic, and hazardous to reproductive organs.
Researchers continue to investigate a potential link between exposure to degraded polyurethane foam and off-gasses and cancer and other health problems. What is clear is that Philips and the FDA saw that the potential hazard was great enough to initiate the recall of nearly 4 million devices. Device manufacturers owe a duty of care to test their products extensively before marketing and to warn users of any known risks. If a product maker fails to do so, it can result in legal liability in civil court.
How Can North Carolina Personal Injury Lawyers Help?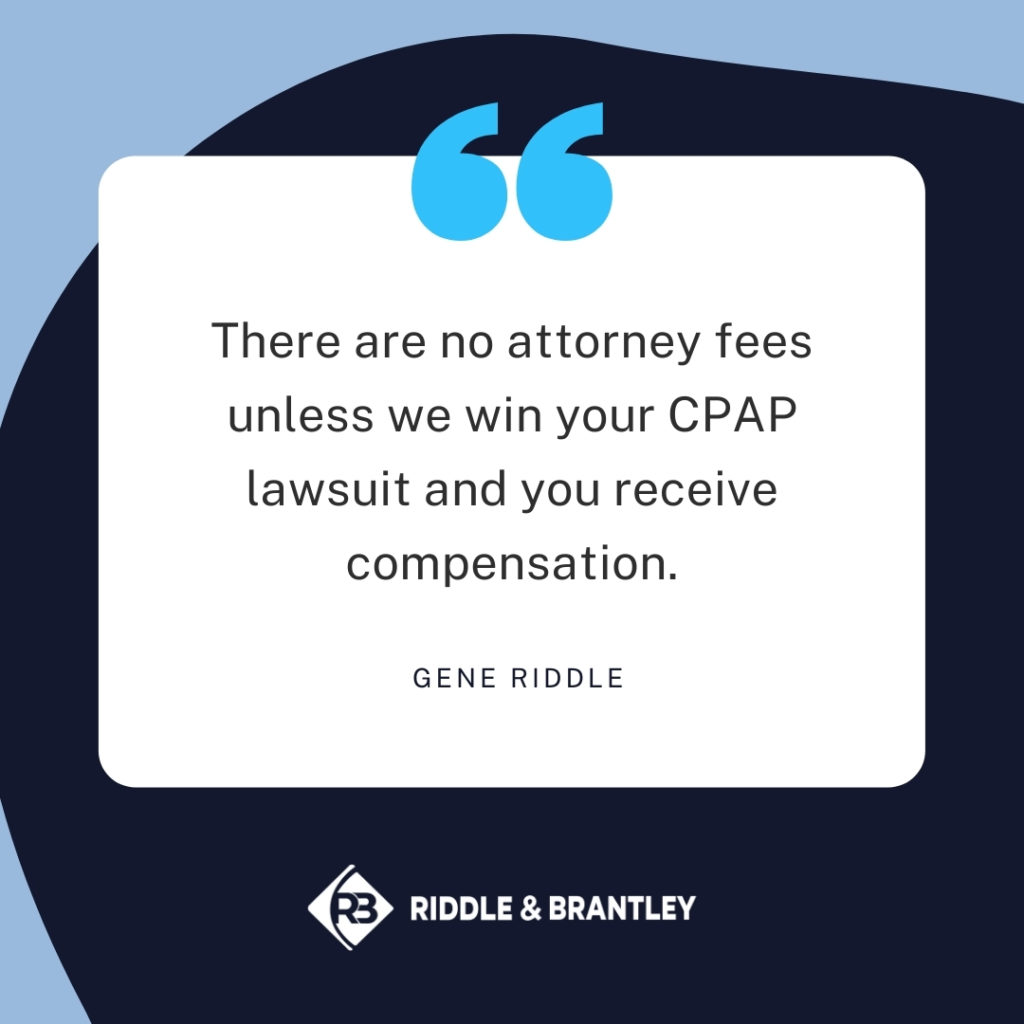 If you were diagnosed with a qualifying cancer or other injury (see list below) after using a Philips CPAP machine for sleep apnea, we invite you to speak for free with the Philips CPAP lawyers at Riddle & Brantley. We work on a contingency basis, so no attorney fees are due unless we recover compensation on your behalf.
IMPORTANT: Due to developments in the multi-district litigation, we can no longer accept kidney or liver cancer claims related to Philips CPAP machines. Other cancers and health problems may still qualify. Please call 1-800-525-7111 for a free case review.
Our team is no stranger to litigation involving chemical exposure, as we recovered more than $7.5 million in a chemical spill case involving multiple town residents affected by exposure (see disclaimer below).
Our personal injury attorneys leverage a combined 225+ years of experience, and we work closely with medical experts, researchers, and forensic specialists to prove your case and calculate the full amount of monetary damages you deserve. We believe Justice Counts, and we would love to help however we can. Call 1-800-525-7111 for a free consultation.
"We are very satisfied with the justice and help we received."
– Jessica F.
Cancers potentially caused by degrading foam and "off-gassing" in Philips CPAP machines include:
Rectal cancer
Brain cancer
Stomach cancer
Testicular cancer
Nasal cancer
Throat cancer
Laryngeal cancer
Thyroid cancer
Papillary cancer
Various types of leukemia
Non-Hodgkin's lymphoma
Multiple myeloma
IMPORTANT: Due to developments in the multi-district litigation, we can no longer accept kidney or liver cancer claims related to Philips CPAP machines. Other cancers and health problems may still qualify. Please call 1-800-525-7111 for a free case review.
NOTE: The potential danger that defective CPAP machines may cause cancer and other health problems has not been extensively researched. We anticipate more studies to examine the possibility that defective CPAP machines can cause cancer and other conditions, and will continue to provide up-to-date information as it becomes available. In the meantime, if you have used a Philips CPAP machine, talk with your doctor immediately about potential health risks.
Other injuries potentially caused by inhaling or absorbing foam particulates from Philips CPAP machines include:
Severe ear, eye, nose, throat, sinus, or oral cavity inflammation and injury including nodules, cysts, and tumors
Respiratory problems, including:

Reactive Airway Disease (RAD)
Acute Respiratory Distress Syndrome (ARDS)
Recurrent pneumonia
New or or worsening asthma

Lung damage / lung disease
Kidney damage/ kidney disease
Liver damage / liver disease
Heart problems
Sudden respiratory failure leading to heart attack
If you've used a recalled Philips CPAP machine, BiLevel PAP machine, or ventilator and were diagnosed with a qualifying cancer or health problem (see above), call 1-800-525-7111 for a free, no-obligation consultation.
There are no upfront costs and we don't get paid unless you do. Call 1-800-525-7111 and let's talk.
Justice Counts.
---
***Disclaimer: The results mentioned are intended to illustrate the type of cases handled by the firm. These results do not guarantee a similar outcome, and they should not be construed to constitute a promise or guarantee of a particular result in any particular case. Every case is different, and the outcome of any case depends upon a variety of factors unique to that case.