Charlotte Car Accident Lawyers
Helping those Injured in Car Accidents throughout Charlotte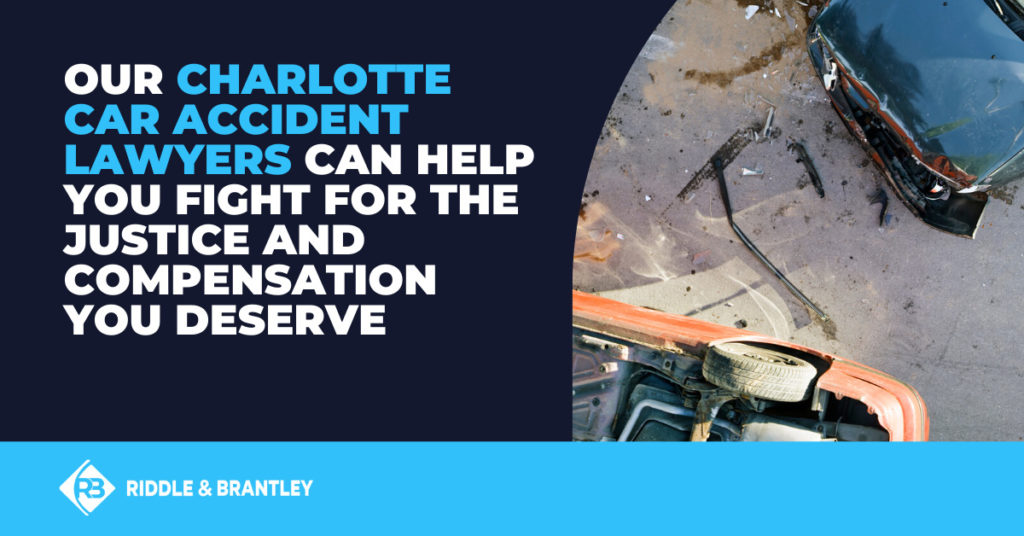 Have you been injured in a car accident in Charlotte or the surrounding area? You may be looking for a Charlotte car accident lawyer and the experienced attorneys at Riddle & Brantley may be able to help you get the compensation you deserve. At Riddle & Brantley, our injury lawyers have more than 220+ years of combined legal experience handling auto accident cases across North Carolina, and we're ready to help however we can. For a FREE, no-obligation consultation with an experienced car accident lawyer in Charlotte at Riddle & Brantley, call (704) 486-5824 today. Therea re no attorney fees unless we recover compensation for you.
We're proud of the more than $600 million in compensation secured for our valued clients since 2000 alone (see disclaimer below), but mostly we're humbled by the word our clients use to describe their experience working with our Charlotte car accident attorneys. We strive to put client service first and seek maximum compensation for victims injured due to others' negligence.
"Riddle & Brantley found me all the available money from the insurance companies."
–B. Fields, Riddle & Brantley client
What to Do After a Car Accident in Charlotte
The aftermath of an auto accident can be chaotic and stressful. In addition to physical injuries, you may be struggling with expensive medical bills and emotional trauma. Keep in mind that you may qualify for compensation if you've been injured due to another's negligence, and there are some things you can do to protect your legal rights and build a strong case:
Call 911 — In North Carolina, you are required to report auto accidents resulting in physical injury. If you've been injured in a Charlotte-area car accident, call 911 immediately so that law enforcement and medical personnel can get to the scene immediately.
Seek Medical Attention — The most important thing after an accident is your health and safety. If you've been injured, seek medical attention immediately. Listen to the advice of the first responders and go to the hospital if necessary. Remember, certain "delayed onset" injuries may take a while to become apparent, so diagnostic testing is critical. Your medical records will also play a very important role in any potential Charlotte car accident injury claim or lawsuit.
Talk with Law Enforcement — Give your honest account of the accident to the responding officer, but remember that anything you say can and will be used against you. Do NOT admit fault or apologize. The facts and circumstances of the accident may not be immediately clear and you don't want to jeopardize a potential claim.
Get Contact Information — Get the contact information for the other driver (and their insurance info) and any witnesses. Witness testimony may be important in any potential injury claim or lawsuit.
File a Claim — Call the insurance company and get the ball rolling on your injury claim. Remember, do NOT give a recorded statement to the insurance company before first talking with a Charlotte car accident lawyer. Insurance companies' #1 goal is paying as little as possible and you do not want to jeopardize your case.
Get the Official Accident Report — Contact law enforcement and get the official accident report in the days after the car crash. Your attorney can also help you obtain this critical information, which will likely play a key role in any potential car accident injury claim or lawsuit.
Talk with an Attorney — Don't wait to contact an experienced attorney if you've been injured in a car accident. An attorney can evaluate your claim and advise you on your best available legal options. Call 1-800-525-7111 today for a FREE, no-obligation consultation with an experienced Charlotte car accident lawyer at Riddle & Brantley.
"How Long Do I Have to File a Car Accident Injury Claim?"
In North Carolina, personal injury claims are subject to the Statute of Limitations, which is basically the deadline by which your claim or lawsuit must be filed. In most cases in North Carolina, you must file a car accident injury claim within:
3 years of the date of injury in personal injury claims
2 years of the date of death in wrongful death claims
An experienced Charlotte car accident lawyer at Riddle & Brantley can help ensure that you don't lose your right to justice by missing an important deadline. We can manage all aspects of your case so that you can focus on what's most important — your health, your family, and recovering your quality of life. Call 1-800-525-7111 and let's see how we can help.
"Will I Have to Go to Court?"
Most car accident claims and lawsuits resolve themselves before you have to go to court. In fact, research shows that over 90% of personal injury claims are settled out of court. Nevertheless, you should always be prepared to go to trial in case the insurance company does not offer a fair settlement. At Riddle & Brantley, our car accident attorneys in Charlotte are experienced taking cases to trial when the insurance company or defense counsel is being unreasonable. We are committed to seeking fair compensation for all of our clients, no matter what it takes. We will always give your our most informed opinion on what makes the most sense in your case. That's our promise to you.
Auto Accident Cases We Handle in Charlotte
Our Charlotte car accident attorneys have handled many types of auto accidents in Charlotte over the last four decades. Accidents that our Charlotte car accident lawyers can handle include:
T-bone accidents
Scooter and moped accidents
Side-swipe accidents
Construction zone accidents
In addition to car accident cases, we also routinely handle Charlotte-area truck accidents, motorcycle accidents, tractor-trailer accidents, boating accidents, school bus accidents, and more. If you've been injured in any of the types of accidents listed above, call 1-800-525-7111 and let's review your claim. An experienced Charlotte car accident attorney at Riddle & Brantley can listen to you, advise you on your legal options, and help prove liability in your case. Remember, the consultation is free, and there are no attorney fees unless we win your case and you receive compensation.
Riddle & Brantley's Connection to Charlotte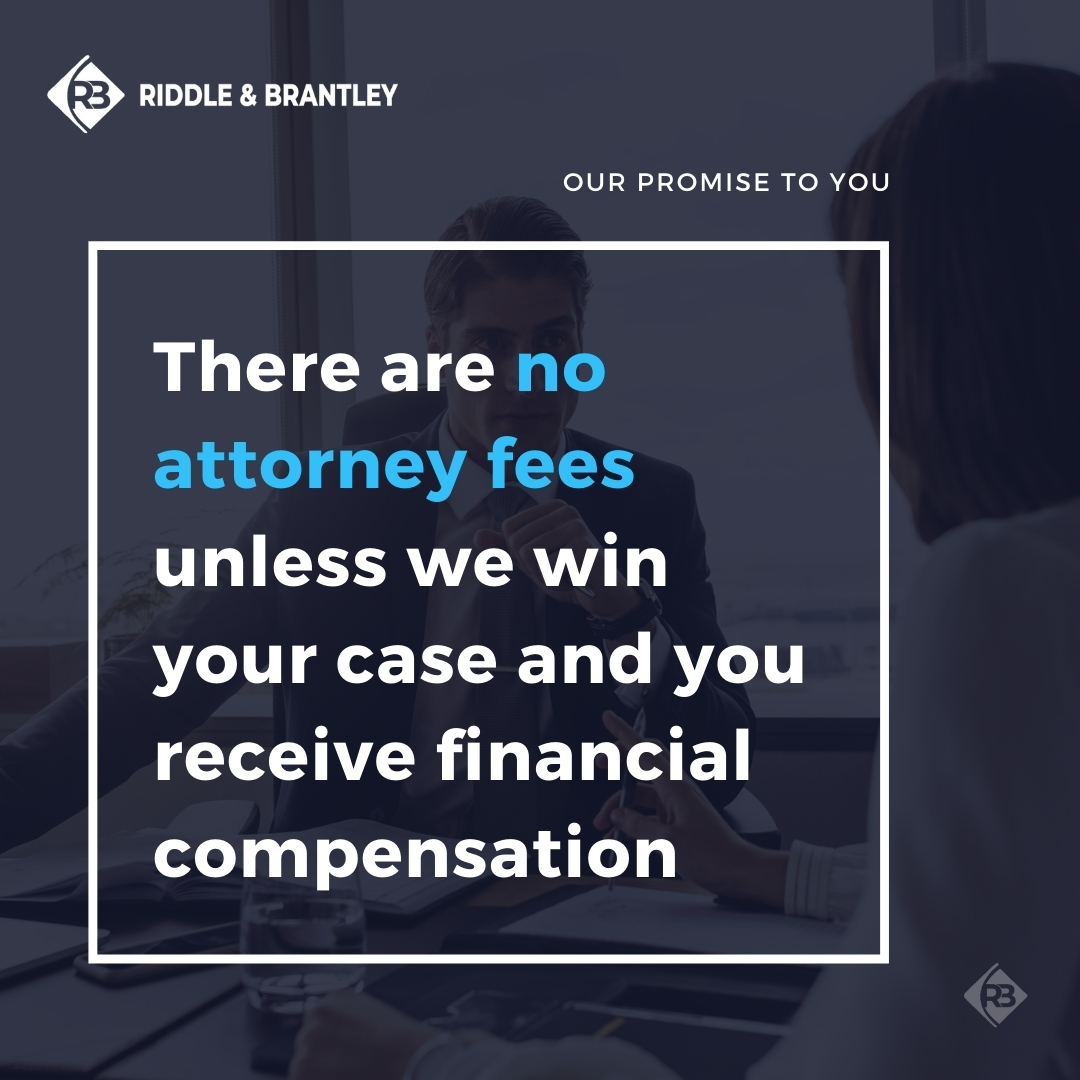 Founding partner Gene Riddle's family has deep roots in the Charlotte area. His father grew up in the area and both of his grandparents worked in the Cannon Mill in nearby Kannapolis. Many of our attorneys and staff also have close family ties to Charlotte, and our work on behalf of area residents is personal to us.
"Charlotte has a special place in my heart. My family has roots there, and I'm proud of our firm's representation of injury victims in the area."
-Gene Riddle
Charlotte Car Accident Statistics
With some of the busiest interstates and highways in the region (I-485, I-277, I-77 and I-85 all converge on the city), Charlotte is no stranger to car, truck and motorcycle accidents. According to the North Carolina Department of Transportation (NCDOT), there were 27,084 auto accidents reported in Charlotte in 2020. 116 of those accidents were fatal, and another 13,728 resulted in injury. Many of these accidents are rear-end collisions, or involve distracted driving like texting while driving, or other driver negligence.
Alcohol was involved in 2.9% of Charlotte-area auto accidents in 2020. NCDOT also reports that roughly 18% of all crashes in North Carolina in 2020 involved distracted driving, equating to nearly 5,000 auto accidents in Charlotte.
"Do I really need a car accident lawyer?"
The simplest answer is no, you do not — or at least you're not required to hire an attorney. However, car accident injury claims can be complicated, and if you want the best outcome in your case, you probably want to consider an experienced injury attorney experienced in car accident cases.
Research shows that those who hire an attorney recover 3.5 times more compensation on average than those who represent themselves.
An experienced personal injury lawyer at Riddle & Brantley can handle all aspects of your car accident injury claim or lawsuit, including:
Evidence collection
Witness interviews
Estimating damages
Accident investigation and reconstruction
Securing expert witness testimony
Obtaining black box data or surveillance footage
Conducting depositions
Preparing you for statements to insurance companies and law enforcement
Negotiation with the insurance company
Mediation and/or arbitration proceedings
Settlement negotiation with defense counsel
Litigation
Court filings and document preparation
Trial
Setting up trusts and guardianships
Contributory Negligence
In North Carolina, car accident attorneys must also help clients overcome the "contributory negligence" defense in many cases. Under the law of contributory negligence in North Carolina, you can be barred from recovering compensation in a personal injury claim if you're found to have been even 1% responsible for the accident. Our state is one of only a handful in the country that apply this challenging and seemingly unfair rule to injury claims and lawsuits.
Fortunately, the Charlotte car accident lawyers at Riddle & Brantley have decades of experience countering these claims. We know the law in North Carolina and are ready to fight for you if we can.
Injuries from Auto Accidents
Motor vehicle accidents can be serious, and the consequences can be life-changing. Our experienced car accident attorneys have represented clients in Charlotte and across North Carolina who have suffered all types of injury, including:
Broken bones including fractures and compound fractures
Soft tissue and muscle injuries
Skeletal injuries
Spinal cord injuries
Traumatic brain injuries (TBI)
Head injuries including concussions
Neck injuries
Back injuries
Shoulder injuries
Amputations (loss of limbs)
Cuts, scrapes, and contusions
Burns
Paralysis and semi-paralysis
Internal injuries
And many more…
And that's not all. Serious auto accidents can be traumatic and also leave lasting emotional injuries, including post-traumatic stress disorder (PTSD). In North Carolina, emotional injury caused by another person's negligence can entitle you to compensation, depending on the facts and circumstances of your case.
Our Results
If you're looking for a Charlotte car accident lawyer, chances are you're interested in finding an attorney with a track record of success. At Riddle & Brantley, our firm has been serving North Carolina clients since 1985 and we've won many four, five, six, and even seven-figure settlements and judgments in car, truck, tractor-trailer, motorcycle, and other types of accidents (see disclaimer below).
Recent wins include:
$2,750,000 | Car Accident — A head-on car accident resulted in serious injuries to our client, including multiple fractures to the neck, leg and arms. Riddle & Brantley took the case and attorney Donald Dunn won a $2,750,000 settlement through arbitration. This award was followed by a $1,000,000 declaratory judgment against one of the involved insurance companies.
$9,450,000 | Truck Accident / Wrongful Death — Attorneys with Riddle & Brantley fought for justice when a family of four was tragically killed by a tractor-trailer on a North Carolina highway. An extensive crash scene investigation was organized and experts in reconstruction, truck driving and driver safety were called in to strengthen the case. The parties agreed to mediation after multiple suits were filed, where we won total compensation of $9,450,000 for surviving relatives. This was one of the most heartbreaking cases we've ever handled, but we were glad to have helped the victims' loved ones secure the justice they deserved.
$1,900,000 | Auto Accident / Pedestrian Accident — Our client sustained multiple fractures in her arm and leg after being hit by a cement truck while walking across a parking lot. Managing partner Gene Riddle and late partner Gene Jenkins brought in an accident reconstruction expert and filed a lawsuit, alleging the truck driver's negligence had resulted in our client's injury. The case settled for $1.9 million.
Experienced Charlotte Car Accident Lawyers Ready to Fight for You
The Charlotte car accident attorneys at Riddle & Brantley have more than 220+ years of experience representing accident injury clients in North Carolina, and we've handled many cases in Charlotte and the greater Piedmont region.  Managing partner Gene Riddle and many of our other attorneys and staff have close family connections to Charlotte and we are proud to serve North Carolinians and visitors in the area.
If you've been injured in a car accident in the Charlotte area, please call a Charlotte car accident lawyer at Riddle & Brantley at (704) 486-5824 for a FREE, no-obligation consultation. We believe everyone deserves justice, and you may be entitled to compensation if someone else is responsible. Remember, the case review is free, and if you decide to hire us to represent you there is no upfront cost and no attorney fee unless we win your case and you receive financial compensation.
Call (704) 486-5824 and let's review your claim.
"You'll walk in the front door as a client but leave as family. They're the absolute best."
–Susan S., Riddle & Brantley client
Justice Counts.
---
*** Disclaimer: The results mentioned are intended to illustrate the type of cases handled by the firm. These results do not guarantee a similar outcome, and they should not be construed to constitute a promise or guarantee of a particular result in any particular case. Every case is different, and the outcome of any case depends upon a variety of factors unique to that case.
*** Disclaimer: An attorney must meet certain requirements to join these organizations or receive these awards. For more information on Membership Criteria for Million Dollar Advocates Forum, Multi-Million Dollar Advocates Forum, Super Lawyers, The National Trial Lawyers Top 100, The National Association of Distinguished Counsel, AV Preeminent by Martindale-Hubbell, the Litigator Award, and other memberships, awards, and accolades, please visit our Membership Criteria page. These awards and memberships should not be construed as a promise or guarantee of a similar result. Each case is different and must be evaluated separately.