"How Do You Prove Fault in a North Carolina Car Accident?"
Proving fault in a North Carolina car accident is crucial for victims to recover appropriate compensation from the responsible party. Injured victims will need to demonstrate that another motorist's negligent actions caused the collision in order to be successful in a legal claim.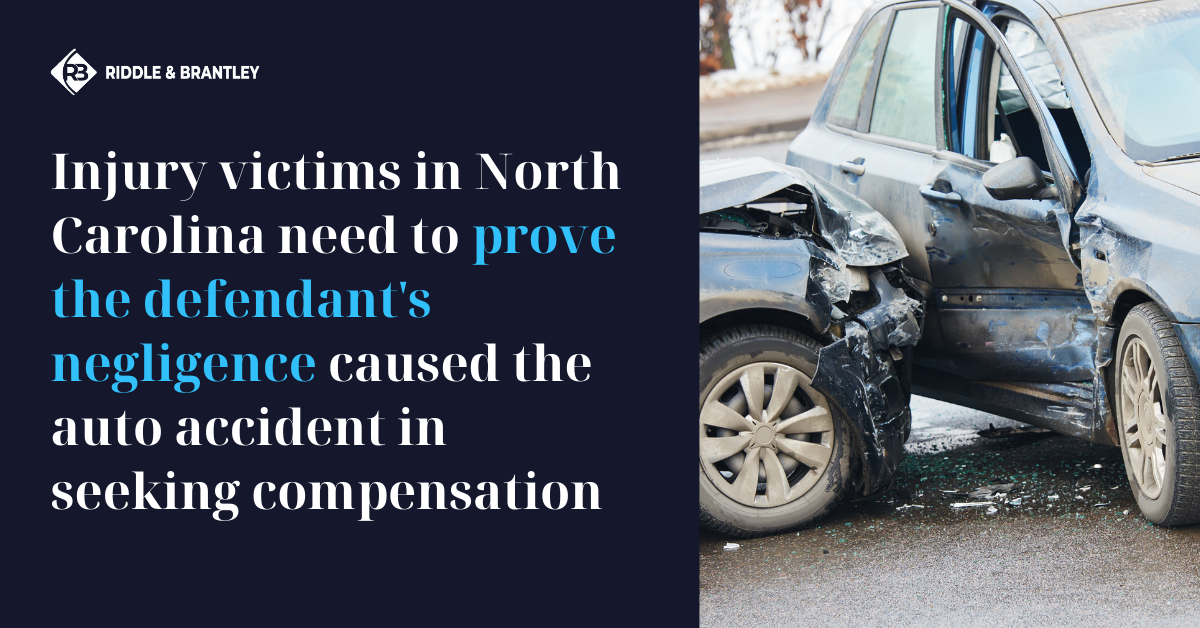 Without the guidance of a knowledgeable attorney, this task can be exceedingly challenging. A North Carolina car accident lawyer at Riddle & Brantley understands the Tar Heel state's complicated laws and has the resources to gather evidence that demonstrates liability.
Our attorneys have more than three decades of experience handling injury claims on behalf of our clients, helping prove which parties were at fault and liable for damages.
As always, the consultation is free and there are no upfront costs or attorney fees unless we win your case.
Contributory Negligence Doctrine in North Carolina
When it comes to motor vehicle accidents, North Carolina is an "at-fault" state. However, it is also one of few contributory negligence states, which essentially bans any recovery to a driver whose own actions contributed even slightly to the crash.
Despite the difficulties posed by contributory negligence laws in North Carolina, it is often still possible to recover financial damages from negligent parties.
At Riddle & Brantley, our veteran car accident lawyers are well-versed in our contributory negligence system, and have secured many significant settlements for our clients (see disclaimer below).

Evidence Used to Prove Fault in a Car Accident
Insurance companies will immediately launch their own investigation into the cause of the accident. And while it may seem like claims adjustors are unbiased, their end goal is to minimize any payout, which means looking for ways to show that another party was partly at-fault for the collision. This is the point where having a skilled personal injury lawyer can make all the difference in your claim.
At Riddle & Brantley, our team conducts an independent investigation into the car accident, reviewing every detail thoroughly in order to prove liability, therefore strengthening your case.
The following types of evidence may be used to prove fault in a North Carolina car accident:
Official police report
Testimony from eyewitnesses
Photos and video from the accident scene
Cell phone records that indicate distracted driving
Footage from traffic cameras or dashboard cams
Testing that shows a driver was under the influence of drugs or alcohol
Black box vehicle data that indicates excess speed, failure to brake, etc.
If your accident involved a commercial truck driver, we may also solicit hours of service logs and maintenance records from the trucking company to ensure compliance with all safety regulations.
In certain cases, we'll even bring in outside experts — such as accident reconstructionists and trucking safety experts — to evaluate the accident and strengthen your case.
Last Clear Chance Laws in North Carolina
Despite the law of contributory negligence, there are some situations in which a car accident victim in North Carolina can still seek compensation if they were partially at fault for a collision. In order to be successful under the doctrine of "last clear chance," the injured party must prove that the other motorist had one last chance to prevent the accident from happening.
In order to prevail, your attorney must present evidence that supports these elements:
You were not negligent in putting yourself in a dangerous situation
You were incapable of escaping or avoiding the dangerous situation
The defendant knew – or should have known — of your dangerous situation but failed to prevent it
The defendant had the ability to avoid injuring you, but failed
Willful and Wanton Conduct and Gross Negligence
There is another exception to the state's contributory negligence laws. If another motorist acts with 'gross negligence' or willful and wanton conduct, and these actions result in an accident causing injury, you may be entitled to a recovery, even if you were slightly to blame.
For example, you are driving 10 miles over the speed limit when another motorist slams into your car in an act of aggressive road rage. The speeding was negligent, but because the other driver's behavior is viewed as a conscious disregard of safety and therefore grossly negligent, the courts will not bar your claim for money damages in the event you suffered personal injury and property damage.
Get the Settlement You Deserve
Riddle & Brantley's attorneys offer more than 220+ years of combined legal expertise, and we're proud to help North Carolina residents and visitors achieve the justice they deserve after a senseless accident.
For additional information on how we can help prove fault in accident claims, please reach out for a free consultation with a personal injury attorney who is dedicated to your success.
You have nothing to lose and everything to gain, as we charge no upfront fees, and you won't pay any attorney fees unless we win your case and recover money on your behalf.
Justice Counts.
---
*** Disclaimer: The results mentioned are intended to illustrate the type of cases handled by the firm. These results do not guarantee a similar outcome, and they should not be construed to constitute a promise or guarantee of a particular result in any particular case. Every case is different, and the outcome of any case depends upon a variety of factors unique to that case.