North Carolina Truck Accident Lawyers
Those that manage to survive an accident with an 80,000-pound fully loaded truck are often left with severe and debilitating injuries that undermine mobility, health, and quality of life. The unfortunate truth is that many of these accidents are entirely preventable. Truck drivers are routinely pressured to meet unrealistic delivery deadlines, hours of service regulations are often ignored, and shortcuts on maintenance and repairs are all a recipe for serious injury and death.
The North Carolina DMV reported over 4,000 tractor-trailer accidents causing 1,109 injuries in 2019. I-95, I-40, and I-85 are just a few of the heavily traveled highways in North Carolina. At Riddle & Brantley, we have helped people involved in commercial and non-commercial truck accidents stemming from drowsy drivers, poorly maintained vehicles, illegal lane changes, reckless behavior, and mechanical failure. We have the skills, resources, and expertise to seek justice on your behalf.
Have you or a loved one been injured in a truck accident? If so, you may be entitled to compensation.
The consultation is free. There are no upfront costs, and there is no obligation. If we don't recover compensation for you, you won't pay a dime in attorney fees.
Justice Counts. Please call 1-800-525-7111 today, and let's review your North Carolina truck accident case.
We proudly serve truck accident victims throughout the entire state. Our NC truck accident lawyers frequently handle cases in:
High Point
Asheville
Hickory
Boone
Gastonia
Kannapolis
Concord
New Bern
We can consult with you by phone, email, text, and even video conference, and we can also come to you directly if you prefer. However, an in-person meeting is not required to get started on your truck accident case.
Types of Truck Accident Cases We Handle
Trucking companies and their insurance carriers will do whatever it takes to minimize legal liability. Our lawyers fight aggressively for your rights and level the playing field.
Reach out to Riddle & Brantley for expert guidance on a wide range of truck accident cases.
If you or a loved one were injured in a crash with a large truck, our veteran legal team can preserve your rights, connect you with qualified medical providers, and maximize your monetary recovery.
What Are Common Causes of Trucking Accidents in North Carolina?
There are many potential causes of commercial truck accidents in North Carolina. Often, these collisions occur because of human error. Of course, all drivers make mistakes, but these errors are compounded when made by the driver of a massive commercial vehicle.
However, not every truck accident is caused to the truck driver's actions. There are sometimes external factors beyond their control.
Some of the most common causes of truck accidents in North Carolina include the following:
Driving while fatigued. Fatigued driving is a serious issue among truck drivers. Federal regulations limit the time truck operators may spend behind the wheel without taking a break. This is because fatigued driving has many of the same risks as impaired driving.
Impaired driving. Driving under the influence of drugs or alcohol is especially dangerous for truckers. These substances reduce a driver's judgment and reaction time, which increases the odds of a dangerous collision.
Speeding. It is never safe to drive beyond the speed limit. Trucks need a lot of space to stop, and changing road conditions can make it nearly impossible for drivers to avoid crashes. These accidents are often serious, as speeding trucks can cause catastrophic damage.
Vehicle defects. The truck operator will not always be responsible for these accidents. In some cases, defective trucks or truck parts may play a role. When this occurs, the manufacturer of those parts could face financial liability for any damage.
Road defects. Roads that are poorly maintained can be dangerous and lead to accidents. Alternatively, defective road design could also increase the risk of truck accidents. In these cases, pursuing legal action against the government may be possible. Other cases may involve incorrect or misapplied road markings that contribute to the truck accident.
Justice for Truck Accident Victims in North Carolina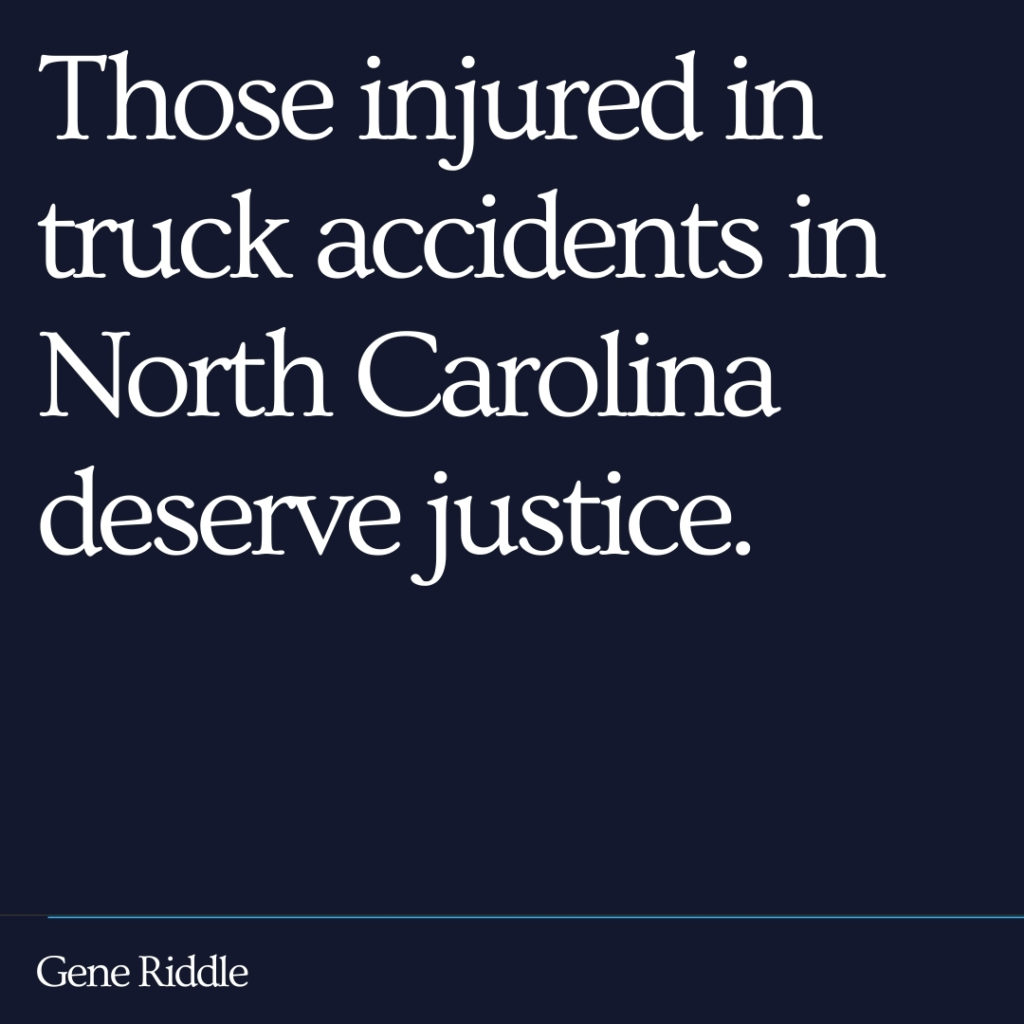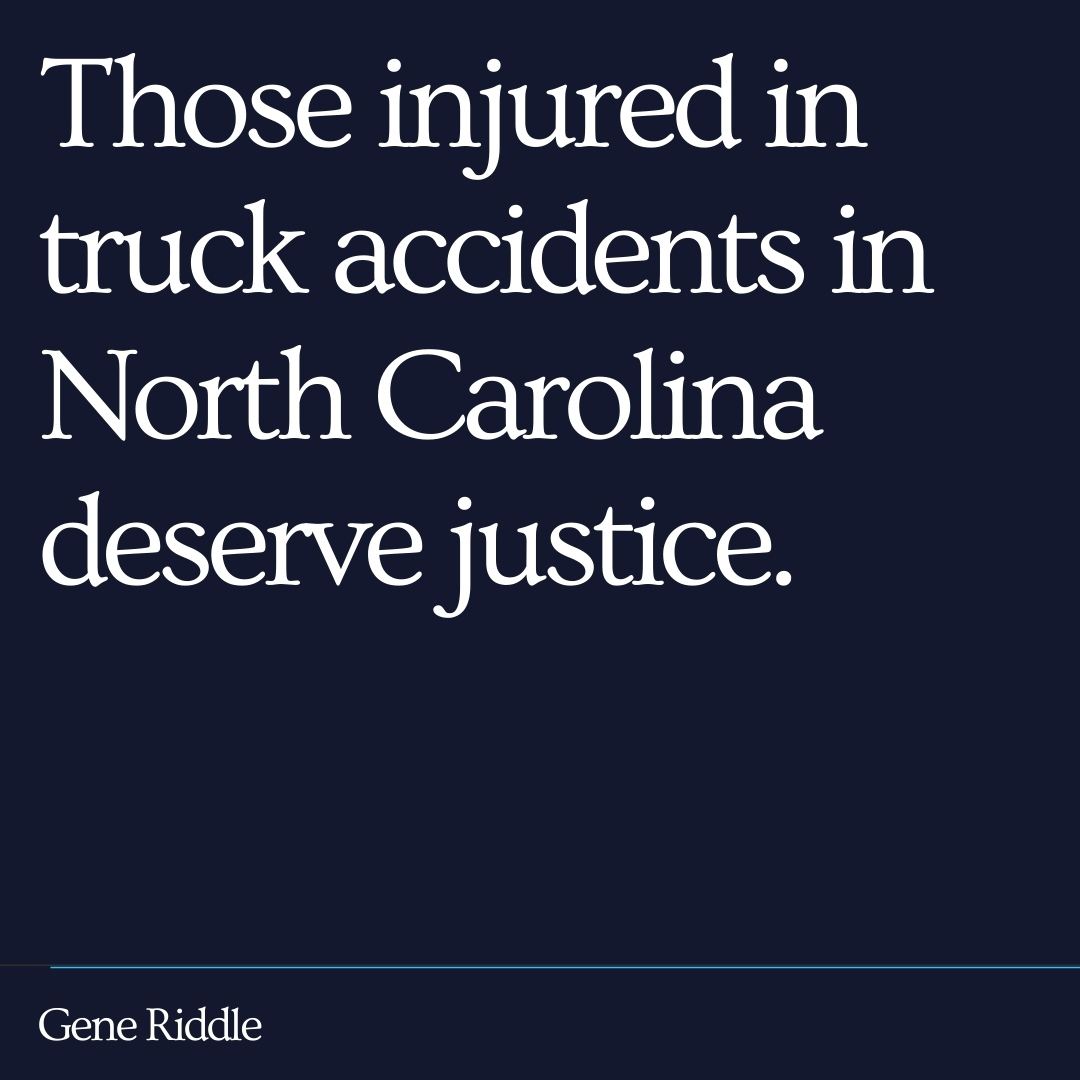 Our firm has handled various types of trucking accidents, including cases involving wrongful death and catastrophic injuries. Throughout more than three decades of practice, we've recovered millions of dollars in compensation for truck accident victims (see disclaimer below).
For example, in 2020, our attorneys settled a tractor-trailer truck accident wrongful death claim for $9,450,000 in total compensation. The accident occurred when a pavement company's mistakes resulted in traffic congestion. This led to a tanker truck slamming into our client's vehicle, killing all four occupants.
Our legal team worked tirelessly on this case to ensure that both the pavement company and defendant driver were held responsible. Although no amount of compensation can ever fully address the loss of a loved one, we are proud to provide some form of justice for our clients.
"It was nice to see Riddle & Brantley put me and my needs first."
–R. Colley, Riddle & Brantley client
Other recent wins by our North Carolina truck accident lawyers include:
$2,250,000 — Attorney Gene Riddle recovered $2.25 million in total compensation on behalf of the family of a young woman who was killed when she was hit by a truck head-on. The truck had crossed the center line, and the driver was determined to be at fault in the crash. Gene knew the family personally and fought aggressively for justice in the case.
$1,800,000 — We secured $1.8 million for the victim of a truck accident. Our client was on the job when he was hit by another truck. He eventually lost his left leg below the knee as a result of the accident. Attorney Gene Riddle ultimately secured compensation in separate settlements with the workers' comp carrier and the truck insurance company.
$2,000,000 — Attorney Gene Riddle fought on behalf of a trust and two surviving sons when an elderly woman was killed by an 18-wheeler in a terrible crash. She eventually succumbed to her injuries, and we brought in an outside expert to help prove liability. Ultimately attorney Riddle was able to secure $2 million in total compensation for the victim's family.
*** Disclaimer: The results mentioned are intended to illustrate the type of cases handled by the firm. These results do not guarantee a similar outcome, and they should not be construed to constitute a promise or guarantee of a particular result in any particular case. Every case is different, and the outcome of any case depends upon a variety of factors unique to that case.
What to Do After a Truck Accident in North Carolina
Following any collision with a heavy truck, the steps you take in the immediate aftermath can significantly impact your likelihood of a successful injury claim.
Protect your rights and legal options after an accident by following these tips:
Assess your own condition and that of any occupants in your vehicle
If anyone is injured, call 911 immediately
Otherwise, report the accident to the police
Wait until the authorities arrive and answer any questions
Once an official accident report is made, ask for a copy
If you are able, document the accident scene with photos or video from multiple angles that depict your vehicle, the truck, the road (to document weather conditions), and your injuries
Exchange contact, license, and insurance information with all parties, including the name and contact information of the truck driver's employer
Write down contact info for any witnesses who saw the accident. Their testimony can be a powerful tool in establishing liability
Be careful about what you say. Do not apologize or admit fault, even if you are confused about who or what caused the accident
Seek medical treatment as soon as possible if you were not taken by ambulance to the nearest E.R. Remember that adrenaline can mask the pain of serious trauma, so go to the hospital. A failure to do so can impair your ability to seek compensation later.
Keep records of all truck accident-related expenses and bills
Refrain from posting details about your accident on social media, as statements can be misconstrued and used against you in depositions later
Contact a North Carolina truck accident lawyer for sound legal advice before speaking to insurance adjusters
Do not provide a statement to insurance representatives until you have first consulted with your attorney
Remember that your truck accident lawyer's sole mission is to advocate on your behalf and advance your case against negligent parties.
Who Can Be Held Liable in a Truck Accident in North Carolina?
As demonstrated in the cases above, truck accidents can be highly complex and often involve multiple liable parties and a tremendous amount of evidence. Our North Carolina truck accident attorneys work diligently to find all possible insurance coverage. We want to ensure that our clients get adequate recovery for their damages.
Liable truck accident parties could include:
the truck driver
the truck driver's employer
the trucking company
the owner of the trailer
the manufacturer of the truck
the loading company
the freight company
the manufacturer of truck parts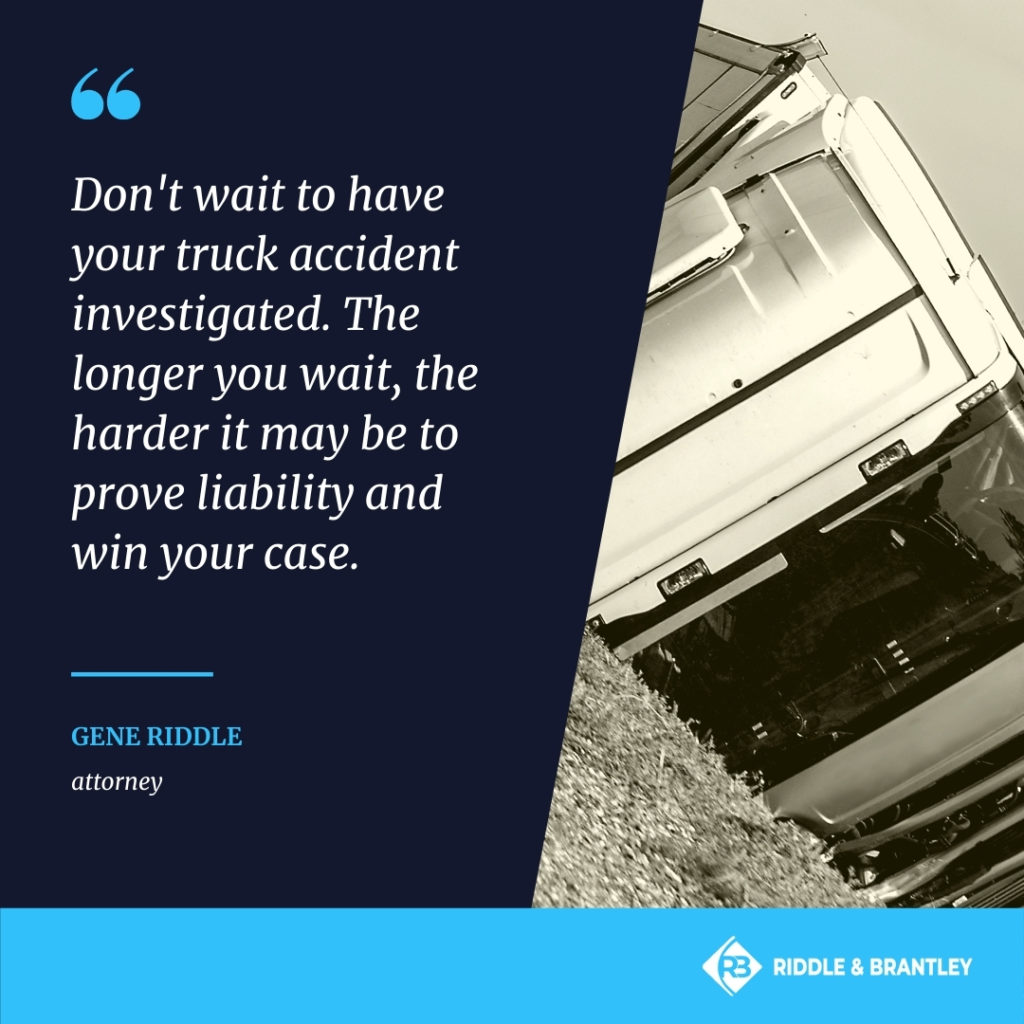 In many cases, trucking companies will involve their legal team right after the accident occurs. Insurance companies might even hire an accident reconstructionist at the outset of the investigation. As for-profit businesses, insurance companies commonly strategize to diminish your claim and compensate you as little as possible.
Therefore, it is crucial that you speak with an experienced truck accident lawyer to discuss your legal options. Once you sign with Riddle & Brantley, we will immediately begin investigating your case.
Evidence We May Use in a Truck Accident Claim
If needed, our truck accident attorneys can even hire experts like accident reconstruction specialists and federal trucking safety experts to help strengthen your claim.
We even have a team of retired law enforcement officers who can gather important evidence from the crash site, including:
Tractor-trailer black box data
Eyewitness testimony
Cell phone records
Video footage, including security camera and dashcam footage
Driver logbooks
Photos of the crash site
Other forms of crash data
"They turned a heartbreaking situation completely around."
–Tonya Taylor, Riddle & Brantley client 
Award-Winning Truck Accident Attorneys in North Carolina
In more than three decades serving the people of North Carolina, our attorneys have been recognized for their experience and results, earning recognition from such prestigious organizations (see disclaimer below) as:
The National Trial Lawyers Top 100
The National Trial Lawyers Top 40 Under 40
Multi-Million Dollar Advocates Forum
Million Dollar Advocates Forum
Super Lawyers
The National Association of Distinguished Counsel
Attorney Gene Riddle was also recognized with the 2014 Litigator Award, and he and attorney Adam Smith maintain A.V. Preeminent ratings from Martindale-Hubbell. These are the highest ratings for practicing attorneys issued by the organization (see disclaimer below).
Proving Negligence in North Carolina Truck Accidents
Proving negligence in a truck accident is complex. That's why it is imperative that you retain a skilled lawyer who has the resources to conduct independent investigations, collect pertinent evidence, interview witnesses, and determine all possible liable parties.
The four basic elements of negligence claims in North Carolina are:
Duty of Care— The truck driver had a duty to the plaintiff to operate their vehicle in a reasonably safe manner.
Breach of Duty— The truck driver breached that duty of care by failing to obey a certain standard of conduct.
Causation— The truck driver's negligence was the cause of the victim's injuries.
Damages— The victim was injured and incurred damages.
Our truck accident lawyers collect and analyze different types of evidence to prove negligence in a case. Some common examples of negligent behavior that can give rise to a lawsuit include: speeding, failure to obey traffic rules, driving while under the influence of drugs or alcohol, distracted driving, hours of service violations, improper lane changes, failure to yield, and improperly secured cargo.
Liability does not always rest with the truck driver. In some situations, mechanical or equipment defects are to blame. Trucking companies can be held responsible for negligent screening and hiring practices or when lapses in safety inspections and routine maintenance are the root of the accident.
Contributory Negligence
Under North Carolina law, to recover for personal injury damages, the claimant can't be even partially at fault. This law of "contributory negligence" means that a claimant cannot recover if their own negligence contributed to the accident. Even if our client is deemed 1% at fault for the accident, the claim might be barred.
For this reason, it is essential that an experienced North Carolina truck accident lawyer evaluate your claim.
In hundreds of cases, our investigative team has successfully proven that specific clients did not contribute to the accident. While every case is different, we try our best to get justice for our clients. Consulting one of our truck accident attorneys can provide you and your loved ones with more clarity on your case.
Compensation for Your Injuries
The physical, emotional, and financial consequences of accidents with commercial trucks are often life-altering. Accordingly, victims are entitled to fair compensation from negligent parties and can typically pursue two types of monetary damages for their injuries and losses: economic and non-economic.
The specific circumstances and facts of your case will determine the compensation available, whether obtained in a settlement or jury verdict. The nature and severity of your injuries and accumulation of medical bills will factor largely into the amount of recoverable damages.
Available economic damages in a truck accident case may include:
Loss of income, including benefits and bonuses
Loss of future earnings
Cost of vehicle and property damage repairs
Lost earning capacity due to disability
Past and ongoing hospital and medical expenses, including medications, diagnostic tests, surgery, doctor fees, and rehabilitative aids
Travel costs to and from medical appointments
Out-of-pocket expenses arising from your accident
Claimants may also seek non-economic damages to account for:
Emotional distress and trauma, such as Post Traumatic Stress Disorder (PTSD)
Loss of enjoyment of life
Pain and suffering
Loss of consortium
While there are no guarantees for exact settlement figures, aligning yourself with a skilled legal team can improve your chances of winning maximum compensation for your injuries.
For a FREE, no-obligation consultation with an experienced North Carolina truck accident lawyer, please call 1-800-525-7111. You deserve justice and you may be entitled to significant compensation. Don't gamble with a potential settlement. Let us help however we can.
"This settlement changed me and my family's lives."
–Linda B., Riddle & Brantley client
Seeking Justice for Truck Accident Victims in N.C.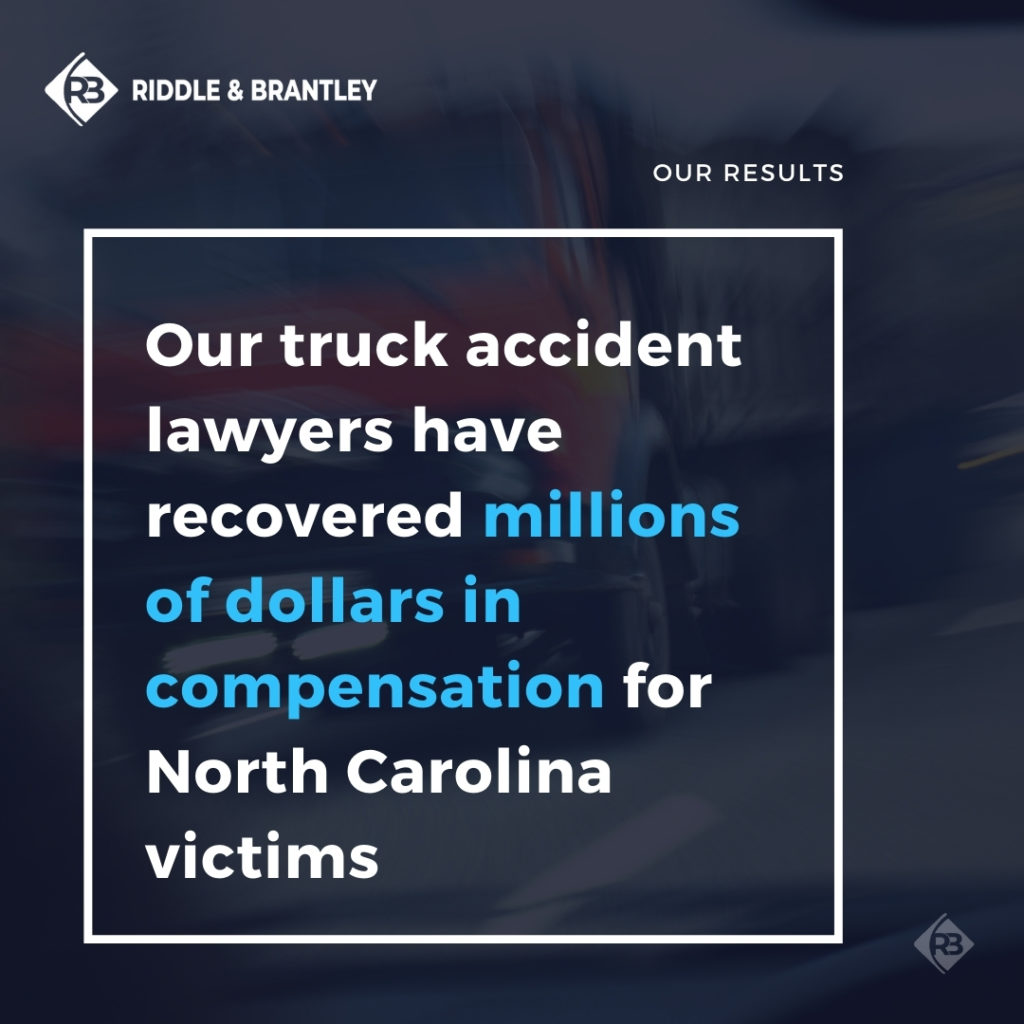 Our lawyers understand the debilitating nature of truck accident injuries, which can take months to heal and leave victims with life-long disabilities.
Riddle and Brantley's main priority is to help our clients recover from their accidents. We want you and your loved ones to focus on treating your injuries and getting better. Let us handle the stress of dealing with the insurance companies.
When you hire one of our truck accident attorneys to handle your claim, you also get a devoted team of investigators, paralegals, and case managers who are dedicated to your success.
How Can Riddle & Brantley Attorneys Help Me?
Legal claims involving semis, 18-wheelers, and large rigs are often complicated. Our veteran lawyers can handle all aspects of your North Carolina truck accident case, including but not limited to:
Crash scene investigation
Accident reconstruction
Identifying and interviewing witnesses
Obtaining the official accident report
Referring you to trusted medical providers
Preparing you for statements to the insurance company
Negotiating with the insurance company
Obtaining all your medical bills and records
Preparing a demand package for the insurance company
Negotiating with defense counsel
Obtaining a comprehensive life care plan
Identifying all potentially liable parties
Securing evidence like black box data and video footage
Identifying and preserving crash scene evidence
Filing a lawsuit
Representing you in jury selection
Representing you at trial
Representing you in mediation and/or arbitration
Conducting depositions
Setting up trusts and guardianships
If you've been hurt in a truck accident, don't wait to contact us. The longer you wait, the harder it may be to prove liability and secure damages in your case.
For a FREE, no-obligation consultation with an experienced truck accident lawyer, please call 1-800-525-7111.
There are no upfront costs, and you won't pay a dime in attorney fees unless you receive monetary reparations.
We would love to help you get the justice you deserve after suffering because of another's negligence.
"They made a hard time in my life easier to endure."
–Melissa C., Riddle & Brantley client
Please call 1-800-525-7111 today, and let's review your truck accident claim.
Justice Counts.
---
*** Disclaimer: An attorney must meet certain requirements to join these organizations or receive these awards. For more information on Membership Criteria for Million Dollar Advocates Forum, Multi-Million Dollar Advocates Forum, Super Lawyers, The National Trial Lawyers Top 100, The National Association of Distinguished Counsel, A.V. Preeminent by Martindale-Hubbell, the Litigator Award, and other memberships, awards, and accolades, please visit our Membership Criteria page. These awards and memberships should not be construed as a promise or guarantee of a similar result. Each case is different and must be evaluated separately.