North Carolina Veterans Disability Lawyers
Are you seeking veterans benefits in North Carolina? Have you applied and been denied VA disability benefits? Our experienced North Carolina VA disability attorneys are ready to help.
VA Disability Lawyer for North Carolina Veterans
If you sustain or aggravate an injury or contract a disease or condition while serving in the military, on active duty or while working on a military base, then you may qualify for veterans benefits if you meet certain other conditions.
However, many veterans who apply for benefits receive a denial and must appeal. In some cases, this can mean that years pass before you receive the compensation you deserve. Our experienced North Carolina veterans disability lawyers can help.
For a FREE, no-obligation consultation with an experienced North Carolina VA disability attorney, please call 1-800-525-7111.
There are no upfront costs, and you won't pay any attorney fees unless we win your case and you receive veterans disability benefits.
We don't get paid unless you receive VA disability benefits. Period.
"A VA disability denial or low rating is not the end of the road. You still have options and we're ready to help however we can."
Please call 1-800-525-7111 today and let's review your claim.
You may also be entitled to Social Security disability benefits in addition to VA benefits, and our NC VA disability attorneys can help with those claims, as well.
At Riddle & Brantley, our veterans disability lawyers have been helping veterans throughout North Carolina obtain the benefits they deserve for more than 35 years. We represent veterans in their claims for VA disability benefits as well as personal injury claims for active service members. In these cases, family members of military personnel and civilian employees may also qualify for benefits.
You may be entitled to veterans disability if you meet the following criteria:
You suffered a "service-connected" injury (does not need to be a "battlefield wound") while on active duty or active duty for training
You received a discharge other than dishonorable
Dedicated Attorneys Fighting for VA Benefits 
If you are unsure if you are eligible or have been denied veterans benefits, contact us today at 1-800-525-7111 for a FREE, no-obligation consultation.
We offer free consultations for both VA benefits and Social Security disability, and we can discuss your eligibility for both cases in one phone call.
"By far the best law firm that actually cares about helping veterans."
–B. Fields, Riddle & Brantley client
You've defended us and now it's our turn to defend you. Please call 1-800-525-7111 and let's review your VA disability claim today.
"When Can I Apply for Veterans Disability Benefits?"
Military personnel increasingly serve longer, both overseas and at home. In many cases, a service man or woman may serve multiple, consecutive tours under dangerous, difficult and stressful conditions. Many return to civilian life with physical, mental, and emotional injuries and conditions (seen and unseen) that can render them unable to resume a normal, income-producing life. The Department of Veterans Affairs (VA) recognizes this reality.
Service-Connected Disability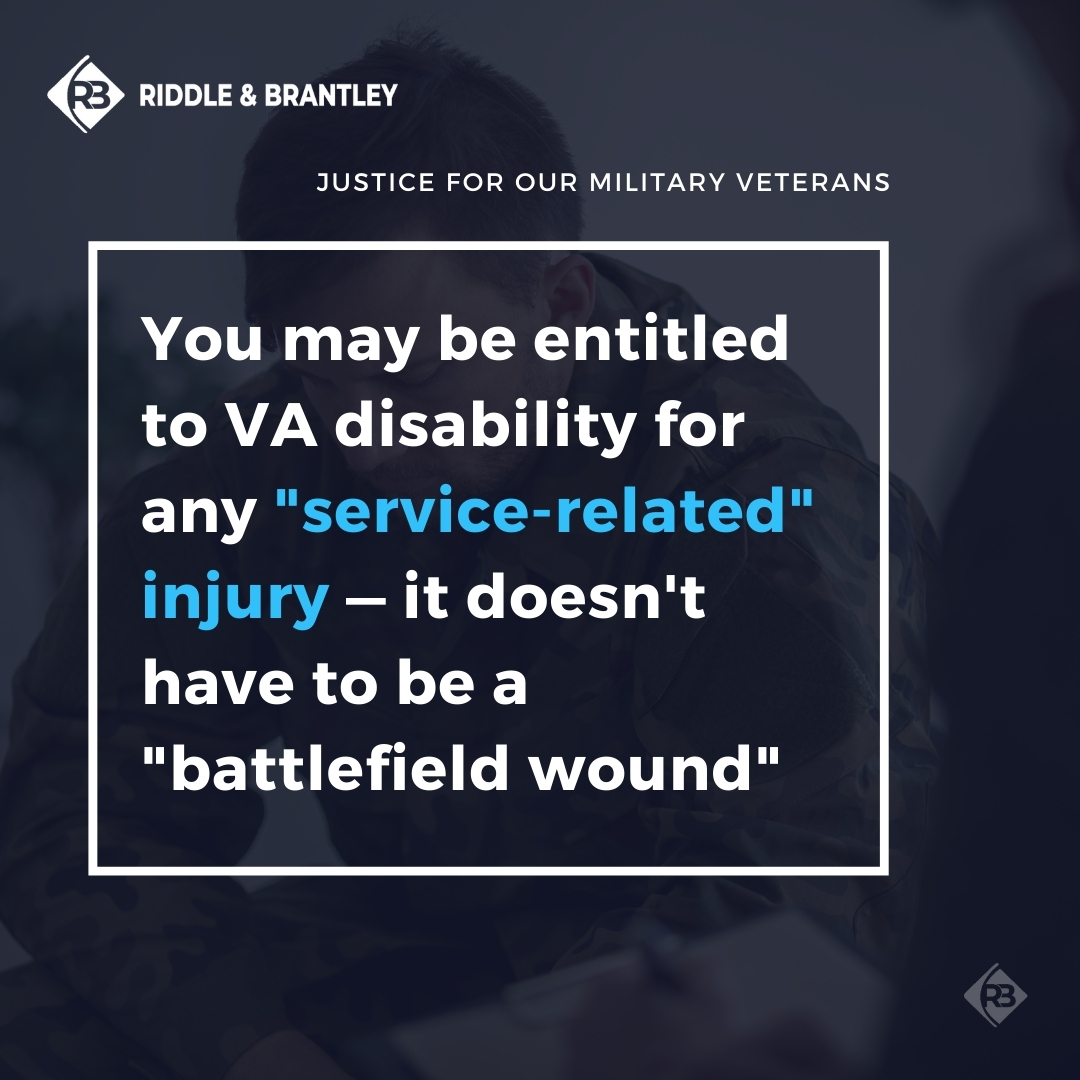 Benefits are available for veterans who are not dishonorably discharged (your discharge can be Honorable or General to qualify) and have a service-related injury or condition.
This can mean you suffered an injury or developed a physical or mental condition while in service. However, you may also be eligible for VA benefits if a previous condition became worse while you served.
A North Carolina VA disability lawyer focusing on veterans disability benefits can help you navigate your options.
For a FREE, no-obligation consultation with a VA disability lawyer in North Carolina, please call 1-800-525-7111.
As always, the consultation is free and we are available 7 days per week by phone, email, text, or even video conference. If you prefer, we can even come to you. But no in-person meeting is required in order to get started on your veterans benefits case.
Call 1-800-525-7111 and let's review your claim.
Disability and Compensable Ratings for Veterans
Your condition does not have to be totally disabling in order to qualify for benefits. The VA has a system of partial VA disability ratings that award benefits based on the extent of your disability.
For example, if a brain injury causes you to be 50% disabled, you may be entitled to a 50% "disability rating" and corresponding benefits.
However, this system is complex, and your disability rating may not be the same as your "compensable rating," which determines your monthly payments. It is best to consult an experienced VA disability benefits lawyer for more information about your specific circumstances.
Call 1-800-525-7111 and let's evaluate your veterans disability claim or appeal and see how we can help.
"Can I Received Veterans Disability for Any Injury?"
You may qualify for VA Disability benefits or other compensation for any service-related injury. This means the cause of your disability does not have to be a "battlefield wound."
Even if you injured your knee during a softball game while on active duty or active duty for training, you may still qualify for benefits.
Any injury or accident on a military base may be grounds for a personal injury claim and possible disability benefits. Our VA disability attorneys have experience assisting veterans stationed at bases across North Carolina, including:
Camp Lejeune
Marine Corps Air Station Cherry Point
Do Non-Physical Injuries Qualify?
Mental or emotional conditions that are service-related (including if suffered while on a military base, or during active duty or active duty for training) may qualify for VA disability benefits. These include service-related PTSD.
Alcohol or drug abuse-related disabilities may also entitle you to benefits. These conditions may qualify if the problem relates to a condition that arose during your service.
Similarly, if you were exposed to a toxic substance or chemical while in service, you may be eligible for a veterans benefits claim, as well.
"They made a hard time in my life easier to endure."
–Melissa C., Riddle & Brantley client
"Can I Increase My VA Disability Rating?"
If you have already been found partially disabled by the Veterans Benefits Administration, it may be possible to increase your benefits.
If you do not think your current percentage rating is fair or adequate, then a veterans disability lawyer at Riddle & Brantley can help you seek a new evaluation.
We do not charge any upfront fees for representing veterans in these claims. Our fee comes from any past-due benefits you eventually receive. If you do not win your case and receive back benefits, then you won't owe us any attorney fees.
How to Avoid the Veterans Benefits Backlog
The VA is woefully understaffed and under-resourced. This has resulted in well-documented backlogs in processing disability benefits claims for veterans.
The VA recognizes this and has implemented a program whereby veterans, with the right help from a lawyer or other representative, can avoid or minimize delays. This program is called the "Fully Developed Claim" or FDC for short.
What is an FDC?
The concept behind an FDC is that the veteran waives the right to VA assistance in developing a benefits claim. Instead, a veteran may proceed straight to the Regional Office with the claim. Properly done, with an FDC and experienced North Carolina VA disability attorney on your side, you may be able to get a decision within just a few months.
Otherwise, you may wait 8-18 months — the "normal" delay.
To utilize the FDC process, you must make sure that you have the entire claim and all required documentation properly assembled. Otherwise, you are likely to be denied. In a standard disability benefits claim, a VA representative would assist you in gathering documentation and completing the proper forms.
For an FDC, you must do this yourself, with the help of qualified legal counsel. In essence, you and your attorney do the VA's job by gathering the evidence you need to support your case. Then, we submit it directly to the Regional Office that makes the decision. Our attorneys can help you decide if an FDC is the right option for you.
However, an FDC does not help if you have already received a denial after going through the initial application process with the VA's assistance.
For a FREE consultation with an experienced North Carolina veterans disability attorney, please call 1-800-525-7111.
We will review your claim or appeal and help determine your best legal options. If you decide to hire us, we don't get paid unless you receive benefits — it's as simple as that.
Call 1-800-525-7111 to speak with a VA disability attorney handling claims and appeals throughout North Carolina. We have many office locations to serve you from, and can even come directly to you or consult with you by phone, email, text, and video conference.
"A strong firm that fights professionally for your rights and wins."
–Donyelle S., Riddle & Brantley client
Close Ties to the Military
The Riddle & Brantley home office in Goldsboro is located close to Seymour Johnson Air Force Base and many of our attorneys and family members have been in the military at one point or another.
We have a strong connection to the military and believe that all disabled veterans should receive the benefits they deserve.
Therefore, we represent injured service men and women from military bases throughout North Carolina and nationwide. We also help prepare and submit disability applications and FDCs.
"Many of our attorneys and staff have close family connections to the military. Our veterans deserve the best our country can give them in return for their service and sacrifice."
—Gene Riddle, attorney and founding partner, Riddle & Brantley
Experienced VA Disability Lawyers Serving North Carolina
If you have questions about eligibility requirements or any other veteran's injury compensation issue, contact us today. We can explain your legal options and help prepare your claim.
If you decide to hire us, our North Carolina VA disability lawyers will work relentlessly on your behalf because Justice Counts.
For a FREE, no-obligation consultation with a North Carolina veterans disability lawyer, please call 1-800-525-7111.
Justice Counts for those who have served our country and we are dedicated to ensuring that you get the justice and VA disability benefits you deserve.
Call 1-800-525-7111 and let's review your claim.