North Carolina Car Accident Lawyer
Car Accident Attorneys in NC
Car accidents cause sudden upheaval in a person's life, often with tragic and long-lasting consequences. In 2018, 1,442 people lost their lives, and 125,454 people were injured on North Carolina's roadways. The cost of care ranges from $168,000 for a non-fatal injury to more than $3 million for debilitating and fatal injuries.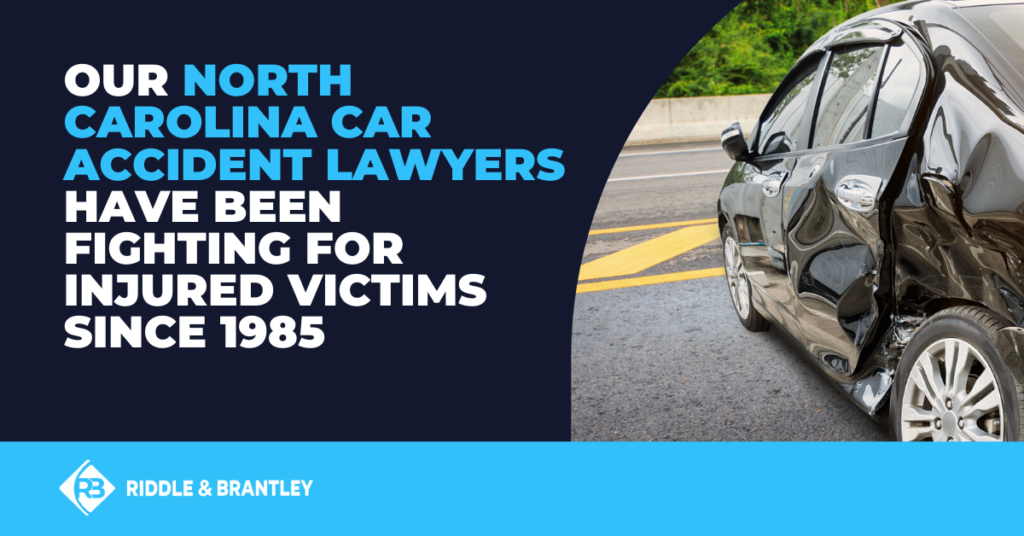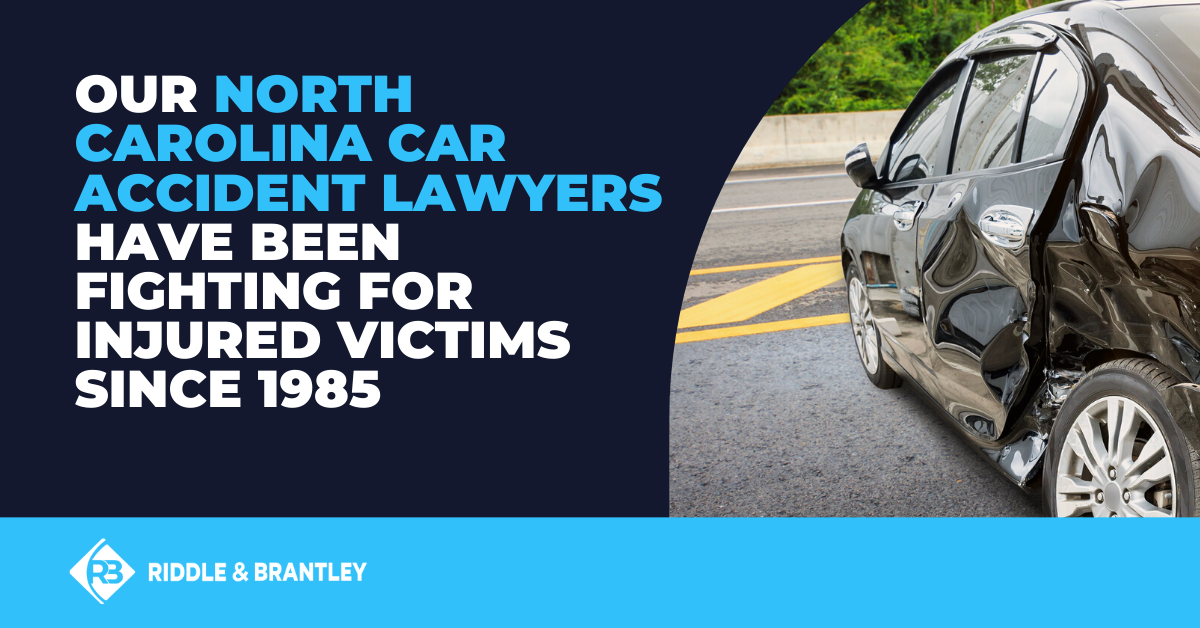 Many North Carolina motor vehicle collisions involve alcohol, speeding, distraction, and failure to yield right-of-way. When driver negligence is a factor, victims and their families are entitled to compensation from the at-fault party.
For more than 35 years, the North Carolina car accident lawyers at Riddle and Brantley have successfully represented the great people of North Carolina.
At Riddle and Brantley, our car accident lawyers take pride in helping the injured people of North Carolina.
"We are committed to justice for all North Carolinians."
-Gene Riddle, founding partner and attorney, Riddle & Brantley
There is no obligation and we don't get paid unless you do. There are no attorney fees unless we win your case and you receive compensation.
Let's review your case. You may be entitled to compensation and we would love to help you and your loved ones however we can.
Car Accident Lawyers Fighting for Justice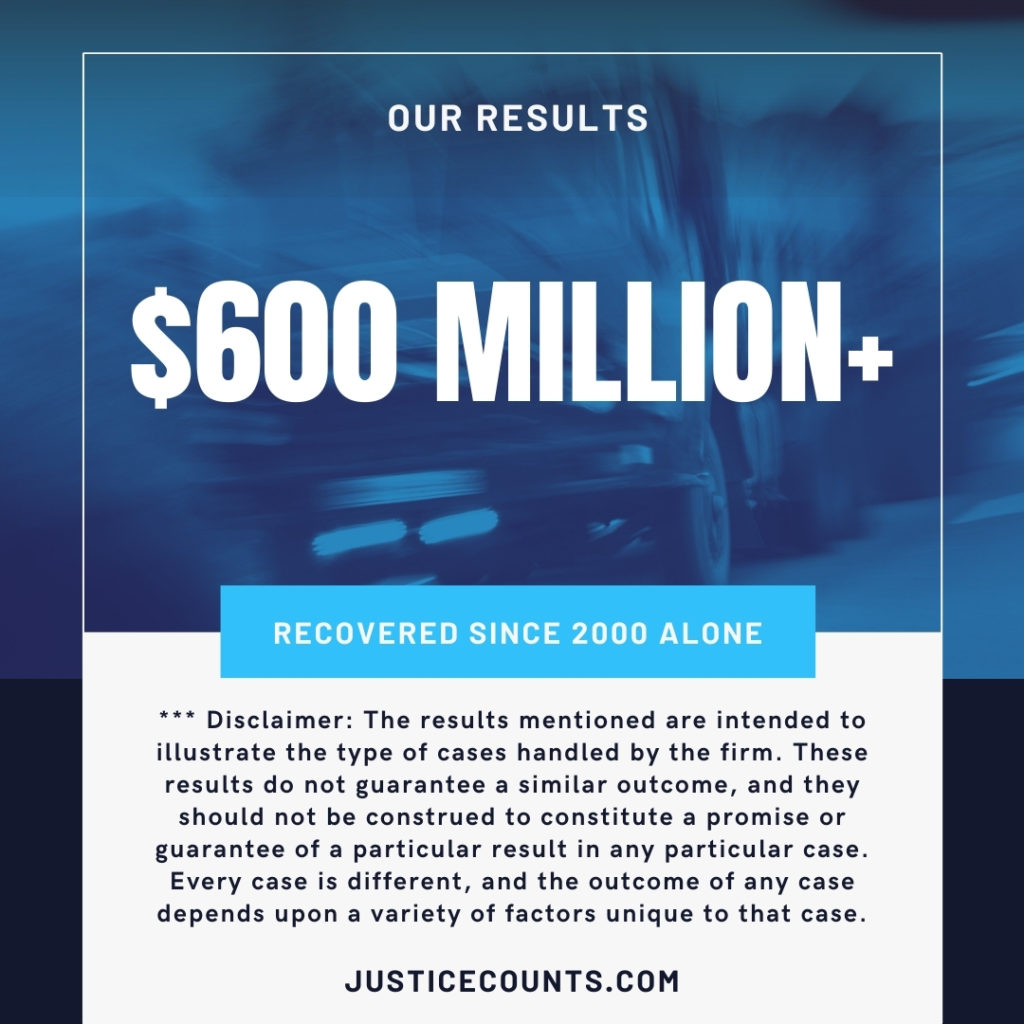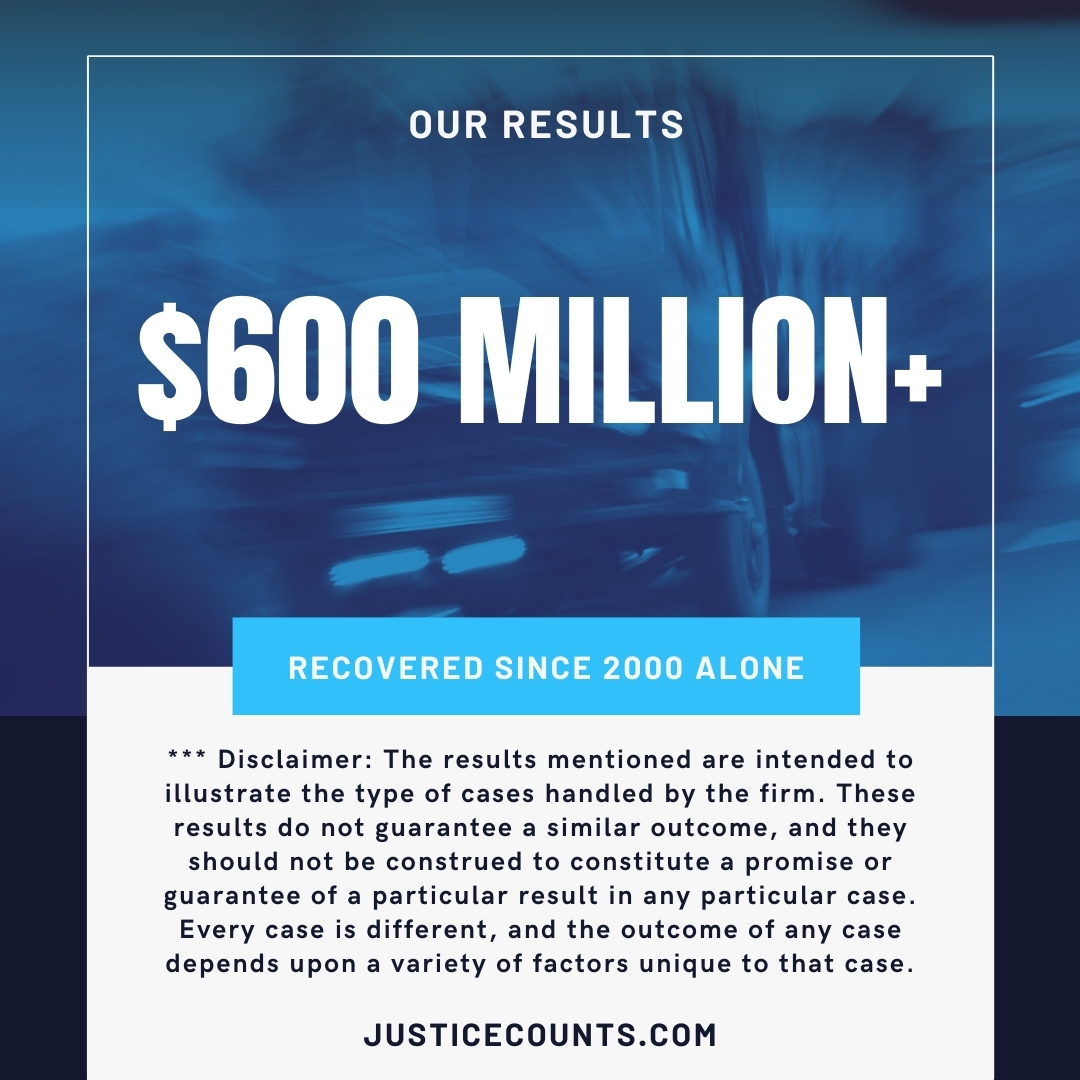 Being in an auto accident is often life-changing. Severe injuries, expensive medical bills, lost wages and long-term care are just a few of the devastating consequences from car accidents.
If you or a loved one sustained injuries due to the negligence of another driver, contact our firm today.
Let our devoted personal injury team handle your claim, so you can focus on your recovery. We offer free, no-obligation consultations, and we don't get paid unless we win your case.
"This settlement changed me and my family's lives."
–Linda B., Riddle & Brantley client
Common Causes of Car Accidents in North Carolina
In 2019, over 285,000  traffic accidents in North Carolina injured over 125,000 people, with roughly 1,500 fatalities. Understanding the most common causes of car accidents in North Carolina can keep you safe behind the wheel and help reduce your likelihood of being hurt. The most prevalent factors contributing to North Carolina car accidents include:
Reckless Driving. Reckless driving is one of the most notable causes of car accidents in North Carolina, with the North Carolina Department of Transportation (NCDOT) reporting that 12,200 accidents were caused by reckless, erratic, or otherwise negligent behavior in 2019 alone. Reckless drivers who cause preventable accidents face the risk of both criminal prosecution and civil judgments.
Driving above the posted speed limit reduces the driver's ability to react to unforeseen circumstances on the roadway. According to data from NCDOT, a failure to reduce speed is the most common contributing factor to accidents in North Carolina. In 2019 alone, nearly 77,000 accidents were caused by this, with over 15,000 additional accidents occurring due to other speed-related infractions.
Driver inattention — also called distracted driving — is another leading cause of car accidents. The 2019 NCDOT dataset shows that over 50,000 accidents were caused by drivers failing to pay attention to the road. With the rise in smartphone and social media usage, more drivers are distracted than ever before; if you've been injured in an accident with a distracted driver, you may be eligible for financial compensation.
Failure to Yield. NCDOT also attributed nearly 45,000 accidents in 2019 to a failure to yield, making this factor one of the state's most prevalent causes of accidents. These accidents often occur at stop signs, traffic lights, or highway on-ramps.
Driving Under the Influence. In North Carolina, it is illegal to drive with a blood alcohol concentration of .08 or higher. However, alcohol and drug use contributed to over 10,000 accidents in North Carolina in 2019.
What to Do After a Car Accident
It is understandably challenging to be able to think clearly in the immediate aftermath of an auto accident, especially if you or a loved one has been injured. Yet, taking the recommended steps at this crucial time can go a long way towards helping you reach a positive outcome in your injury claim. Here's what you should do after a car accident:
Stay at the scene: It is illegal to leave the scene of an accident. Take care of your own safety first and assist others if possible. Call an ambulance if emergency help is needed. 
Report the accident to law enforcement. Always report the accident to law enforcement immediately. The police report can serve as valuable evidence, providing information from the accident scene to help establish fault. If you receive a ticket, it's especially important to seek counsel from an experienced attorney, as how you plea can affect liability and compensation in a court case. Obtain the name, badge number, and agency of the investigating officer. You should be able to obtain a copy of this report for a nominal fee from the Division of Motor Vehicles within four or five days.
Seek immediate medical attention. Basic aches and pains can become chronic injuries in the days or weeks that follow. Having a record of these injuries as soon as possible will increase the likelihood of an insurance provider covering the cost. If you were driving a vehicle for work at the time, you may need to contact your employer to file a worker's compensation claim. Keep detailed records on doctor's visits, treatments, hospital stays, and daily symptoms, which can be used as court evidence if necessary.
Gather evidence. Gather the name, address, phone number, license number, license plate number, and insurance policy number of the other driver. If there are any eyewitnesses who saw the accident happen, obtain their names, addresses, and contact numbers as well. Get photos of the exact locations of the vehicles after the crash. If you have to move your car and are able to do so, try to mark the exact position of each wheel on the pavement before doing so (many people keep chalk in their glove compartment for this eventuality). Jot down all the details you can remember, as memories become fuzzy with time.
Report the accident to your insurance company. Promptly notify your own insurance company of the accident.
Do NOT speak with the other party's insurance adjuster or sign any documents before consulting with a lawyer. If the other party's insurance company contacts you at the crash scene or anytime later, do NOT grant them an interview or provide a statement until you have consulted a lawyer. Even an innocent comment to an insurance adjuster can be used against you down the line. Also, do not sign any documents from the other party's insurer until your attorney has reviewed them. 
Make arrangements for your damaged property. If your vehicle is not drivable, it will be towed. Some insurance companies will reimburse accident victims for certain towing charges and the temporary use of a rental car. If your car can drive away from the scene, seek a repair cost estimate from a reputable body shop. Even after a repair, your vehicle may have a "diminished value," so if your vehicle is only a few years old, you may be able to claim depreciation and receive an extra 20-30% in compensation over the cost of repairs.
Call a personal injury attorney. It's never too early to call a personal injury lawyer at Riddle & Brantley to preserve your right to sue for damages and receive the maximum compensation allowed by law. We can investigate the crash while the evidence is fresh, identify all liable parties, connect you with the best local medical care for your injuries, collect copies of official reports, negotiate with the insurance companies on your behalf, and help you explore all of your legal options for damages.
Negligence in Car Accident Cases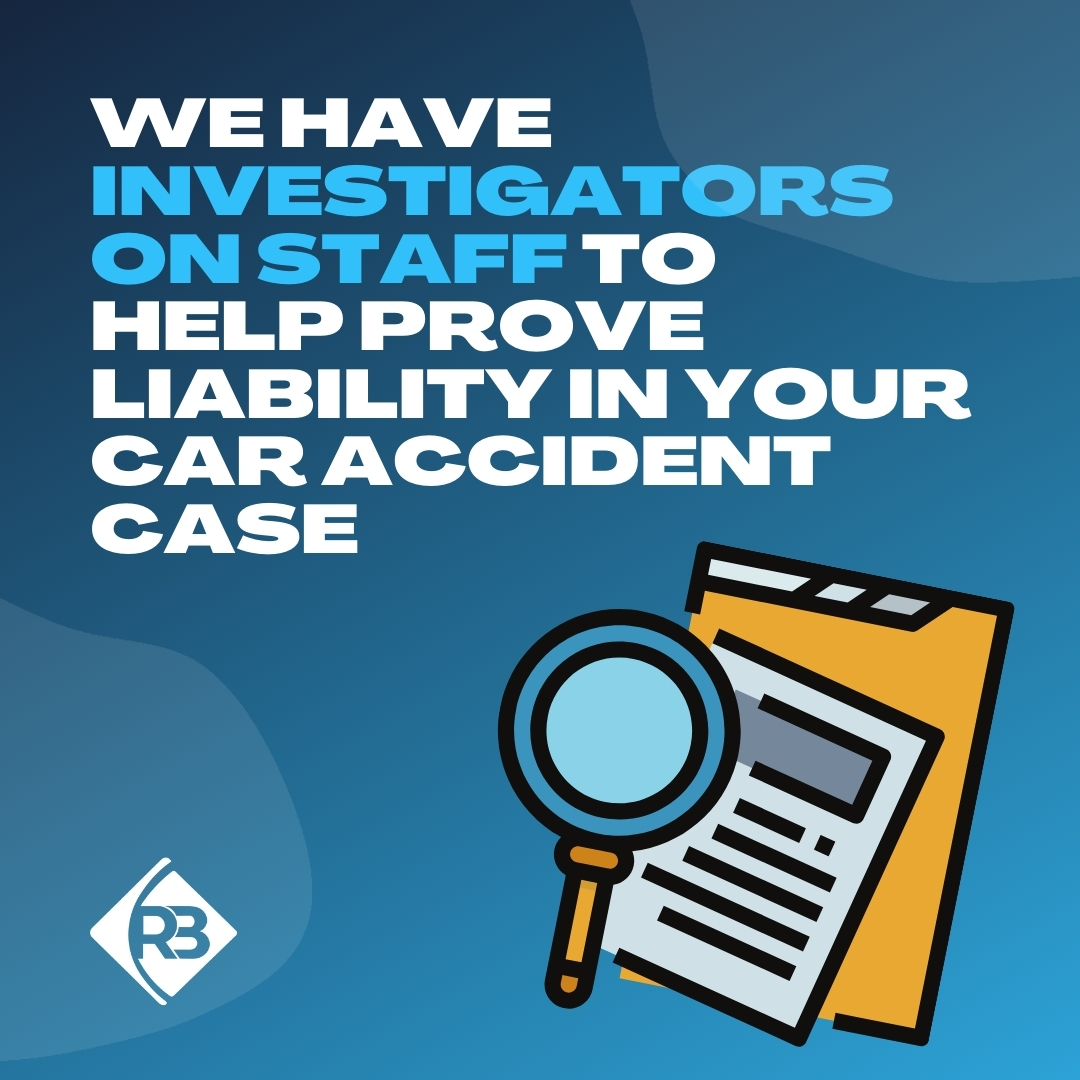 North Carolina is one of the few states that follow a strict rule of pure contributory negligence. This means that a person must be 100% at fault for the accident in order to be considered liable for the injured party's losses. If you are determined to be even 1% responsible for causing the accident, you may lose your right to pursue compensation.
Your attorney will be instrumental in investigating the circumstances of the crash and proving that the other party is fully to blame. In order to win your case, you will have to show that:
The defendant owed a duty of care to the injured.
The defendant breached this duty of care.
The breach of duty directly caused the plaintiff's injuries.
The plaintiff suffered measurable loss (wages, hospital bills, property, etc.)
In limited situations, you can be deemed somewhat responsible for an accident, but still receive compensation. For example, North Carolina recognizes the "Last Clear Chance Doctrine," which allows a partially at-fault driver to recover compensation if it can be proven that the defendant had a chance to avoid injuring the plaintiff in the final moments before the crash. Due to the complexities of the law, you'll want an experienced law firm on your side.
Explore your legal options with the Riddle & Brantley team. Even if you're not 100% sure what happened in the moments before your accident, we'll get to the bottom of it and let you know what to do next.
A Timeline of Your Car Accident Case
About 90 percent of car accident cases are resolved in settlement over the course of 6-9 months. Car accident claims that go to court take at least 12-18 months if there are no appeals. Having the right lawyer is imperative, as you should be cared for and supported, whether it takes months or years to seek justice and a fair resolution.
A North Carolina personal injury lawsuit timeline might look like this:
Schedule your free initial consultation.
Though North Carolina allows up to three years from the date of the accident for plaintiffs to file a formal complaint seeking financial redress, we encourage you not to wait and to reach out to Riddle & Brantley as soon as possible after your accident for a free consultation. We will discuss the details of your case and give you a realistic assessment of what type of results you can expect. Bring any medical records, police reports, photos, and information about the other driver you have collected. You are under no obligation to work with us, but if you choose to move forward, we will get started right away. Should you decide to hire Riddle & Brantley to represent your case, you'll pay nothing upfront or out-of-pocket. We only get our fee when you get paid, upon successful resolution of the case.

We investigate and collect evidence.
We'll investigate what happened and assemble evidence, including surveillance footage, eyewitness statements, photographs, police reports, interviews, medical records, and bills related to your injuries. We work with a variety of experts who can lend reputable testimony to your claim for maximum compensation.
We await your maximum medical improvement.
While we're working on your case, we'll also be waiting for your doctor's determination of "maximum medical improvement," which is the point at which your condition will no longer improve, and your injury will not heal further. It is only now that your doctor and other medical experts we enlist can accurately determine the full impact that your injuries will have on your life going forward, including future medical expenses, loss of income, pain and suffering, and loss of quality of life.
We file a formal complaint and await the defendant's response.
From the time we file a complaint naming all parties, the legal basis for the claim, and the demand for damages, the defendant will have up to 30 days to respond to the summons. There is sometimes back-and-forth before the case progresses.
Both sides conduct discovery.
Discovery is the process where we explore the strengths and weaknesses of your case in relation to the evidence the defense has gathered. Meanwhile, the defendant's counsel is reviewing the evidence we have collected. Discovery could last for many months, depending on the complexity of the case.
Mediation and negotiations begin.
The vast majority of auto accident cases result in settlement. Mediation may be required as a mandatory part of the process if the anticipated settlement value is high. Mediation can take as little a day if the evidence is compelling and uncontested. Alternatively, negotiations can persist for months as both sides volley for their clients' best interests.
If an early agreement cannot be reached, the skilled attorneys at Riddle & Brantley prepare your case for trial. A settlement can happen at any time, even as a trial is underway.
Typically, settlement agreements pay out within a month or two. The same is true if you receive a favorable verdict and jury award for damages at trial.
As can be seen from the above, there is no set timeline for resolution. A number of factors can influence how quickly your claim gets resolved. We will not let the insurance company rush you into a low-ball settlement, nor will we allow the defendant to drag the case on without just cause. Our compassionate team understands the financial pressures you may be under as you recover from your injuries and await the outcome of your case. We can help negotiate with creditors to take the heat off while your case is in progress, and we'll keep you informed each step of the way.
How We Handle Your Claim
GATHERING EVIDENCE
As soon as you sign with our firm, we begin investigating your accident, which includes gathering important evidence from the accident scene. This evidence often involves accident reports, security or traffic footage, eyewitness testimony and electronic data recordings. Riddle & Brantley is proud to have retired law enforcement officers on staff to assist with the investigation.
If needed, our firm also hires accident reconstruction experts to further strengthen your claim. We are relentless in our pursuit of justice for our car accident injury clients.
In addition to gathering evidence from the accident, we also research all potentially liable parties. We want to ensure that our clients receive justice and adequate compensation for their damages. Our attorneys work tirelessly to identify all coverage options and hold all negligent parties responsible.
DEALING WITH THE INSURANCE COMPANIES
Another important part of our job is gathering all the necessary documents and submitting them to the insurance companies. Our legal team communicates with all of your medical providers. We obtain all medical records and bills related to your accident. During this phase, we also collect any additional monetary losses. Once all bills and records are in, our legal team prepares a demand package to send out to the adjuster.
Your claim then moves into negotiations. Riddle & Brantley strives to settle your case for its maximum value and in a timely manner. Additionally, if the insurance company undervalues your claim, our attorneys have the experience to try your case in court.
Types of Car Accident Cases We Handle
Here at Riddle & Brantley, we know that each car accident claim is based on a unique set of factual circumstances. No matter how your car accident unfolded, our experienced personal injury attorneys are ready to help you recover the compensation you deserve. Some of the more common types of car accidents our attorneys handle include:
Blind spot accidents – Blind spots occur when a driver changes lanes but does not see the other vehicle in the rearview or side-view mirrors. Drivers must always look over their shoulders to double-check that a vehicle is not traveling in the blind spot after signaling and prior to changing lanes.
Distracted driving accidents – Distracted driving most commonly refers to drivers who are texting, talking, or browsing on a smartphone. Other distractions that can cause an accident include GPS devices, radios, eating, or other instances of multi-tasking. Driving requires one's full attention.
Drunk driving accidents – It is illegal to drive a vehicle with an alcohol concentration level of 0.08 or higher. The limit for commercial vehicles is 0.04 percent. Drunk driving caused over 54,541 crashes and 154 fatalities in North Carolina in 2019.
Fatigued driver accidents – Drowsy driving produces reaction times similar to drunk driving. Motorists should get a restful night's sleep and avoid taking sedating medications before driving. Commercial drivers are bound to federal limitations on how many consecutive hours they may drive and must take prescribed breaks.
Head-on collisions – Vehicles facing each other and hitting head-on result in some of the most serious and fatal accidents. These collisions are almost always caused by drunk or distracted drivers who veer over the double yellow line or enter the highway traveling in the wrong direction.
Hit and run accidents – It is illegal to leave the scene of an accident without rendering "reasonable assistance" to the injured and providing information such as name, phone number, and insurance ID. While hit-and-run accidents may be charged in criminal court, victims and their families are also entitled to financial recompense in civil court.
Intersection accidents – Over 128,000 crashes involving more than 400 deaths (about 40% of accidents) occur annually at intersections due to failure to yield right-of-way, rushing through a red light, and turning in front of another vehicle.
Rear-end collisions – In most cases, the striking vehicle is at fault for the accident. There are exceptions, however; in multiple vehicle collisions, it may not be possible to avoid rear-ending another auto after being struck.
Reckless driving accidents – In North Carolina, reckless driving involves "carelessly and heedlessly engaging in willful or wanton disregard of the rights or safety of others." This may include excessive speeding, running through a traffic control device, illegal passing, aggressive swerving, or tailgating.
Rollover accidents – Collisions where a vehicle rolls over onto its roof are some of the most dangerous and deadly. They are especially common with SUVs. In some cases, manufacturing or design defects may be to blame.
T-bone accidents (also known as side-impact collisions) – The side of a vehicle is often hit when two vehicles are traveling opposite ways across a T-shaped intersection. Usually, one driver has failed to heed a red light or stop sign. Side impacts are especially dangerous since there is little protection on the side of a car for occupants.
Accidents caused by speeding – It is estimated that a quarter of the lives lost in auto accidents in the State of North Carolina could have been prevented had the vehicles been traveling at slower speeds. Tens of thousands of accidents and hundreds of lives are lost each year when drivers fail to obey posted speed limits.
Accidents caused by tailgating – Drivers are required to allow "sufficient following distance" so there is time to stop if necessary. Failure to do so can result in a ticket for tailgating and liability for any injuries sustained during the crash – most notably whiplash.
Texting and driving accidents – Texting while driving is against the law in North Carolina. Individuals engaging in such reckless activity can be held liable for any property damage and injuries. These accidents are often fatal, as the texting driver is completely unaware of the impending crash and does not take any measures to prevent it.
Uber & Lyft accidents – Ride share companies have large insurance policies worth millions of dollars, though they often try to place the blame for accidents on their independent contractor drivers who carry far less insurance. It's always best to consult with an attorney to navigate these complexities.
Common Car Accident Injuries in North Carolina
In more than 35 years fighting for victims of car accidents, our North Carolina car accident lawyers have handled thousands of cases involving all types of injuries, including:
Broken bones
Cuts, scrapes, and contusions
Soft tissue injuries
Head injuries (including concussions)
Brain injuries (including traumatic brain injuries or TBI)
Neck injuries
Back injuries
Spinal cord injuries
Shoulder injuries
Internal bleeding
Organ damage
Chest injuries
Loss of limbs (amputations)
Burns
Paralysis and semi-paralysis
Emotional injury like PTSD
Wrongful death
In addition to handling car accident cases, we also handle all types of motor vehicle and other accidents, including:
Car accidents
Tractor-trailer accidents
Moped accidents
Scooter accidents
Construction zone accidents
Boat accidents
In accidents resulting in long-term disability, we also have Social Security disability attorneys on staff to assist with your claim or appeal. In the most heartbreaking situations, our wrongful death lawyers can help surviving family members fight for justice for their lost loved ones.
"You'll walk in the front door as a client, but leave as family. They're the absolute best."
–Susan S., Riddle & Brantley client
Types of Damages Available After a Car Accident
If another party's negligence caused your car accident injuries in North Carolina, you may be eligible to seek the following forms of monetary compensation:
Compensatory / Special Damages: Medical expenses, lost income, out-of-pocket expenses, and loss of earning capacity are all types of "special" or "compensatory" damages. Out-of-pocket expenses may include prescriptions, travel costs, and home modifications — like a special tub or wheelchair ramp — to accommodate a disability. Expect to receive a higher sum if you are continuing medical treatment well into the future or if you are suffering from a disability that prevents you from working.
Non-Economic / General Damages: Pain, suffering, emotional distress, loss of consortium, and loss of enjoyment in life are all examples of "general" or "non-economic" damages. These subjective losses can be more difficult to quantify in terms of a dollar amount. Some courts tally up a set amount for each day spent in recovery, while other courts may take the total amount of special damages and multiply it by a factor of 1-5, depending on the severity of the injuries. We recommend that you keep a record of how an accident impacts your day-to-day activities to help bolster this part of your claim.
Punitive Damages: While rare, punitive damages can be pursued in auto accident cases where the at-fault party displayed an especially egregious recklessness or negligence. Punitive damages are meant to punish the wrongdoer and deter future wrongdoing.
We Help Accident Victims Across North Carolina.
We serve clients throughout the state, including in:
Free consultations are available by phone, email, text and video conference, and we can even come to you if you prefer. However, no in-person meeting is required in order to get started with your car accident injury claim.
Why Riddle and Brantley?
With over 220+ years of combined legal experience our attorneys and staff understand the complexities of dealing with insurance companies. We take pride in helping our clients recover after life-altering events.
Our North Carolina car accident attorneys try to build good rapport with the insurance companies to streamline the negotiations process. However, we recognize the common "tricks" that insurance adjusters often use to undervalue cases. Furthermore, when our client receives an inadequate settlement offer, our attorneys will fight the insurance company — even if it means going to trial.
We strive to make the entire claims process as easy and straightforward for you as possible, so that you can focus on your recovery. We'll handle your car accident injury case from start to finish, including:
Accident investigation
Recovery and preservation of evidence
Interviewing potential witnesses
Conducting depositions
Preparing you for statements to the insurance company
Obtaining the official accident report from law enforcement
Hiring outside experts like accident reconstructionists
Negotiating with the insurance company and defense counsel
Calculating damages, obtaining life care plans if necessary
Referring you to trusted medical providers
Filing a lawsuit if necessary
Representing you in court hearings
Drafting and submitting legal briefs and court documents
Representing you in jury selection
Arguing your case at trial
Setting up trusts and guardianships to ensure lifetime care
Negotiating to lower your medical liens
There is never any obligation and you won't pay a dime in attorney fees unless we win your case and you receive compensation.
Justice Counts for those injured in North Carolina car accidents and we would love to help you if we can.
We want to ensure that you and your loved ones get the justice you deserve.
At Riddle & Brantley, we put the client first. Founding partner Gene Riddle believes that "The client's goals are most important. That has to be measured by what's reasonable and what's fair. Our guiding star is fairness. We're about fairness. Justice counts."
This is a philosophy we instill in all our attorneys and employees.
In more than three decades serving North Carolina injury victims, our car accident lawyers have been recognized by such prestigious organizations and awards (see disclaimer below) as:
Multi-Million Dollar Advocates Forum
Million Dollar Advocates Forum
The National Trial Lawyers Top 100
The National Association of Distinguished Counsel
Super Lawyers
The National Trial Lawyers Top 40 Under 40
Martindale Hubbell (AV Preeminent Rating)
AVVO 10.0 Rating
Managing partner and attorney Gene Riddle has also been recognized with the 2014 Litigator Award and three of our attorneys have been honored with the top-tier AV Preeminent rating from Martindale-Hubbell, the organization's top rating for lawyers.
Recent Car Accident Results
Since 1985, our car accident lawyers have recovered millions of dollars in compensation for North Carolina car accident victims and their families (see disclaimer below).
Recent results include:
$2,750,000 | Car Accident — When our client was hit head on, he sustained serious injuries including various fractures in his neck, arms and leg. Senior Litigation attorney, Donald Dunn, took this case to arbitration and received a $2.75 million verdict for his client. The insurance company also received 1-million-dollar declaratory judgement them.
$2,250,000 | Auto Accident & Wrongful Death — After our client was killed in a head on collision, the family hired attorney Gene Riddle. Our firm prepared to take this case to trail and advised the insurance company of our intentions. As a result, Riddle & Brantley secured a 2.25-million-dollar settlement for the family. This case has special significance to Gene Riddle because he knew the family personally.  While we are never completely satisfied with the results in wrongful death cases, we strive to achieve justice for our client's families.
$1,000,000 | Auto Accident — In this case, attorneys Adam Smith and Gene Riddle represented a client with serious injuries. After signing the case, it became apparent that our client needed long term treatment. Therefore, we demanded that the defense settle this case for insurance limits, or we would file suit. We recognized that our client's care required immediate funding and we did not want her to have to wait until her treatment had concluded. The insurance company agreed to tender the 1-million-dollar limits. Additionally, our attorneys negotiated medical bill reductions with some of the client's providers.
Visit
our results page
to see more North Carolina auto accident settlements and verdicts.
*** Disclaimer: The results mentioned are intended to illustrate the type of cases handled by the firm. These results do not guarantee a similar outcome, and they should not be construed to constitute a promise or guarantee of a particular result in any particular case. Every case is different, and the outcome of any case depends upon a variety of factors unique to that case. 
CLIENT REVIEWS
Of course, case settlements and jury verdicts are just one measurement of our car accident attorneys' success. We're also humbled and honored by the words our clients use to describe their experience working with our attorneys and staff:
"They handled my case very professionally, with respect from beginning to end." -Joseph P.
"I would recommend them to anyone. They fought hard for me." –Christine W.
"Every time I've needed them, they were there for me." –Tyronnie T.
"They turned a heartbreaking situation completely around." -Tonya Taylor
"It was nice to see Riddle & Brantley put me and my needs first." – Colley
"Riddle & Brantley found me all the available money from the insurance companies."
–David Howard, Riddle & Brantley client 
 North Carolina Car Accident Lawyers Fighting for You
An auto accident can happen in the blink of an eye. Contact our North Carolina car accident attorneys today for a free consultation.
Our experienced car accident attorneys have handled thousands of car accident cases across the entire state. We know how to hold insurance companies and negligent drivers accountable and if you decide to hire us, we will fight aggressively to get you the maximum compensation possible.
Let an experienced North Carolina car accident lawyer review your claim. We will help determine liability and advise you on your best legal options for seeking compensation.
Justice Counts for those injured due to others' negligence and our car accident lawyers are ready to help.
---
*** Disclaimer: The results mentioned are intended to illustrate the type of cases handled by the firm. These results do not guarantee a similar outcome, and they should not be construed to constitute a promise or guarantee of a particular result in any particular case. Every case is different, and the outcome of any case depends upon a variety of factors unique to that case.
*** Disclaimer: An attorney must meet certain requirements to join these organizations or receive these awards. For more information on Membership Criteria for Million Dollar Advocates Forum, Multi-Million Dollar Advocates Forum, Super Lawyers, The National Trial Lawyers Top 100, The National Association of Distinguished Counsel, AV Preeminent by Martindale-Hubbell, the Litigator Award, AVVO 10.0 Rating, and other memberships, awards, and accolades, please visit our Membership Criteria page. These awards and memberships should not be construed as a promise or guarantee of a similar result. Each case is different and must be evaluated separately.