North Carolina Head-On Collision Lawyers
A head-on collision is a type of car crash that results in the front of either one or multiple vehicles colliding with the front of another vehicle or object. They often result in significant property damage and life-threatening, catastrophic injuries. Head-on collisions most commonly happen on two-way roads or highways when one vehicle crosses the center line into oncoming traffic. Drunk driving, distracted driving, and fatigued driving are common causes.
Have you or someone that you love been involved in a head-on accident caused by another motorist? Our North Carolina car accident lawyers at Riddle & Brantley can assist you in exploring your legal options. We offer free, no-obligation reviews of car accident claims.
How Exactly Do Head-On Collisions Occur?
A head-on collision accident is often the result of driver error or negligence. For example, it can result from drunk driving. It can also occur when a driver makes an unintentional maneuver. For example, the driver may have fallen asleep at the wheel and unintentionally allowed the vehicle to cross into the opposing lane. Perhaps a negligent driver became distracted by using a cellphone or GPS device.
In addition, a driver may cause a head-on collision if they travel at an unsafe speed while attempting to negotiate a curve in the road. Sometimes, overcorrection of the steering wheel causes drivers to lose control of the vehicle.
Other possible causes include the following:
Low visibility/adverse weather
Aggressive driving/road rage
Vehicle malfunctions/equipment failures
Confusion (altered mental state possibly due to a medical condition)
At Riddle & Brantley, we thoroughly investigate each case of reckless driving to determine which factors may have been involved in the crash. We leave no stone unturned because we believe our clients deserve justice.
Regardless of the exact reason for the collision, head-on accidents are among the most serious. Because both vehicles are traveling toward each other, the transfer of force is quite violent, even at a relatively low speed.
At Riddle & Brantley, we even have a team of retired law enforcement officers on staff to assist with investigations into head-on collisions and other accidents. These investigators know how to handle complex cases and can help prove liability and strengthen your case. Don't wait — let's get the investigation started.
Types of Injuries Resulting from Head-On Collisions
The force of any car crash has the potential to cause painful, long-lasting personal injuries. However, head-on collisions, by nature, are one of the deadliest types of car accidents. For example, if two vehicles, each traveling at 40 miles per hour towards each other, collide head-on, the impact will be the equivalent of one of these automobiles striking a solid object at 80 miles per hour. Therefore, some common injuries include:
Broken bones, especially arm and wrist injuries
Broken glass injuries
Dental injuries
Disfigurement
Eye injuries
Facial injuries
Internal organ injuries
Lacerations, especially from broken glass
Loss of limb
Nerve damage
The National Highway Traffic Safety Administration has stated that approximately one out of every 50 motor vehicle accidents throughout the United States is a head-on collision. More than one in 10 traffic fatalities is the result of a head-on car crash.
Airbag Failure Can Increase the Dangers of Head-On Collisions
Airbags can fail when they are needed most. Recently, we have seen multiple actions across the country for the failure of airbags to properly deploy in collisions.
If you have experienced a faulty airbag deployment, then our attorneys can review your case and determine if you can make a claim against the airbag manufacturer. It is very important that you do not sign a general release for your injuries suffered in the auto wreck without consulting with our attorney.
Signing a general release with the insurance company may eliminate your rights to pursue your case for faulty airbags. Our attorneys can help you make the appropriate decision in your specific case.
How Much Are Head-On Collision Cases Worth?
We recognize that a serious car accident can leave victims with expensive medical bills and a permanent partial or total inability to work. As a result, at Riddle & Brantley, our head-on collision lawyer will always strive to secure the most amount of compensation possible for our clients.
It's difficult to say precisely how much these cases are worth — every case is different and there are never any guarantees. However, our lawyers can often provide a ballpark estimate after evaluating the case. In general, the victims of a head-on collision may collect damages for the following types of losses:
Economic Damages: Economic damages are losses that are easily and objectively measured. For example, these include your medical expenses, such as the cost of surgeries, hospitalizations, pharmaceuticals, and physical therapy. Medical equipment and in-home health aides fall into this category as well. Other economic damages include your lost wages, as well as your anticipated loss of future earning capacity. You may also recover compensation for property damage, such as the repair costs for your vehicle.
Non-Economic Damages: Unlike economic damages, these are not easily quantifiable. They are subjective, which is why assessing the value of a head-on collision case can be difficult. Non-economic damages include your pain and suffering, mental anguish, and loss of consortium.
In general, the more severe and long-lasting the injuries are, the higher the compensation will be. For example, an individual who suffers spinal cord injuries resulting in permanent paralysis may likely secure a very substantial jury award or settlement. Similarly, a severe traumatic brain injury (TBI) with long-term consequences can result in significant compensation.
Our Car Accident Case Results
Our car accident lawyers have a successful track record of securing substantial jury awards and settlements (see disclaimer below). One of our recent car accident lawsuits involved multiple claims against multiple defendants. Tragically, a family of four was killed during roadwork on a NC highway.
Their vehicle was struck by two different big rigs, killing the family. This complicated case required the full investigative resources of our firm. For example, we subpoenaed data from Google regarding the flow of traffic. Ultimately, multiple claims were settled for a total of $9.45 million (see disclaimer below).
Although nothing can compensate the surviving family members for the loss of their loved ones, we hope that they feel a measure of closure with justice achieved in court.
Consult Our North Carolina Head-On Accident Lawyers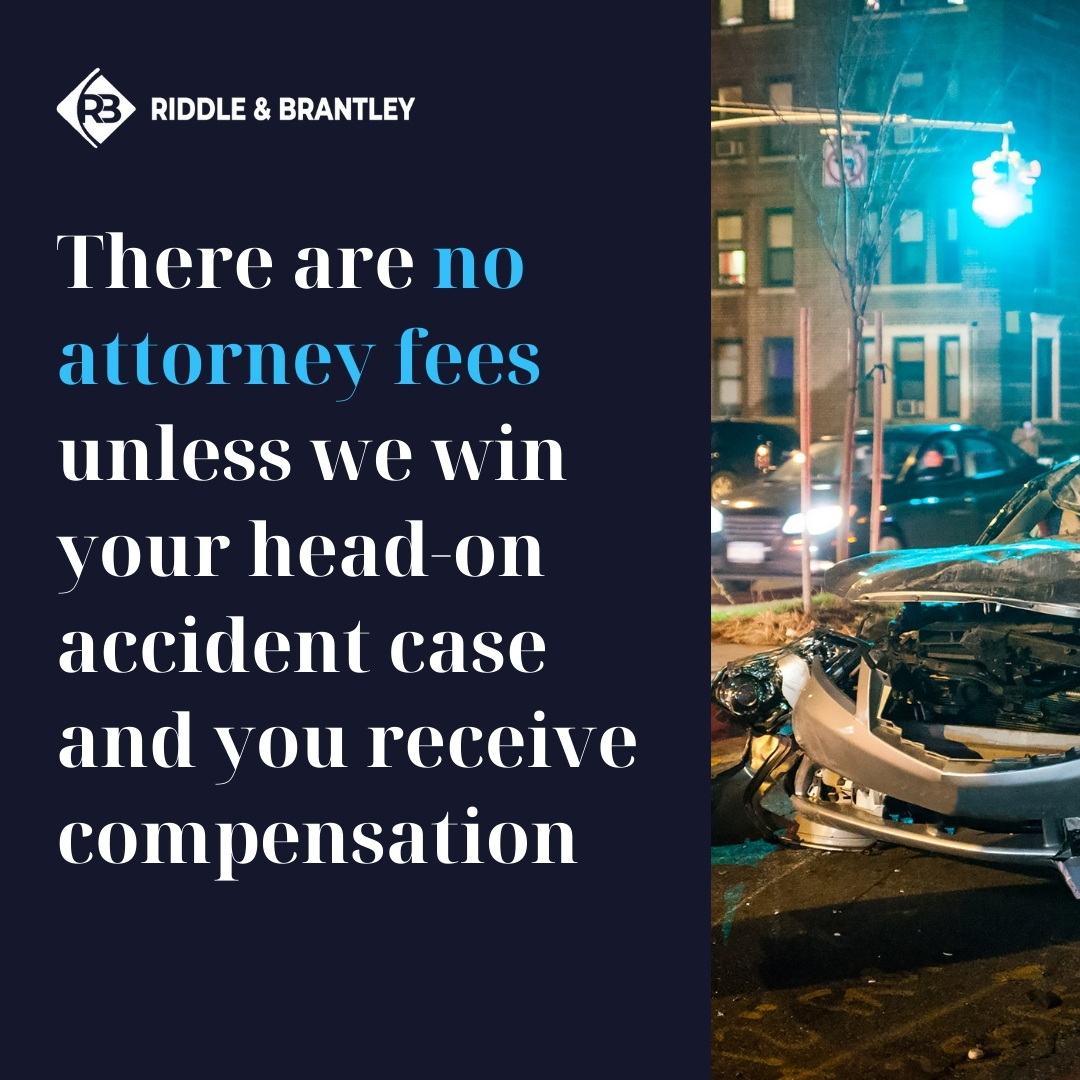 North Carolina residents or visitors who have been injured in a head-on collision accident are invited to schedule a FREE, no-obligation consultation. We also handle wrongful death claims for surviving family members of individuals killed in a fatal head-on collision.
Our experienced North Carolina car accident lawyers are committed to pursuing justice on your behalf. We have a proven track record of securing multi-million-dollar verdicts and settlements for our clients (see disclaimer below). You shouldn't have to pay for someone else's negligence—contact us at Riddle & Brantley today.
"The staff was very helpful to me and my specific needs."
–Lindze F., Riddle & Brantley client
At Riddle & Brantley, we believe Justice Counts for car accident victims.
---
Disclaimer: The results mentioned are intended to illustrate the type of cases handled by the firm. These results do not guarantee a similar outcome, and they should not be construed to constitute a promise or guarantee of a particular result in any particular case. Every case is different, and the outcome of any case depends upon a variety of factors unique to that case.