North Carolina Whiplash Lawyers
Whiplash Lawyer
Have you suffered whiplash in a car, truck, or other motor vehicle accident? Our whiplash lawyers may be able to help. For more than 35 years, we've been fighting for auto accident victims in North Carolina, recovering more than $600 million in compensation for our clients since 2000 alone (see disclaimer below).
Contact Riddle & Brantley today for a FREE consultation with a car accident lawyer handling whiplash claims.
You can also complete the fast and easy form below if you prefer.
Let one of our North Carolina whiplash attorneys consult with you for free. There is no obligation, and we don't get paid unless you do. If we don't recover compensation for you, you won't pay any attorney fees. That's our promise to you.
What is Whiplash?
One of the most common injuries sustained after a car accident is whiplash. Considered a soft tissue injury, whiplash occurs when the necks muscles and tendons are overextending. The impact from a car accident often forces a person's neck to jar back and forth rapidly. The Mayo Clinic reports with treatment most people's whiplash will resolve within a few weeks of the injury. However, some people will have continuous pain or long-term issues from whiplash.
Many doctors describe whiplash as a soft tissue injury or a neck sprain. While whiplash is an extremely common form of injury from car accidents, the injury can stem from other accidents too.
Even though, whiplash is an extremely common car accident injury, it can be difficult to establish through medical testing. Unlike fractures or broken bones, whiplash cannot be detected on an x-ray. As a result, insurance companies will often try and limit the amount of compensation for whiplash injuries. Hiring a qualified car accident attorney can help you obtain a fair settlement for your whiplash and other soft tissue injuries.
If you or someone that you love suffered a whiplash injury in an accident caused by a negligent motorist, our firm may be able to help. For over 35 years, our personal injury lawyers have been representing injured North Carolinians. We would love to help your or your family members seek justice.
Injury Lawyers Handling Whiplash Claims
At Riddle & Brantley, our whiplash injury attorneys understand how emotionally and financially stressful the aftermath of an auto accident can be. We have helped thousands of injury victims receive compensation benefits for their losses and damages, including soft tissue injuries like whiplash.
At our law firm, we believe that Justice Counts, and have obtained many fair settlements and verdicts for our clients (see disclaimer below).
Contact us for a FREE, no-obligation consultation with an experienced whiplash attorney.
The consultation is free and you won't pay any attorney fees unless we win your case and you receive compensation.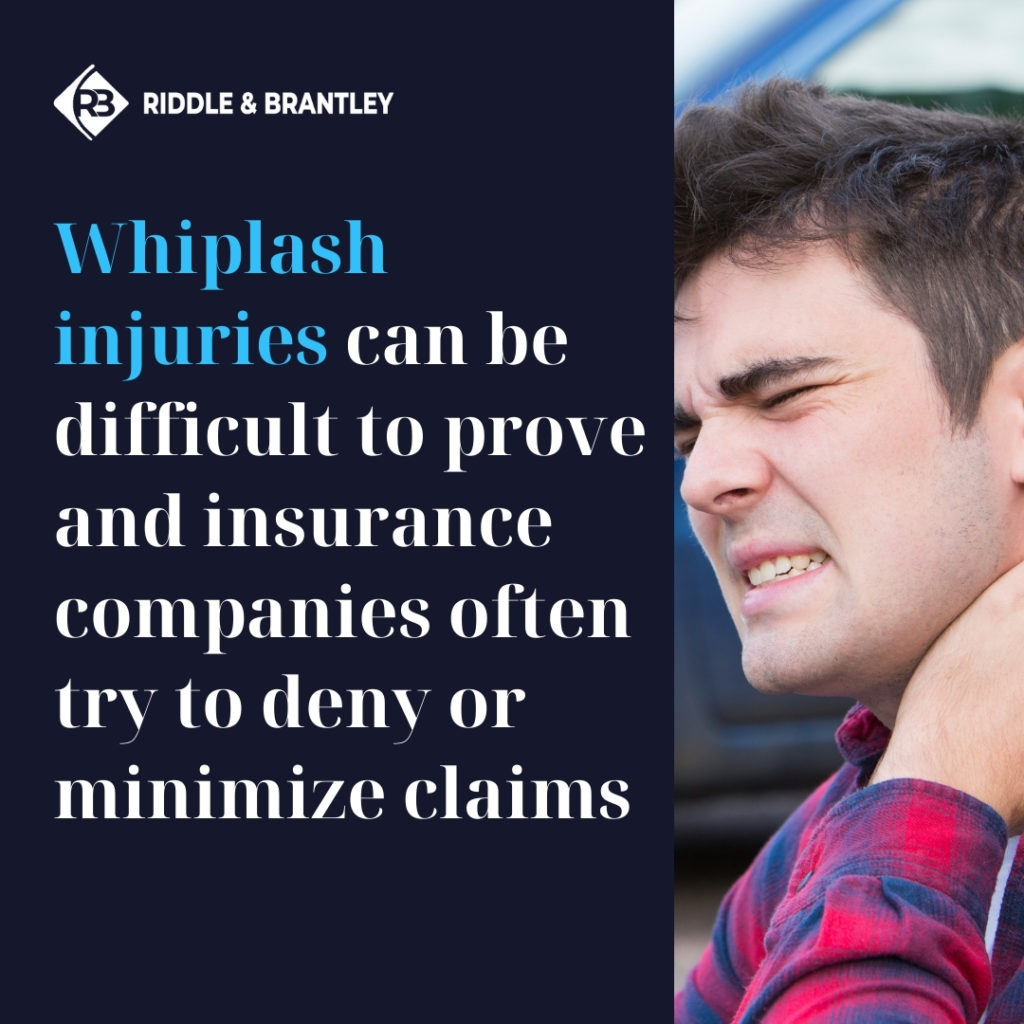 Throughout our years of experience our dedicated legal team has handled various types of injury claims ranging from catastrophic injuries like spinal cord injuries, to soft tissue injuries. Some injured victims receive minimal treatment and others undergo various surgeries to alleviate neck symptoms and pain. As a result, some of our clients fully recover within weeks whereas other clients never fully recover to their pre-accident health.
The well-being  of our clients is most important to us. We treat each case based on the specific injuries involved and encourage our clients to focus on recovery first. After recovery, we focus our efforts on fair compensation for our clients whether we settle through negotiation or whether we must seek the wisdom of the court and the fairness of the jury.
"I never felt like just another client, but like family."
–D. Montague, Riddle & Brantley client
What Causes Whiplash After a Car Accident?
The sudden impact of a car accident, especially a rear end collision, often results in whiplash injuries. When a collision occurs, the force of such unexpected movement can jolt your head forwards and backwards uncontrollably.
Seat belts, head rests, airbags and other safety devices can protect you from more serious car accident injuries. However, these measures cannot always prevent whiplash, and in some cases may even contribute to it.
Whiplash can result from any type of car crash, including:
Stationary or parked object collisions
Sideswipe accidents
After being involved in any of these types of accidents, there are several signs and symptoms of whiplash individuals should be on the lookout for.
Signs and Symptoms of Whiplash Injury
Typically, 24 hours after a car accident, whiplash symptoms begin to appear. However, under rare circumstances, whiplash may also take several days to transpire. For some people, whiplash symptoms come and go whereas for others, their neck pain continues. Without proper treatment and rest, it is possible for some symptoms to last for weeks or even months. If whiplash occurs along with other injuries, such as a concussion, then full recovery can take even longer.
Common signs and symptoms of whiplash include:
Back pain
Neck pain
Blurred vision
Concentration problems
Depression
Fatigue
Headaches
Insomnia
Light sensitivity
Memory loss
Upper body tenderness
Dizziness
Numbness in the hands and arms
Shoulder pains
Stiff neck
Regardless of whether you experience any symptoms above, we recommend seeking medical attention immediately. For some car accident victims, the adrenaline rush from car accidents can mask any signs of soft tissue injury. In fact, many of our clients start to experience muscle soreness a few hours or the next day following an accident.
Prompt medical diagnosis and treatment is vital for your health and your future personal injury claim. A doctor's opinion is often the best evidence for whiplash injuries, because whiplash does not appear on x-rays or other scans.
Contact us for a FREE consultation with an experienced whiplash attorney handling claims.
There is no obligation and you won't pay any attorney fees unless we win your case and you receive compensation.
Contact a Whiplash Injury Lawyer Today
Whiplash can be a serious injury that may cause pain for months or years after a car crash. Unfortunately, insurance companies rarely acknowledge the true cost of soft tissue injuries like whiplash, and often deny or devalue your claim.
Having an experienced personal injury firm on your side can help ensure that you get the full amount of compensation you deserve.
At the law offices of Riddle & Brantley, our whiplash injury attorneys operate on a contingency fee basis. This means that you only pay legal fees if we obtain a successful recovery for you. By doing so, we make our services available to all car accident victims during their time of need, regardless of their current financial situation.
We also proudly offer free, no-obligation evaluations, to help determine the merits of your personal injury claim.
Free consultations are available at our North Carolina offices, or from anywhere by phone, email, text, or video conference.
If you've been injured in a car accident, you deserve justice, and we would love to help you however we can.
Justice Counts.
---
*** Disclaimer: The results mentioned are intended to illustrate the type of cases handled by the firm. These results do not guarantee a similar outcome, and they should not be construed to constitute a promise or guarantee of a particular result in any particular case. Every case is different, and the outcome of any case depends upon a variety of factors unique to that case.