Traumatic Brain Injury Lawyers in North Carolina
TBI Attorneys in North Carolina
What is a traumatic brain injury (TBI)? And what can victims who have suffered them due to others' negligence do to seek justice?
Our North Carolina traumatic brain injury lawyers will tackle these subjects in this article. If you or a loved one has suffered a traumatic brain injury due to another's negligence, please call 1-800-525-7111 for a FREE, no-obligation consultation with an experienced North Carolina personal injury lawyer.
In cases involving TBIs suffered while on the job, our experienced workers' compensation lawyers can help with these claims and appeals, as well.
What is a Traumatic Brain Injury (TBI)?
A sudden violent bump, blow, or penetrating injury to the head can result in a traumatic brain injury (TBI). These injuries can bruise, tear, or damage delicate brain tissue. A TBI is a serious form of brain trauma that can cause dangerous secondary injuries like brain swelling, brain bleeds, or loss of consciousness.
Lifelong Consequences of TBIs
A traumatic brain injury can leave a victim with permanent impairment, including memory loss, seizures, loss of body control, and severe cognitive damage.
TBIs and other forms of serious head trauma require life-saving medical treatment. These injuries may even require surgery to release any pressure build-up in the brain.  TBIs often have long-term consequences, such as:
Cognitive impairment
Coma
Paralysis or semi-paralysis
Stroke
Death
Some traumatic brain injuries even cause irreparable cognitive damage so great that the victim is left in a permanent vegetative state.
Experienced TBI Lawyers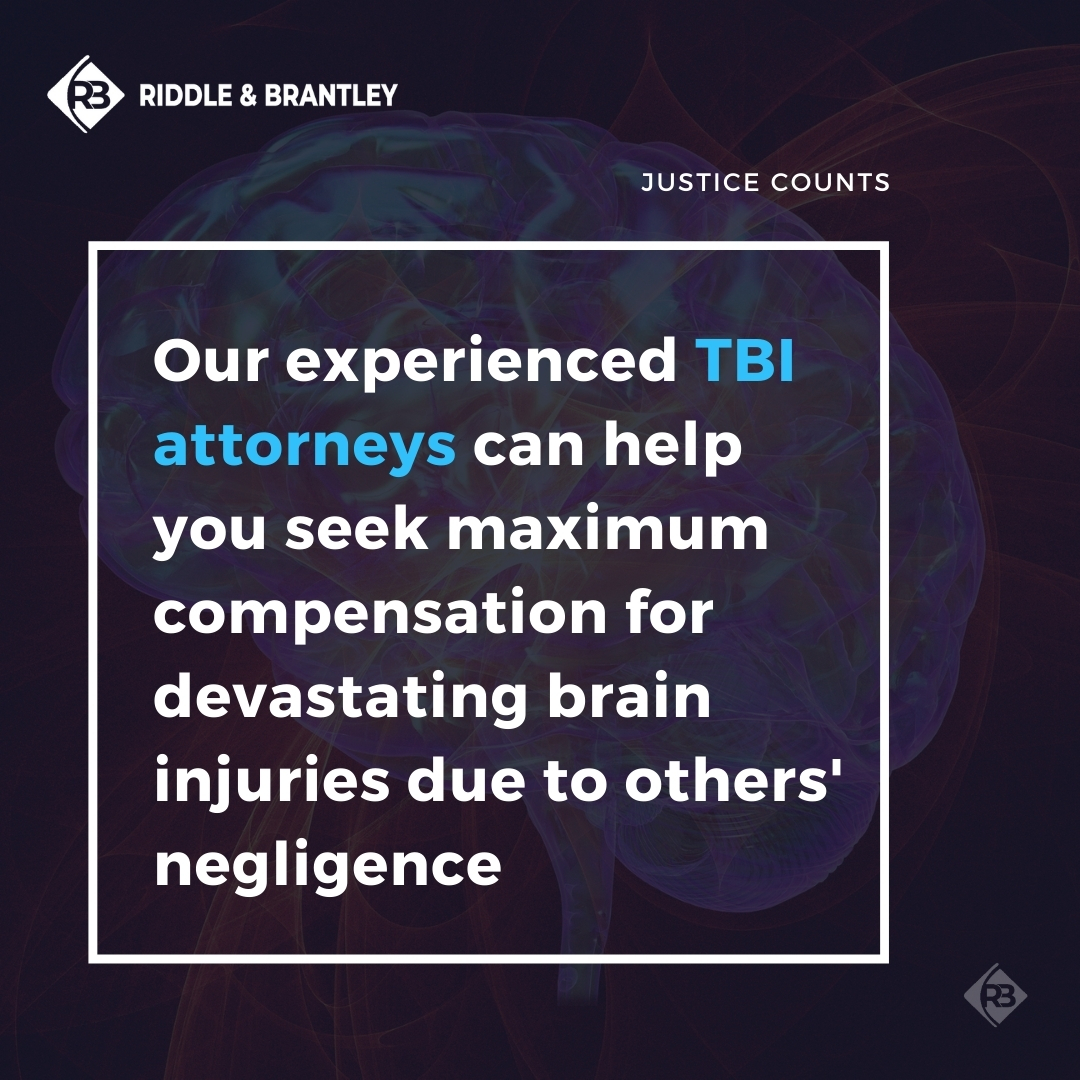 If you or someone you love has suffered a TBI as a result of a car accident, truck accident, slip and fall, pedestrian accident, motorcycle accident, workplace accident, or other tragic accident caused by someone else's negligence, you should contact a traumatic brain injury lawyer as soon as possible.
These injuries often result in months or years of expensive medical care, lost income, and pain and suffering. We would love to help however we can.
At Riddle & Brantley, we believe that Justice Counts for victims with traumatic brain injuries. Our North Carolina car accident lawyers and TBI attorneys are prepared to discuss the cause and extent of your injury and the financial losses you have suffered as a result. We want to help you pursue the compensation you and your family need and deserve.
For a FREE consultation with an experienced North Carolina TBI lawyer, please call 1-800-525-7111 or fill out the short form below.
The consultation is free, and if you decide to hire us, there are no upfront costs and no attorney fees unless we win your case and you receive financial compensation.
Call 1-800-525-7111 and let's review your case.
Causes of Traumatic Brain Injury
A traumatic brain injury can occur in any accident in which the head receives a violent blow, bump, or penetrating injury.
The following types of accidents frequently result in traumatic brain injuries:
Car Accidents – Car accidents often involve serious impacts, which put vehicle occupants at risk of suffering head injuries if their head strikes the vehicle's interior with sufficient force. These jolts can cause blunt force injuries that damage delicate brain tissue and lead to mild or severe brain trauma. In fact, car accidents account for nearly 14 percent of all TBI cases in the United States and are the leading cause of TBI-related deaths amount children and young adults.
Pedestrian Accidents – Pedestrians are the most vulnerable group of individuals on the road and can be gravely injured when a struck by a vehicle, even at low speeds. When a pedestrian is struck by a vehicle, his or her body and head often make contact with the hood or windshield of the vehicle before being thrown to the ground. If a pedestrian victim strikes his head on the ground or another object around him during the accident impact, it may result in a TBI.
Motorcycle Accident – Motorcyclists face a particularly high risk of suffering a traumatic brain injury during collisions when they are thrown onto the roadway. The NHTSA recommends that all motorcyclists wear helmets for protection. However, even wearing a helmet may not prevent a TBI in the event of a serious accident. Recent data show that 21% of all hospital-treated un-helmeted motorcyclists suffer a TBI, compared to 15% of hospital-treated helmeted motorcyclists.  Motorcyclists who suffer a TBI during a collision are more likely to die in the hospital as well — the NHTSA has found that hospital-admitted motorcyclists with head injuries account for 54% of all hospital-admitted motorcyclist deaths.
Falls – Severe slips and falls can also result in a sudden, jolting impact to the head and damage to the brain at various levels of severity. A bad fall can create a force severe enough to move the brain around in the skull, resulting in a TBI. In fact, according to the Centers for Disease Control and Prevention (CDC), falls are the leading cause of TBIs in the U.S., accounting for nearly 48 percent of all TBI-related emergency room visits.
Truck Accidents – Speed, weight, and the enormous size of tractor-trailers and large trucks can have deadly consequences. The impact of a truck accident can be catastrophic and often results in serious injuries, including traumatic brain injuries.
Sports Accidents – Sports, including football, hockey, and soccer, put players at risk of a TBI. TBIs sustained in contact sports make up about 45 percent of pediatric emergency room visits for sports- or recreation-related TBIs. The consequences of TBIs among football players are well-documented and can result in life-long cognitive changes or impairments.
ATV Accident – A fun day on an ATV can become a nightmare when the vehicle overturns or the rider is thrown from the vehicle, potentially causing a brain injury. TBIs are the leading cause of death in ATV accidents.
Work-Related Accident – Employees can also suffer brain trauma during an on-the-job accident. Impacts with equipment, falls, falling objects, explosions, and other incidents can leave a worker permanently impaired with a serious TBI.
Types of Traumatic Brain Injury
There are three primary types of TBI, each with specific symptoms. While some of these symptoms can be resolved with treatment, others may lead to permanent disabilities or reduced mental capacity.
The three primary types of traumatic brain injury are:
Concussion — A concussion is the most common type of brain injury. It may be considered a mild brain injury, from which a full recovery is possible, or a serious one, based on the extent of damage to the brain, age and physiology of the person, and period of unconsciousness after the impact. Chronic Traumatic Encephalopathy (CTE) is specific type of progressive brain condition thought to be caused by repeated episodes of concussion or repeated blows to the head. CTE has been most studied in former athletes and has been found to result in symptoms including depression, anger, memory loss, and increased risk of suicide.
Open TBI (Penetrating Injury) — These are injuries in which the skull and scalp have been fractured or penetrated. Open TBIs are extremely serious injuries, because an impact severe enough to break the skull can result in brain bleeding and even bone fragments entering the skull cavity, which can damage delicate brain tissue. Open TBI symptoms will vary based on the location of the injury but are almost always severe.
Closed TBI —A closed TBI results when the victim receives a blow to the head without breaking the skull. This is a common occurrence in vehicle accidents. Brain damage suffered due to closed traumatic brain injuries can range from treatable to permanent. A victim may suffer permanent impairment, depending on the level of impact and the degree to which the brain and surrounding tissue were damaged.
Costs of TBIs
The costs of treating a brain injury and caring for an injured person are extremely high and often extend for the lifetime of the victim. A victim may need ongoing medical care, repeated surgery to repair skull damage, and extensive rehabilitative therapy. Brain injuries carry emotional costs as well, including anguish, pain and suffering, and even loss of consortium (companionship with a spouse).
If you or a loved one has suffered a TBI as a result of someone else's negligence, we want to help you hold the responsible party accountable for your injuries and damage.
Our North Carolina injury lawyers have recovered millions on behalf of our clients who have suffered traumatic brain injuries through no fault of their own (see disclaimer below).
Traumatic Brain Injury Accident Results
$2,475,000 workers' comp settlement for a client who fell from a platform while at work, sustaining a basilar skull fracture and brain injury. After multiple rounds of mediation, our attorneys reached a settlement that included weekly compensation and medical care for the remainder of our client's life, as well as all medical bills paid.
$1,625,000 settlement for a client who suffered a TBI when she was struck by a car while crossing a major roadway. Our attorneys were able to overcome the liability carrier's allegations of contributory negligence and successfully settled in mediation.
$1,500,000 judgment for a worker whose skull was impaled when his employer dropped a tree limb on him. The employer did not carry workers' comp coverage, so suit was filed and judgment was awarded to our client.
$1,050,000 settlement for our client who was a guest passenger on a motorcycle that lost control through a turn and rolled several times. The client suffered a traumatic brain injury and memory loss, and the case prior to trial settled for all available insurance coverage.
"It was nice to see Riddle & Brantley put me and my needs first."
–R. Colley, Riddle & Brantley client
Experienced Injury Lawyers Ready to Fight for You
With over 220+ years' combined legal experience, Riddle & Brantley's attorneys can provide you with personal representation, dedication, and commitment to your case. We want to help you seek the justice you or your loved one deserves.
If you or a loved one has suffered a brain injury, it is important to seek the advice of an experienced TBI attorney right away.
Our legal team is available 7 days a week to assist you. We will provide a free consultation to discuss your injuries and explain your legal options. We have convenient offices throughout North Carolina and can even come to you if you prefer. Free consultations are available by phone, email, text, and video conference.
For a FREE consultation with an experienced North Carolina personal injury lawyer handling TBI cases, please call 1-800-525-7111.
Our car accident lawyers and other injury attorneys know how to handle complicated cases involving traumatic brain injury and we would love to help you if we can.
"They made a hard time in my life easier to endure."
–Melissa C., Riddle & Brantley client
Call 1-800-525-7111 or complete the fast and convenient form below and let's talk.
Justice Counts for those who have suffered TBI due to others' negligence and you may be entitled to compensation. Please call our experienced North Carolina TBI lawyers today.
---
*** Disclaimer: The results mentioned are intended to illustrate the type of cases handled by the firm. These results do not guarantee a similar outcome, and they should not be construed to constitute a promise or guarantee of a particular result in any particular case. Every case is different, and the outcome of any case depends upon a variety of factors unique to that case.