Can Philips CPAP Machines Cause Lung Disease?
Defective CPAP Machines May Cause Lung Disease and Other Health Problems
In 2021, medical device manufacturer Philips recalled a large portion of their CPAP and ventilator machines on both the consumer and commercial markets. In the recall, Philips cited their reasoning to be that there was a risk of failure in the polyester-based polyurethane sound abatement foam in the machines. This part could degrade over time and release particulates as well as off-gas toxic substances.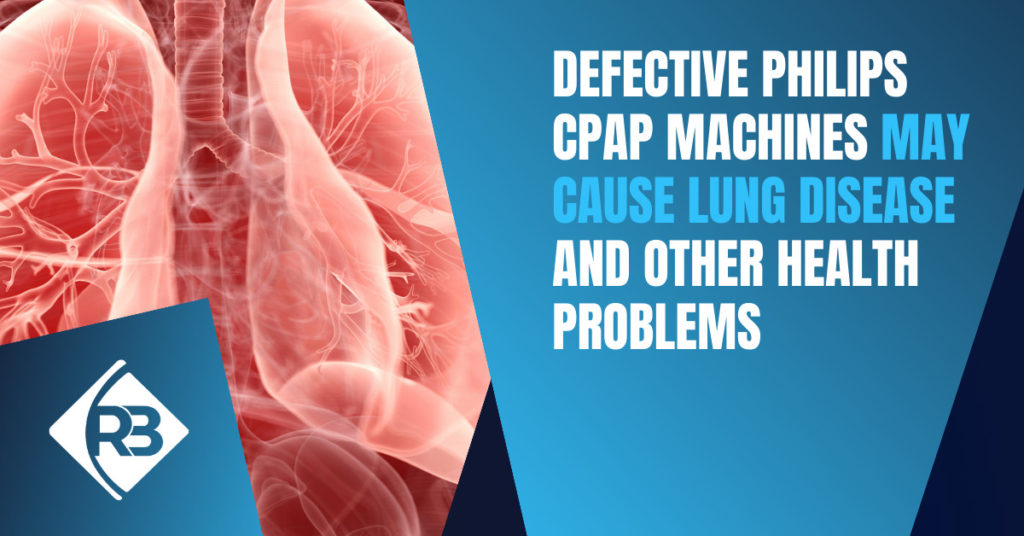 Research indicates that use of these recalled CPAP machines could potentially cause lung disease and/or lung damage.
In this blog post, we'll detail the science behind the potential link between defective Philips CPAP machines and lung disease and lung damage, as well as provide information on ongoing CPAP lung disease lawsuits (and lawsuits concerning other health problems).
"Do Philips CPAP Machines Cause Lung Disease or Lung Damage?"
Based on available research and the facts known about the product defect, it seems highly possible that these CPAP machines may cause lung disease.
Foam Particulate and "Off-Gassing"
In the recalled Philips CPAP machines, there is a foam component (PE-PUR) that "may degrade into particles which may enter the device's air pathway and be ingested or inhaled by the user, and the foam may off-gas certain chemicals," according to Philips' recall announcement. "The foam degradation may be exacerbated by the use of unapproved cleaning methods, such as ozone, and high heat and high humidity environments may also contribute to foam degradation."
Because the design of the device allows warm, moist air to pass over this foam component, many users have experienced a variety of worrying events with their devices, including bad smells and particles in the air.
The Potential Lung Disease Connection
The NIEHS attributes the development of lung disease to smoking as well as "other environmental factors linked to lung disease include asbestos, radon gas, air pollution, and chemicals such as uranium, beryllium, vinyl chloride, and arsenic." The type of lung disease that patients develop relies heavily on the chemicals or particulates that a person is exposed to.
Since these defective devices may release both chemicals and particulates into the lungs, these CPAP machines may significantly increase users' risk for a range of different lung diseases through irritation and inflammation.
Prior to the Philips recall, Harvard Medical School issued a warning that CPAP machines that are not regularly and/or properly cleaned may cause lung irritation and inflammation, potentially leading to lung disease and lung damage. This fact could potentially compound problems associated with defective Philips CPAP machines.
Health Risks Potentially Associated with Recalled Philips CPAP Machines
Health risks possibly linked to the use of the recalled Philips CPAP and ventilator machines include lung diseases such as pneumonia and a variety of other problems, such as:
Headaches
Airway irritation
Airway inflammation
Respiratory issues
Hypersensitivity
Nausea or vomiting
Cancer of the lungs and airways (as well as other types of cancer)
Pneumonia
Bronchitis
Other lung diseases
Since CPAP and ventilator machines work by exposing the respiratory system to air from the machine, most symptoms and health problems potentially caused by these devices will likely be concentrated in this area, but that does not mean other problems aren't possible.
If you are experiencing any of these symptoms after using your recalled CPAP machine, you should first contact your healthcare provider to assess your condition and recommend treatment. Some of these health risks can have serious consequences if not properly addressed.
"Is My CPAP Machine Affected?"
Philips has issued a massive recall of consumer and commercial devices that are affected by PE-PUR foam failure risk. The devices being recalled include:
All Philips CPAP and Bi-Level PAP devices manufactured before April 26th, 2021
Philips E30 model continuous ventilator
Dreamstation ASV, Dreamstation ST/AVAPS, Dreamstation GO systems
All Philips mechanical ventilators manufactured before April 26th, 2021
If you are currently using any of these devices, talk to your healthcare provider about options to discontinue use or switch to a different machine.
Philips Lung Disease Lawsuits and Related Litigation
In the wake of the recall, many consumers are coming forward with claims that use of a recalled Philips CPAP device resulted in adverse health conditions, including lung diseases. In the Northern District of California, a recent complaint was filed against Philips where the claimant described the onset of health problems including "chronic bronchitis, COPD, sarcoidosis, pulmonary hypertension, severe headaches and….pneumonia at least three times" that they associated with their use of the now-recalled Philips DreamStation Auto CPAP machine.
Other CPAP lawsuits have been filed against Philips, citing the development of pneumonia, cancer, and other respiratory illnesses that claimants believe are connected to the faulty devices. Claims have also been made that Philips knew the risks associated with the design and did not remove the products from the market soon enough or warn consumers about the potential health risks associated with their use.
Philips strongly denies any liability and/or wrongdoing associated with these defective products and claims of health problems potentially linked to them.
Do You Have a CPAP Lung Disease Claim?
Our firm is actively investigating claims of lung problems and lung disease due to defective CPAP machines, as well as claims involving other health problems, including various types of cancer. If you have used a recalled Philips CPAP machine, Bi-Level PAP machine, or mechanical ventilator and suffered lung disease or another qualifying health problem, you may be entitled to compensation.
IMPORTANT: Due to developments in the multi-district litigation, we can no longer accept kidney or liver cancer claims related to Philips CPAP machines. Other cancers and health problems may still qualify. Please call 1-800-525-7111 for a free case review.
Please call 1-800-525-7111 for a FREE, no-obligation consultation with an experienced product liability lawyer handling CPAP lung disease lawsuits and associated legal action. Our compassionate and hard-fighting attorneys would love to help however they can.
Justice Counts.