Fayetteville Motorcycle Accident Lawyer
Do you need a motorcycle accident lawyer?
North Carolina's roadways are frequently traveled by motorcycles. From the Blue Ridge Parkway in western North Carolina, to the coastal highways along the Atlantic, there is no shortage of scenic drives — and the state's weather means they can be ridden nearly all year long.
However, motorcycles can be dangerous and accidents can result in serious injury and sometimes death. A motorcycle accident lawyer can help if you've been injured in a motorcycle wreck.
For a FREE consultation with an experienced motorcycle accident lawyer serving central and eastern North Carolina, please call (910) 387-9186.
Since 1985, our firm has recovered millions of dollars in compensation (see disclaimer below) for victims of motorcycle accidents in the Fayetteville area and across the state.
Recent wins include:
$1,000,000 — Our client was a passenger and was thrown from a motorcycle when the driver lost control in a sharp curve. She suffered serious injuries including traumatic brain injury. We successfully proved the driver was negligent and negotiated a $1,000,000 total settlement with the insurance company.
$1,000,000 — A motorcyclist was thrown 15 feet from his bike when a truck failed to stop at a stop sign, causing a terrible accident. The other driver was criminally charged and we pursued a civil claim, negotiating a $1MM settlement with the insurance carrier.
$300,000 — Our client was pulling his motorcycle onto a busy NC highway when he was t-boned by another vehicle. We determined the other driver was at fault and successfully negotiated a $300,000 settlement through mediation.
"It was nice to see Riddle & Brantley put me and my needs first."
–R. Colley, Riddle & Brantley client
We pride ourselves on providing excellent client service, and we're humbled by the way our clients describe their experience working with our attorneys and staff:
"Every time I've needed them, they were there for me." –Tyronnie T.
"They handled my case very professionally, with respect from beginning to end." –Joseph P.
"I would not have won my case without the help from my team at Riddle & Brantley." –John S.
Call Today for a FREE, No-Obligation Consultation
Free consultations are available in our Fayetteville office by appointment only, and we are also available to consult with you by phone, email, text and video conference. There is no in-person meeting required to get started on your case, but our motorcycle accident lawyers are happy to come directly to you if you prefer.
Call (910) 387-9186 today and let's review your motorcycle accident claim. You may be entitled to significant financial compensation.
Our Investigative Capabilities
Motorcycle accidents can be complex and involve a significant amount of evidence. At Riddle & Brantley, our motorcycle accident attorneys have the experience and resources to oversee comprehensive accident investigations to prove fault and strengthen your case.
We have a team of retired law enforcement personnel on staff to help lead investigations.
In more than three decades serving the people of North Carolina, we've handled cases involving all types of motorcycle accident injuries, including:
Traumatic brain injuries
Head injuries including concussions
Spinal cord injuries
Broken bones
Amputations (loss of limbs)
Cuts, scrapes, and contusions
"Road rash"
Back injuries
Shoulder injuries
Neck injuries including whiplash
Burns
Paralaysis and semi-paralysis
Coma
In the most heartbreaking situations, our wrongful death lawyers are ready to help surviving family members fight for justice for lost loved ones. In cases resulting in long-term disability, our disability lawyers can also assist with claims and appeals to the Social Security Administration.
Call (910) 387-9186 for a FREE consultation with an experienced personal injury lawyer handling motorcycle accident cases across North Carolina.
Can I Still File a Claim if I Wasn't Wearing a Motorcycle Helmet?
North Carolina requires all riders to wear a highway-approved motorcycle helmet. At Riddle & Brantley, we strongly urge riders to wear a helmet at all times, even if they are operating their bikes in a state that does not have similarly strict laws.
However, we understand that there are times when a rider forgets or elects not to wear one. If they are involved in an accident in Fayetteville, they can file a motorcycle accident lawsuit. Still, the failure to wear a helmet may limit the damages they might recover.
North Carolina's Strict Contributory Negligence Standards
North Carolina law prevents accident victims from recovering damages if they are responsible for their injuries. So, if the rider were not wearing a helmet, the negligent party and their insurance carrier would claim the victim was negligent because they did not comply with North Carolina motorcycle laws.
Our Fayetteville personal injury attorneys know that no two motorcycle accidents are alike.
We might use the evidence of your case to show, for example:
Your injuries would have occurred even if you had worn a helmet (e.g., you injured an arm or a leg or sustained an internal body injury that a helmet would not have prevented).
A helmet would not have prevented your injuries.
The careless driver's negligence was so apparent or egregious that no amount of negligence can be ascribed to the rider.
The Elements of a Negligence Claim
To recover damages in a personal injury lawsuit, an injured rider must claim that:
The negligent driver owed them a duty to operate a vehicle safely.
The driver breached that duty.
The rider suffered losses and injuries as a direct and proximate result of that breach, and
The rider incurred costs and expenses because of those losses and injuries.
As noted, in a North Carolina motorcycle accident lawsuit, the negligent driver and their insurance company will make an affirmative defense that the rider bears some responsibility. Therefore, they cannot recover damages under North Carolina law.
When the evidence about the accident is favorable to the rider, we will use it to show that the negligent motorist's actions were the direct and proximate cause of the victim's injuries and that their actions had nothing to do with those injuries.
Pursuing Claims in a Motorcycle Accident Case
Call the motorcycle accident lawyers at Riddle & Brantley before you talk to insurance claims adjusters. If you retain us and we accept your case, we will manage all communications with insurers and, to the extent possible, prevent them from using any of your actions to defeat your claim.
In addition to serving accident victims in Fayetteville, we also handle cases across the entire state, including in:
Goldsboro
Kinston
Greenville
Jacksonville
New Bern
Wilmington
Raleigh
Durham
Charlotte
Gastonia
Greensboro
Winston-Salem
Asheville
Morganton
Hickory
Experienced Motorcycle Accident Injury Lawyers
With more than 220+ years of combined legal experience, our motorcycle accident lawyers can handle all aspects of your claim or lawsuit, including:
Organizing a comprehensive accident investigation
Collecting and preserving important evidence
Hiring expert witnesses like accident reconstructionists
Obtaining witness testimony
Helping you prepare for statements to the insurance company
Obtaining the official accident report from law enforcement
Negotiating with the insurance company and defense counsel
Referring you to trusted medical providers
Calculating damages
Obtaining a comprehensive life care plan if necessary
Filing a lawsuit if necessary
Drafting and filing legal briefs and other court documents
Representing you in hearings
Conducting depositions
Representing you in mediation and/or arbitration proceedings
Presenting your case at trial
Setting up trusts and/or guardianships if necessary
Helping negotiate to lower your medical liens
Don't wait — studies show that those who hire a personal injury lawyer to handle their accident case recover 3 times more compensation on average than those who represent themselves.
Please call (910) 387-9186 for a FREE, no-obligation consultation with an experienced motorcycle accident lawyer.
There is no obligation and you won't pay any attorney fees unless we win your case and you receive compensation.
Call (910) 387-9186 and let's review your claim.
Award-Winning North Carolina Injury Attorneys
Since 1985, our attorneys have been recognized by some of the most prestigious organizations in the legal industry (see disclaimer below), including:
The National Trial Lawyers Top 100
Super Lawyers
Multi-Million Dollar Advocates Forum
Million Dollar Advocates Forum
The National Association of Distinguished Counsel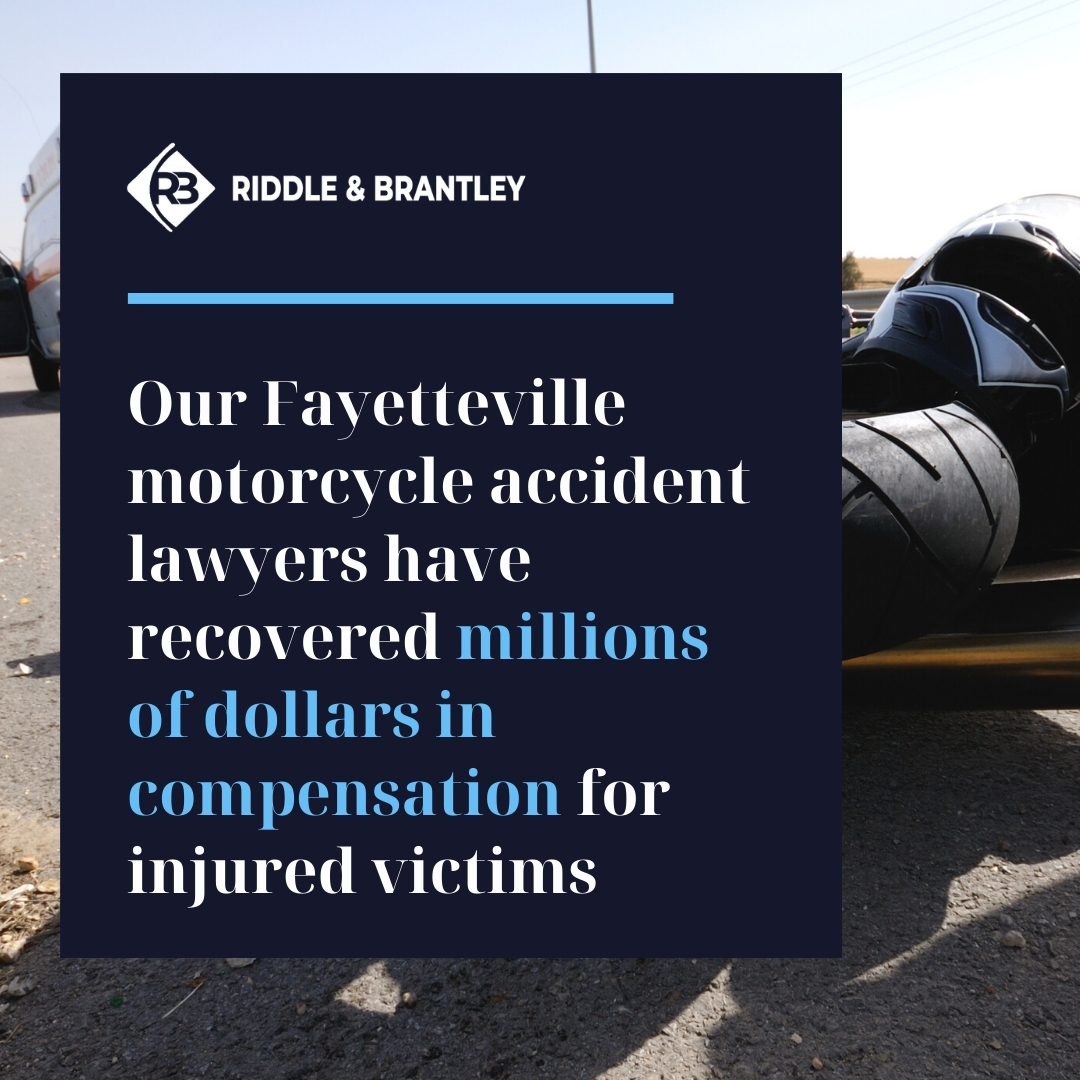 Attorneys Gene Riddle and Adam Smith have also been recognized with the AV Preeminent rating from Martindale-Hubbell, the organization's highest rating for practicing attorneys (see disclaimer below). In 2014, Gene was also awarded the Litigator Award in recognition of his experience and results (see disclaimer below).
To speak with a motorcycle accident attorney at no cost or obligation, please call (910) 387-9186.
You can also complete the fast and easy form below if you prefer.
Call (910) 387-9186 today and let's review your claim.
"They made a hard time in my life easier to endure."
–Melissa C., Riddle & Brantley client
Justice Counts for North Carolinians injured in motorcycle accidents and we would love to help you if we can.
---
*** Disclaimer: The results mentioned are intended to illustrate the type of cases handled by the firm. These results do not guarantee a similar outcome, and they should not be construed to constitute a promise or guarantee of a particular result in any particular case. Every case is different, and the outcome of any case depends upon a variety of factors unique to that case.
*** Disclaimer: An attorney must meet certain requirements to join these organizations or receive these awards. For more information on Membership Criteria for Million Dollar Advocates Forum, Multi-Million Dollar Advocates Forum, Super Lawyers, The National Trial Lawyers Top 100, The National Association of Distinguished Counsel, AV Preeminent by Martindale-Hubbell, the Litigator Award, and other memberships, awards, and accolades, please visit our Membership Criteria page. These awards and memberships should not be construed as a promise or guarantee of a similar result. Each case is different and must be evaluated separately.
This page has been updated on 10/31/23